Greyed Out - Sound In The Signals Interview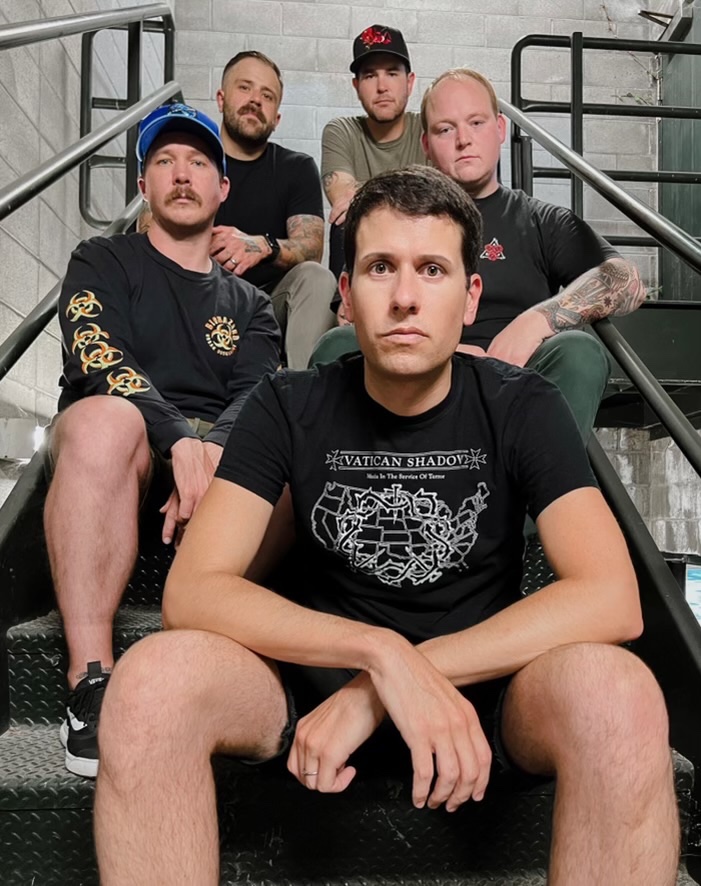 Noelle Burton
I recently had the opportunity to interview Pete Dowdalls of
Greyed Out
. We discussed how they formed the band, musical influences, the writing and recording process for new songs "Broken Like an Arrow" and "No Dice", filming a music video, and more. Check it out below.
The band is composed of former members of This Time Next Year and Pale Chalice. Can you tell us a bit about forming the band and what your past experiences bring to the band?
For sure, and thank for for taking the time to speak with us. My name is Pete and I sing in Greyed Out. Originally, Denis, Tony, James, and I were all in This Time Next Year. After the band split up, we all ended up doing other things for a few years. Denis reached out to me in mid 2020 and let me know that he been working on some new music with Tony and James. Denis asked if I was interested and I couldn't say no. It feels good to be back with the dudes again. Separately, Brian (Pale Chalice) has been one of my closest friends since 2001. We all grew up together and I thought it would be really cool if he played second guitar. We all talked about it and thought he would be a perfect fit. That's basically it!
Your music incorporates different influences. What inspires you?
When we decided to start write faster, more melodic music, I drew from bands that made the most sense from when I was growing up. Personally, I drew much of my inspiration from Saves The Day and Hum. I can't speak for the other dudes but those two bands have been super influential for me.
You're about to celebrate the year anniversary of releasing your self-titled EP. What are your thoughts looking back at it now?
Super proud of everything we've done. It's a privilege to be able to make music with my best friends again. Can't wait to write more. Aces.
You released "Broken Like an Arrow" and "No Dice" in the summer. What can you tell us about writing and recording the songs?
Instead of writing like a 10 song full length, we decided to refine our style and focus on one or two songs at a time. I think it really paid off. We are super proud of of both songs and will most likely continue with this writing style in the future. As far as recording goes, we went with our dude Ben at Nutone Studios. Ben is an old friend that is an absolute master of his craft. We are very lucky to work with him. Ben rules!
You also released a video for "Broken Like An Arrow". Can you tell us more about the filming process? What came easiest in the process and what took more time?
We wanted to do something simple and tasteful. I think the easiest part was actually filming the thing. Denis and James did the bulk of the work vis-à-vis setting up for the shoot. We actually did it in our practice studio. Denis and James showed up the night before and set everything up: lights, curtains, gear, etc. It turned out really well. The hardest part I think was tearing everything down. Props to James on that one. Our dude Kevin Burleigh filmed and edited everything for the video. We are very grateful.
What else is coming up for the band in 2022? Are you currently working on new music? If so, what can you tell us so far?
We have a show at the X-Bar in Cupertino on December 07. That will probably be our last show for 2022. As far as the future, we definitely plan on recording very soon but nothing to speak of just yet. Stay tuned.
Thanks for taking the time to answer the questions. Is there anything else that you'd like to add?
Thank you very much for taking the time to speak with me. I'd just like to give a quick shout out to a couple friends that are doing cool things in music right now: Supergloom and Neanderthal Society. Supergloom is a side project of Brett Jones from the band Fireworks. He's an incredible musician so I highly recommend checking out his new stuff. Neanderthal Society is a podcast centralized up here in the Bay Area. They also book and promote local hardcore/punk shows as well. NS has done a great deal in maintaining local Bay Area hardcore and the podcasts are super cool to listen to. Please check it out, as well.
Follow Greyed Out:
Follow Sound In The Signals: