Sound In The Signals - Best Albums of 2020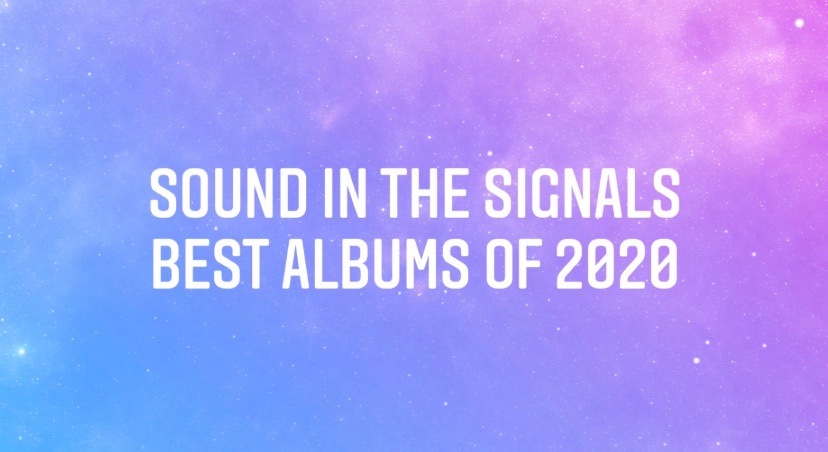 We shared our most
anticipated
list and our best of
mid-year
list earlier this year. Well, here we are the end of 2020. This year was a wild one. The pandemic hit and is continuing to hit nearly everyone hard in one way or the other. Artists and the music community are being impacted pretty unfairly, so make sure to support the arts when you can even if it's only with a follow, some encouragement, or sharing it with others. Aside from some albums being delayed, here and there, I think this was a great year for music. It's one of my favorites in a while.
Rap music continues to rule the music charts so many artists from the rap and rap-adjacent world are releasing phenomenal music. There is also the continued blurring of the lines between rock and rap in this era in ways that maybe we've heard quite a bit over the last few years, but it's becoming more evident in more mainstream music. I think we're seeing a new lane being carved out for alternative and rock music on the music charts.
It's different, and maybe not what older traditional purists will like, but it's happening more and more. I think we're starting to see the answer to how rock music might become more relevant in the mainstream again. In any case, here is Sound In The Signals Best Albums of 2020 List. This list is based on my overall listening and enjoyment. (Check out our Best EPs of 2020 List here.)
I've liked Neck Deep since they started releasing music. It's been interesting seeing them progress from a bedroom pop/punk band to opening for blink-182. This is their most ambitious album to date and it's a big statement from the band. The concept of the album and the characters are interesting. I like the maturity in the songwriting and themes of the songs. It's well produced and mixed. There are a few songs with some slight style experimentation. The album is a standout for the band, as well as a great launching pad for the next chapter. It's always great to see and hear when bands are writing some of their best songs as they move further into their career.
It seems like everything Laroi has done this year has been great. His features, solo work, and his video collaborations with Lyrical Lemonade have all been great. This album is packed with solid vocal performances. Laroi can both sing and rap really well. It also has some great features including Corbin and the late Juice WRLD. This album feels like the start of big things to come.
I think this is the best flowing Pinegrove album and it's probably my favorite overall album from the band. Evan Stephens Hall is a fantastic vocalist and lyricist. As with most Pinegrove releases, his performance and songwriting abilities are standout and he's backed by a solid band. This made the album essential listening for me.
This is arguably the biggest rock album of the year. Travis Barker (blink-182) produced as well as played on the album. What MGK and Barker did with this album is create an album that borrows from the golden era of pop/punk and mixes minimal elements of rap (like the Girlfriends album mentioned above). The accomplishment of this one is that it's MGK's best album and a big statement for the rock genre this year. It's also probably one of Barker's biggest accomplishments outside of blink-182. It's catchy and flows really well. It's kind of inescapable with how infectious the songs are. I understand the negative criticisms of this album that I've seen around, but I just can't escape how easy this album is to listen to and I returned to it a ton. The formula just worked for me.
With this album, I think Bonnie Fraser has solidified herself as one of the best, if not the best, frontwoman in emo and pop/punk. The band kicked the sophomore slump and delivered an album that has enough songs that sound familiar while also taking some chances to experiment.
I've always liked everything this band has released. The one drawback has been the production and mixing have not always been great. They got it right with this one. With that in line, they delivered their best sounding album to date. Better production and mixing coupled with continued high quality songwriting make this album a big win for the band.
I was highly anticipating this album. James Alex is a fantastic songwriter and at times criminally underrated. He once again came through with a solid album. I like that he took some chances with songwriting and sonic style. Also Tommy Stinson from The Replacements plays bass on almost every song on the album. Any album with him featured has to be great, right?
This one is essential for any rap fan this year. Internet Money has enough artists on their own team to be fantastic, but they've also got a ton of artists that are breaking out or have broken out of the hip hop scene in a big way on this project. Lil Spirit, The Hxliday, and TyFontaine's songs are big standouts on the album.
This album is Bearings flexing their muscle in the pop/punk emo scene. It's well executed and their most mature work to date. I like the swagger that the band has on the performances. I really like a lot of the lyrical content as well.
This is a great debut album from the band. There are some great songs on this. They took some chances and I think it worked. The band incorporates a lot more pop moments than on previous music and I think it really worked. I really like a lot of the lyrical themes on this album.
I think this album is fantastic, even if everything doesn't work as well as it should. The 1975 always deliver solid albums. They always have more than a handful of fantastic singles. This album is no exception. They continue to show why they're one of the most important bands in rock music for this era.
Tate Logan has some great vocal performances on this album. The songs are catchy and the album has good flow. They maintain their main pop/punk sound, but do find a few places to experiment.
It was terrible when news broke that Pop Smoke had been killed. His debut album was released posthumously, but I think this mixtape is his big standout release this year. His cadence and rapping style was fantastic. It's a shame that his career was cut short because I think he was just starting to show the potential he had. In any case you won't find many better rap releases this year than this one.
The band took some chances on this album and incorporated a lot of 80s elements and mixed them with the pop/punk sound that they are known for. The result is one of their most infectious and well executed albums to date.