Cheem - Sound In The Signals Interview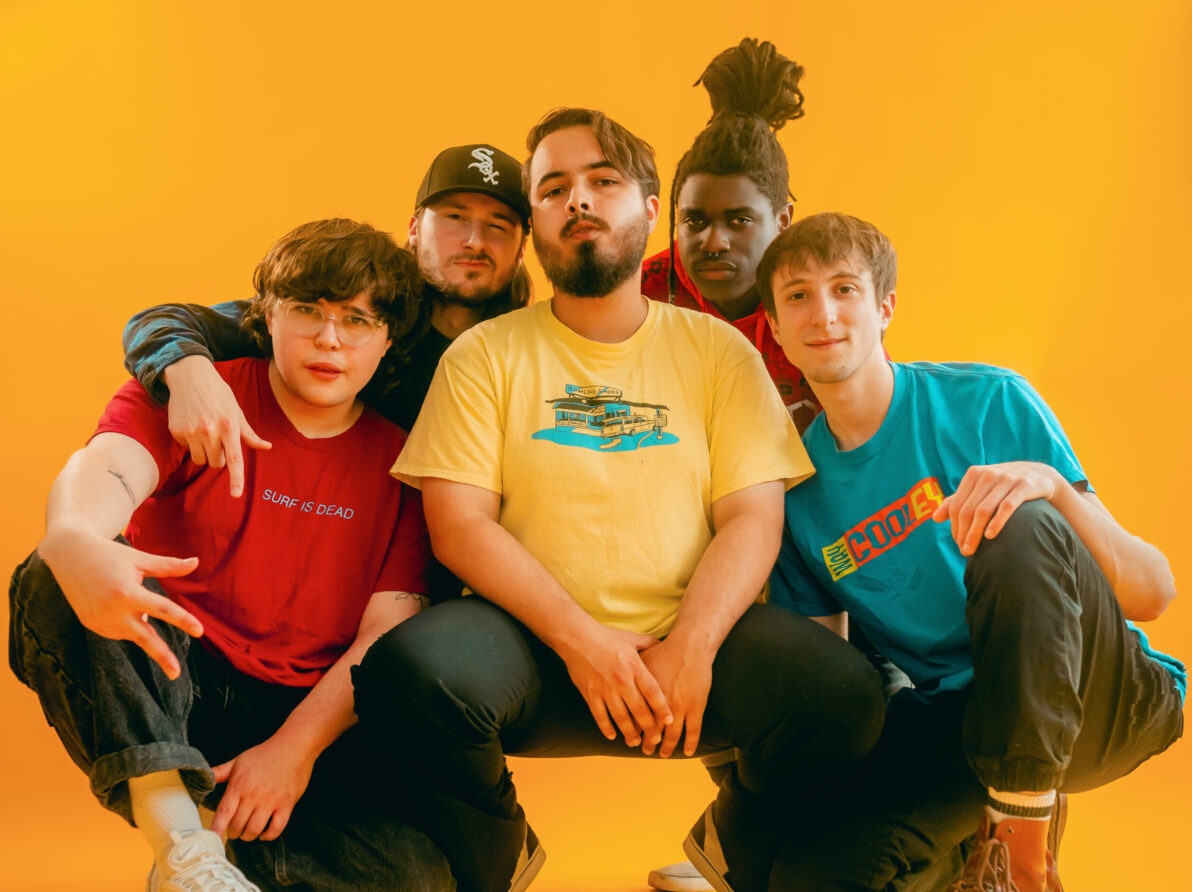 I recently had the opportunity to interview Skye of
Cheem
. We discussed how the band developed their sound and what inspires them, the writing and recording process for upcoming album, 'Guilty Pleasure', why "Snag" is a great introduction to the album, favorite lyrical and musical moments from the album, connecting with their fans, working with Lonely Ghost Records, and more. Check it out below.
First, thanks for the interview.
Happy to be here! CHEEM SZN BABYYYY
You have such an interesting sound that incorporates a lot of elements. How did you develop your sound? What inspires you?
We definitely used to be a more straightforward rock band, but we've always had very diverse listening habits. We got tired of playing standard rock, moved towards incorporating our other interests, and thankfully had already developed the skillset to tackle those genres. I (Skye) have been producing beats and rapping for years, so that was one of of those things that eventually just naturally became part of Cheem as the band evolved.
We take a lot of inspiration from bands that blend a lot of genres together, like 311, Linkin Park, even Fall Out Boy. We try to take the same approach as those acts, and the cool thing is that it's pretty hard to organically combine so many disparate elements and have it sound like a ripoff of one of them. For example, we take a lot of production notes from really futuristic electronic stuff (ex. Iglooghost, Maxo, Kaidi Tatham) and hyperpop (ex. Ericdoa, Wido, Overpade).
Your album 'Guilty Pleasure' is due out in July. Can you tell me about writing and recording the album?
Yeah, it took like three years. The main reason for the delay was the pandemic, but it was a blessing in disguise because it gave us time to polish these songs as much as possible. Originally the release was going to be a six-track EP, but between 2019 and the completion of the recording we added three more songs.
Some of the ideas on this album originated as early as 2017, and I don't think they would have been nearly as well-received back then.
These songs all originated as demos on my (Skye's) laptop. I'll program drums, track guitars and bass, and add any auxiliary parts I have in mind. Writing the melodies is usually a 50/50 split between me and Sam, who will usually have placeholder lyrics that I'll finalize after we get the right melody. After the song gets brought to the band, the other members will put their own spin on the parts and suggest other production elements or arrangement changes. It's a pretty meticulous process, we're definitely not a jam band.
The first single you released is "Snag". Why did you decide to release it as the introduction to the album?
A lot of our friends who got to hear the album before it dropped pointed that song out as a favorite, and we just think it has a lot of that energy and catchiness you want in a lead single. It's a very compact song, but it covers a good amount of the Cheem essentials: There's syncopation, loud guitar, slap bass, a rap break, harmonies, plenty of synths and electronic percussion laid under everything. Definitely represents us well.
The lyrics for the song are really interesting. Where was your head at when you were writing the lyrics?
I feel like so many rock artists love to write about how they were wronged in a relationship, when in reality they were probably the cause of a lot of the problems (if not all of them).
I wanted to write from the perspective of a total asshole (I don't know if I can say asshole, just put jerk here if I can't lol), totally honest with themselves about their behavior. Someone who pretends to be a perfect partner, and then goes on to manipulate, mistreat, and finally ghost their significant other. Someone who gains a reputation for being a terrible person through repeated terrible behavior, and then instead of doing anything to better themselves just moves to another city and does it all over again.
Do you have a favorite lyrical or musical moment from the album?
There's a song called Clueless that opens with a chant of "C-H-E-E-M". It was one of those things that was so funny we just had to do it. A crowd of people actually chanting it live would be crazy, fingers crossed.
Music-wise, a personal favorite would be the prechorus from the song Worldstar. It goes back and forth between a rapped vocal and a sung vocal, and there's some really sweet turntable parts in there. The general production/groove of that song is one of those serendipitous things where I love it so much I almost can't believe we wrote it. Definitely succeeded in creating something unique there, which is the ultimate goal.
You've built up some really great buzz in the scene. What do you think it is about your band that is connecting to so many people? Has it surprised you at all?
I think we're pretty upfront about being ourselves in terms of our music and social media presence. We're definitely friendly, but we're also weird people with obscure interests. A lot of people in the DIY scene are like that too, that's what draws people to it in the first place.
We strive to be original in terms of our sound and image, and we try to have the best live show possible. So while we may be kind of a polarizing band and not for everyone, we can give the best possible experience to anyone who's into it and one that they can't get anywhere else.
I think what surprises me the most is the percentage of people that actually are open to it. The industry has gone through a lot of changes in the past few years, so I think we at least partially have that to thank for it. It feels like the average person's listening habits are more diverse than ever.
You're working with Lonely Ghost Records for this album. What made you want to work with them and how has the experience been so far?
Lonely Ghost has been the best thing for this band so far. We have some trust issues with bringing in people into the Cheem team. We felt as if it was important to find people that were willing to throw in their all for us. Not with the connections that someone has, but someone that is as passionate in the music as us, and it felt like an immediate match with LGR. They really care about their artists, and they have fostered a really incredible community that we admired. We also recently started working with mrbigmgmt which is a new management crew featuring our friends and other projects (bowling shoes and 5ever) and it feels incredible building a team and our own community that we can hype each other up for. It makes us feel like a REAL band for once.
What else is coming up in preparation for the release and once it's out?
We made music videos for each single for the album, and we plan on creating another music video post album. We really care about our aesthetic, and it was really fun collaborating with others to really think about how can we twist our look. We also are working on some advertisements for the album and some brand new merch. We just announced a few release shows around the album, as well as going to Gainesville, FL to play FEST. It is our first time down there are we are ecstatic about the whole thing. We might even tour around it??
Thanks for taking the time to answer the questions. Do you have anything else that you would like to add?
Thanks for having us!! GUILTY PLEASURE OUT 7/22 IT'S CHEEM SZN BABYYYYY
Follow Cheem:
Follow Sound In The Signals: