Flying Raccoon Suit - Sound In The Signals Interview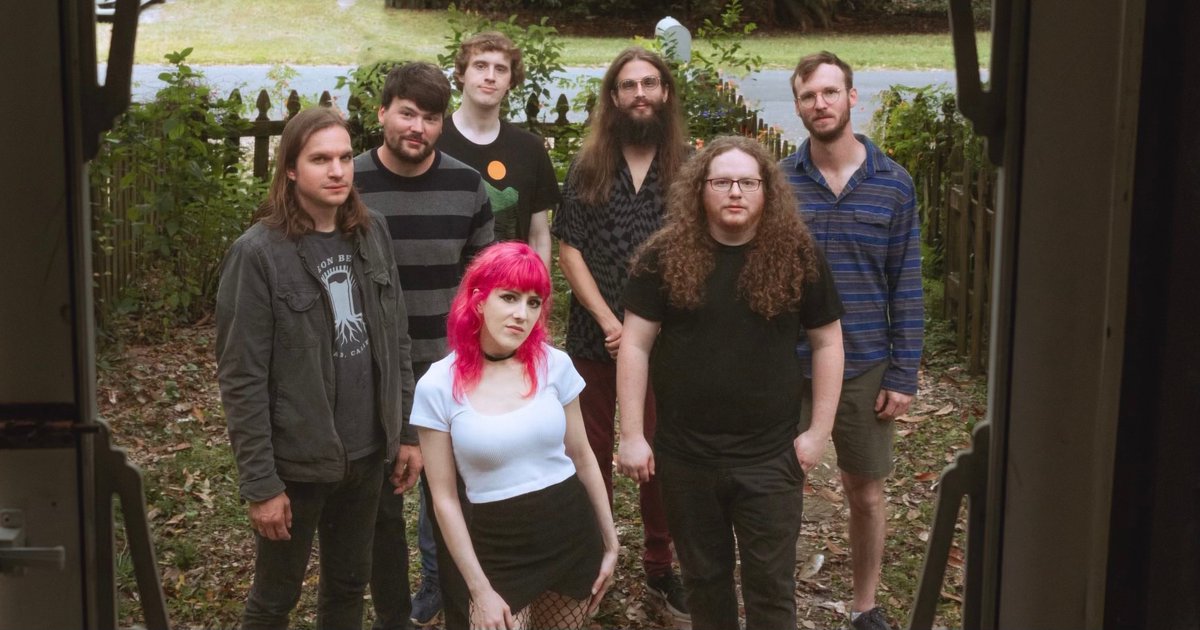 Rae Mystic
I recently had the opportunity to interview Flying Raccoon Suit. We discussed how they went about following up 'Afterglow', the writing and recording process for upcoming album 'Moonflower', lyrical themes, album artwork, signing with Bad Time Records, and more. Check it out below.
First, thanks for the interview.
Jessica: Of course, thank you for interviewing us!
You recently announced your new album 'Moonflower'. Can you tell me about writing and recording the album?
Kerley: We're still very much DIY with recording. We still bounce between tracking at my house or Andy's. Some upgrades since Afterglow have made the actual tracking a lot more consistent. We've found a process that works with our difficult schedules, which I think is still the most difficult part haha. I feel a bit more efficient and better at editing and mixing, which hopefully shows.
Starting with Afterglow, I feel like we shifted to a more collaborative writing style, and in some ways double down. We always try to utilize all our different strengths and musical interests in different ways. I hadn't written a song from the ground up until this album, and I even recorded guitar for the track. It's probably our heaviest song yet. I surprisingly didn't get any pushback from the rest of the band. They all heard it, said holy shit - and we kept tracking for it haha.
Jessica: We started pretty much immediately after releasing "Afterglow". Andrew and Brandon threw me a surprise birthday party at my apartment and Andrew started messing around with my acoustic. He came up with the riff to "Take This With You" and I added some inside joke lyrics to begin with and it took off from there. "Longshot" is a very old one that Andrew already had written and we took it and got to rework it with our current lineup. Recording was tedious but a fun adventure with my friends as always. I have enough clips of Kerley messing with vocal outtakes that he deep fries to hell and back to make a 20 minute long compilation video.
Brandon: Writing and recording for Moonflower was ultimately just a refinement of our usual methods of the process. It all begins as anyone would write - an idea pops into someone's head (usually Andy's haha), whether it be just for a chorus or verse or horn line; we write the idea down, and start building from there. Sometimes, individuals of the band will write entire songs (like the yet-to-be revealed one that Kerley wrote every note of).
Always, there is room for input from other members on any aspect of the songs. Jess and Andrew typically write all the lyrics and vocal melodies. I end up writing a lot of the horn lines that Andy hasn't already filled in. We'll have writing sessions where 2 or more of us get together to flesh out parts for tunes that are incomplete, like "hey this bridge needs horns" or "I'm not sure where this bridge should go, let's brainstorm" and so forth.
On occasion, a song will be birthed entirely from nothing in those sessions, but usually the sessions serve to refine/fill in gaps for songs that are already started. Andrew is our main composer, I'd say. Hands down. Most of the time, he is the one that brings ideas to the band to shape up. If he wanted, he could just write the entire album, as he's incredibly prolific (has literally hundreds of compositions saved to his computer that will probably never see the light of day); but he makes sure to wait on the rest of us to be a part of the writing process as well.
That's certainly what gives our sound its "cornucopia" nature - we as individuals all have pretty different musical backgrounds and interests, so that is always bound to come out in the wash. Once all the parts are written, Andy sends them out after painstakingly entering them into Guitar Pro (which leads to some hilarious transcriptions for the horns, where for example we're reading for F# major in the key of C major lmaoooo); we work them up individually, and we literally bring the songs to life in the recording studio (and by that I mean Andy or Kerley's house).
As everyone well knows, Kerley is our one-man-studio - engineer, mixer, and producer. Absolutely clutch individual with immense talent that we are so very lucky to have on the team. Very often, new ideas and tweaks happen in the recording process, like specifications on dynamics and articulations, phrasing, revoicing/reharmonization, and sometimes coordinated improvisations (which you'll definitely hear on tracks like Eat the World and Hurricane).
Nevin is absolutely crucial in that step; he's got such a great ear for those finer details, and it really gives the songs that extra 15% boost they need to just be *chef's kiss*. Then all of sudden, the dust clears and we have our tracks and breathe a sigh of relief! Well, everyone except Kerley does HAHA. Kerley then takes it all and sends us roughs for us to start the revision process. We all take part in that, being instructed to listen on iPhones and sound systems and in cars, and we all tweak levels accordingly.
THEN once that's done, Kerley breathes his sigh of relief and hibernates for a week or more to recoup. We get our mastering done out of house by the talented James Whitten, who also mastered Afterglow. Great guy to work with, his turnaround is very fast. And a great hang too!
I feel like 'Moonflower' is poised to be one of the biggest ska albums of the year. Did you feel any pressure at all when following up your previous album?
Jessica: Thanks so much, that's a huge compliment to accept. I wouldn't say it was pressure, it was more like "let's see how much better I can be myself behind this mic". I took some risks and tried to have fun with the overall picture. Tying everything together with everyone made it feel more like "oh shit this is a real thing, and it's better than our previous thing, now here's the pressure".
Brandon: That's mighty flattering of you to say! We all sincerely hope that it's well received. We're all very proud of it; certainly it's our best work yet. As for pressure, I'd say yes and no. Yes because we knew we were gonna pitch this one to Mike at Bad Time, so we had to put our best foot forward (or paw, rather). But also no, because we didn't put very many "expectations" on the album. We're still a bunch of friends that love playing and composing together, so as long as we're doing the best we can, we can take solace in that. And hopefully that means we've progressed over the years!
Kerley: Absolutely. The pressure honestly has been a huge weight on me. It was an incredible experience releasing Afterglow and connecting with an audience in ways I didn't think would ever happen. As we moved to the next thing, imposter's syndrome kicks into overdrive, I constantly wonder if it was just a right place and time - if we can somehow catch lightning in a bottle again.
Being the producer/engineer for our albums, I feel like the onus is on me to make sure we are stepping up and evolving. Luckily, I have some of the best bandmates and friends in the world, and I learned when and when not to trust their ideas more than my own. That pressure is still pushing harder than ever, but no matter what, I know we put our entire souls into these past two albums, and I'm proud as fuck for being a part of it.
You released "Swan Song" with the announcement. I think it's one of the best songs you've released. I notice some refinement and progression in your songwriting. What did you want to accomplish sonically with this new album?
Jessica: We wanted to experiment a little more with different genres as we love to do, but this time we just wanted more of everyone's input so there's more touches from everyone in every song, more collaborative so to speak. We wanted to put together a group effort of our influences like jazz, brass band, bits of hardcore, and of course the shoegazey-indie sound Andrew and I gravitate towards, and make it flow. There's more intricate guitar work from Andrew in this one, there's a song with a guest vocalist and guitarist WITHIN THE BAND, and I think you can hear more of our Mazzy Star/Modest Mouse love come through.
Brandon: Definitely some refinement there, I'd agree. Most of that polish is from Kerley, as he's become that much greater of a producer overall. I think with Afterglow, we all had things that we felt worked really well; and things that, while we really enjoyed them, might not have worked as well for the listener. So for this album, we wanted to keep our weird quirkiness while also being a tad more "palatable" and catchy, even. That's displayed with Swan Song - catchy melody, simple "ear worm" horn lines, and a relatively quick listen. In and out with a single-worthy tune, bing bang.
Kerley: There wasn't necessarily a laid out plan for what the new album would be, we just kinda kept going with what worked. I know I set goals for myself with each new project. I wanted this one to sound a lot tighter as a whole and focused there on tracking/editing. When planning drum parts, I actually use a lot of what Andy has in mind for a song. He'll generally do a quick guitar pro with kind of the vibe he hears, and I'll usually adapt around that. I leave room for improv on almost all songs, which isn't very efficient haha, but I think it's part of what gives us inspiration in tracking and makes things a little more special. I'm always the first instrument to track, so any changes I make - they're having to adapt with as well in the studio.
What are some of the lyrical themes, inspirations, and overall concepts for this album?
Jessica: We touch a lot on heartbreak, lost love, what could have been, and the feeling of being stuck inside your own spiral. There's a song about a hair stylist I used to go to pointing out just how gray I actually am now, and realizing the hourglass is almost empty and you can't flip it back. It's a very humbling human experience, but a hard one to process nonetheless. There's a song about learning how to love yourself even when your insecurities keep bubbling up to the surface.
Brandon: As far as lyrical inspirations, I'm not sure which exactly I could point to musically, but I can say that they're written as a response to dealing with the difficulty of life. Dealing with ourselves, learning to love ourselves during the process of growth. Dealing with the world and its various forms of hatred, but also appreciating its splendid beauties. The overall theme I get from the album is one of patience and hope, self-acceptance and self-improvement. And of course, picking it up.
Which was the easiest song to write and on the other hand which took the longest to complete?
Brandon: Easiest was likely Swan Song, but that's not to say that writing something catchy is anything simple. But I feel like that one just sort of came to us without much struggle. Most difficult might be Hurricane, because it has been around as an idea since before Afterglow came out. That, or Witch's Streak. Why Witch's Streak? Well, you'll see haha it's probably the oddest song on the album.
Kerley: Easiest is tricky haha, probably Eat the World. We wanted a few on this album that were straight up catchy sing-a-long type songs, kind of purposefully written for audience participation. That song is kind of simple but super effective. Long in the Tooth was the most difficult and took the longest for me, for reasons people will probably know when they hear it haha.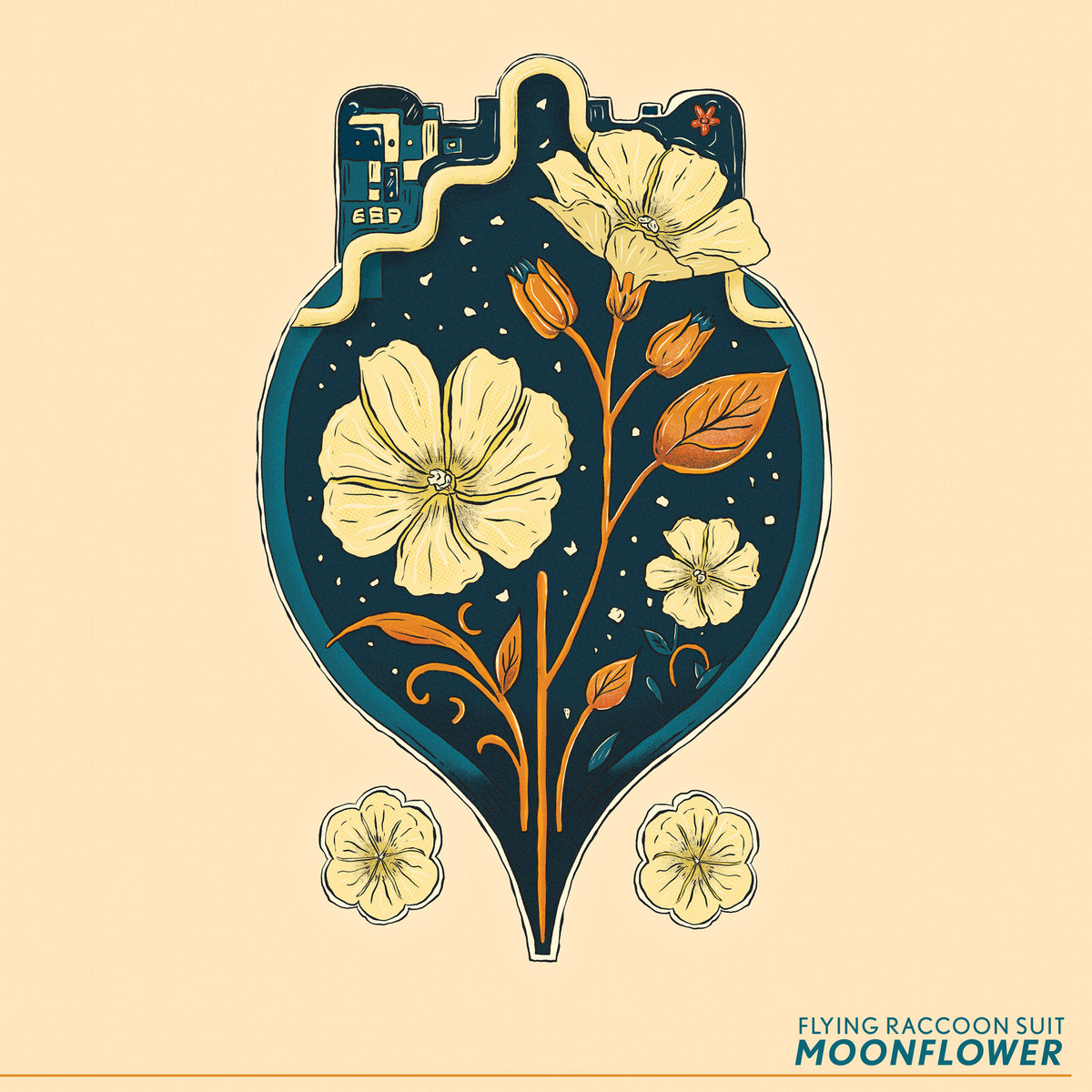 The album artwork is fantastic. Who came up with the concept for it and designed it? What's the meaning behind it?
Brandon: The album artwork was all the work of our artist, Brianna Martinsen. Jessica came up with the title "Moonflower," and Brianna just ran with it. I have to say, I love all of our arts, but the art for Moonflower is my favorite by far.
You also announced that you've signed with Bad Time Records. You've been associated with the label and various bands from the label for a while. What made you decide to sign with them?
Brandon: Yes, we've definitely been "pahdna's" with a lot of the bands on Bad Time for a good while now. I mean, both Andy and Clay are in Joystick. We did shows with a lot of them on our first northeast tour coheadlining with Stuck Lucky. Tim and Brit of Catbite generously hosted us at their home while we were in Philly for the first time (and pointed us to some real deal dank cheesteaks); Joe and Stiffy of The Best of The Worst hosted us at their home when we played with them in New Jersey; we've played FEST a couple times now with a lot of the Bad Time bands; and at that one FEST, Andy and I joined up with Jer, members of We Are The Union and Best of the Worst, for that epic Arrogant Sons of Bitches set; and Mustard Plug was some of FRS's heroes growing up and listening to ska. It just sorta made sense with all the strong ties we had with that family.
Jessica: CornHub.
Bad Time has been a key part in the ska resurgence and has helped continue it throughout the last few years. How does it feel to be releasing the album on such an important label?
Kerley: It feels incredibly exciting, and also unreal, and also going back to that pressure question haha…. But we're honored to be a small part of the fucking incredible things the community has built and continues to build.
Jessica: The imposter syndrome is real here, but everyone has welcomed us very warmly with open arms. Being from Mississippi and isolated from a lot of the cool things that happen in ska, it's surreal to be associated with the bands on this roster. I still feel like one day I'll wake up and Moonflower will have just been the weirdest and longest music dream of my life.
Brandon: It's a true honor, simply put. It feels like an amazing accomplishment to be accepted and recognized by that group. They're some of the best ska bands around, on one of the most currently pioneering labels of the genre. We have to now fight our own imposter syndrome HA
Thanks for taking the time to answer the questions. Do you have anything else that you would like to add?
Jessica: I don't really have anything promotion-wise, but I wanted to personally thank everyone who pre-ordered Moonflower, left a kind comment, shared a post, gave me scrub daddies and plushies, made me Garfield drawings and art, and continued to lift my spirits. The ska community is the absolute greatest world I've accidentally found myself in.
Brandon: Yes I do - hey YOU reading this, yeah you. Ya look fabulous today, I love what you did with your hair. Didn't think we'd notice, but we do. Keep slayin!
Follow Flying Raccoon Suit:
Follow Sound In The Signals: