Arlen Gun Club - Sound In The Signals Interview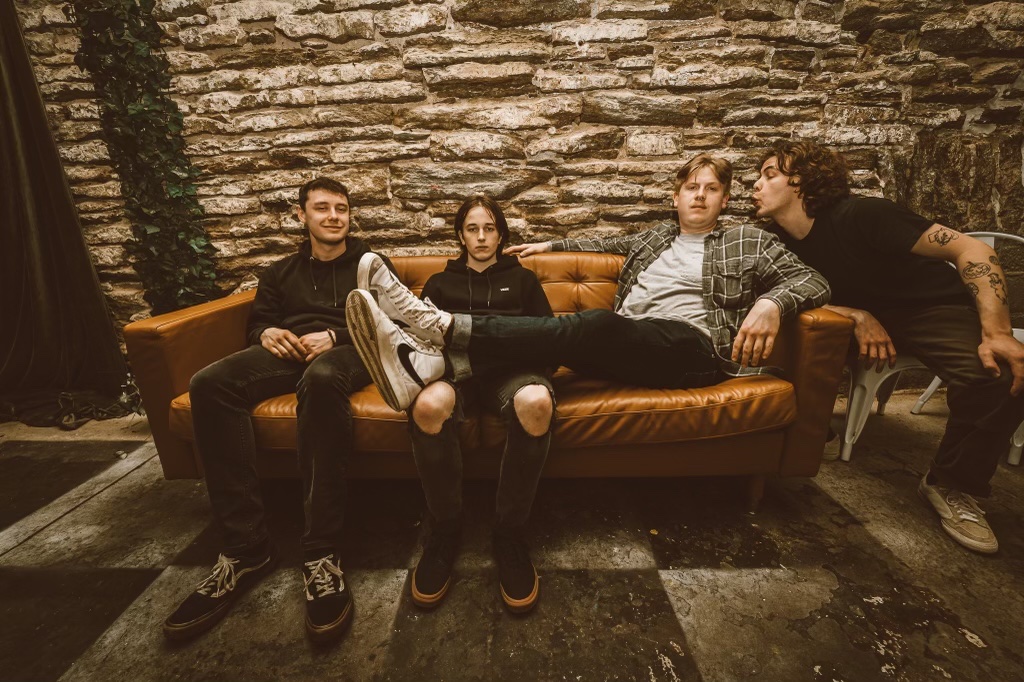 I recently had the opportunity to interview Leo of Arlen Gun Club. We discussed how they formed the band, their recording process for their upcoming album, writing new single, "Get The Lead Out", a favorite lyrical moment from the album, a song the band is most excited for fans to hear, collaborating with Thumbs Up Records and Rat Poison Recordings, releasing the album on vinyl, and more. Check it out below.
Can you tell me how you formed the band for those who may be unfamiliar? How did you initially become interested in music?
After an unfulfilling run with my band in high school, I (Leo) decided to try a more pop oriented rock band with some friends I had made in the music scene which happened to be Kenton and Ben. We played around locally in the Cincinnati area mostly for our first year with rotating bass players. Right when we had finished our first EP 'Fresh Face', we added Jacob on making our current permanent lineup. We had all been interested in punk rock music I think from knowing other people in bands and wanting to do it for ourselves, as well as wanting to be like our favorite bands we had grown up listening to through high school.
You recently announced your debut self-titled album. Can you tell me about the writing and recording process for the album?
So after recording our second EP 'Too Easy' with Crime in Stereo guitarist Gary Cioni at his new studio, Sound Acre Studios, we decided to book some more time there because we love that guy and wanted to record more with him, so we said, 'Hey, let's just do an album next, might as well!' and that's what we did. We wanted to stray a bit from the normal sound we had been playing and go a little harder, so over the 6 months leading up to our recording session we banged out about 20 or so songs and picked the best 11. I couldn't really tell you what we were trying to go for, other than that some of our inspiration comes from the Strokes and Donovan Wolfington. As far as the recording process, we spent 2 weeks recording 6 days each week. We work pretty fast and can get all the instruments done in one day for each song, doing vocals and guitar leads later on.
You released the lead single, "Get The Lead Out" with the album announcement. Can you tell me about writing that song specifically?
That song was my attempt at ripping off Remember Sports and failing miserably. I wanted to do something a bit straight forward and kinda emo so that everyone could groove to it. The song's lyrics are also pretty straight forward, it's just about me being frustrated waiting for people who take too long, simple as that!
What made you want to pick it as the first single?
Technically, it is the second single we released from the album. We dropped Clueless back in October when we went on a weekend run out of town, but on that run we ended up getting signed and dropped our whole original plan and restructured leaving us where we're at today.
We picked this first for the true rollout because it was so simple and right to the point, we thought that'd be an easy way to grab some ears.
Do you have a favorite lyrical or musical moment from the album?
One of the more stand out songs lyrically is the yet-to-be-released track called Rodeo which describes a traumatic relationship I (Leo) but fictionalizes it by setting it in an old Western.
Is there a song that you're most excited for people to hear? Why?
I can speak for all of us when I say we're most excited for people to hear the track called Beer Song, which is a tongue-in-cheek song about us being kinda blue collar and drinking beer. It originally was vetoed for going on the album by the rest of the band, until I showed our producer my demo of it and he immediately demanded it be fleshed out and recorded.
You're working with Thumbs Up and Rat Poison Recordings for this album release. How did it work out for you to work with them?
Avery from Rat Poison had seen us play in Chicago when we went out of town to release Clueless and immediately offered to release our album on her label when we talked to her after the set, it was like meeting my hero and then some since we are all big fans of her previous band Retirement Party as well as her solo music. Thumbs Up are a bunch of cool guys who got into the mix when they reached out and offered to release our album on vinyl, which we took them up on since they seemed like such cool guys!
You're releasing the album on vinyl and cassettes. What can you tell me about the packaging for both? How important is it for your band to have the album available on various physical formats?
Well everybody loves vinyl (and cassettes to a lesser extent) and we wanted to stand out with it a little bit by going with something eye-catching to match the album artwork. It's important to have something for everyone, whether that's vinyl or cassettes or CDs. Plus who hasn't dreamt of having their music on a big ol' vinyl disc???
Thanks for taking the time to answer the questions. Do you have anything else that you would like to add?
Yes! Shoutout to Gary Cioni at Sound Acres Studios for recording and mixing our album, Brett Romnes at the Barbershop Studios for mastering it, Benjamin Lieber and Mikaela Jane for the amazing album artwork, Avery from Rat Poison Recordings and the guys from Thumbs Up Records for all the work they've done for us and believing in us!!
Follow Arlen Gun Club:
Follow Sound In The Signals: