Landon Defever - Sound In The Signals Interview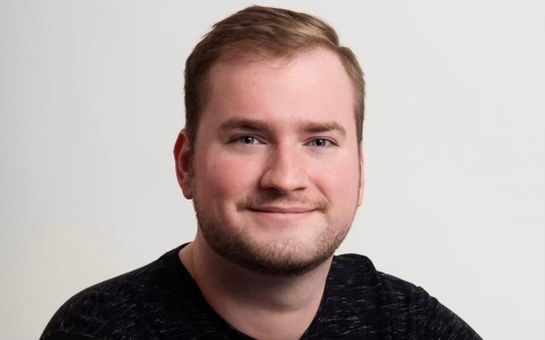 I recently had the opportunity to interview Landon Defever. We discussed how he started writing music, biggest musical influences, how important it was to have "Solace" pressed on vinyl, his cover of The Wonder Years "Hoodie Weather", and more. Check it out below.
First, thanks for the interview.
Absolutely, thanks for having me! :)
Can you tell me how you started writing music for those who may be unfamiliar? How did you initially become interested in music?
You know, it's funny, I've been writing music on and off since early college, but it wasn't until 2019 or so when I really got a fire under my ass to actually write, record, and publish a full song. I was going through some very hard, existential feelings about life and my place in the world, but it wasn't until I'd gone through that that it made me want to work through the creative roadblocks I was experiencing with "Solace." The music for the song, itself, I wrote in my sophomore year of college in my dorm room. I knew the hook was catchy and would work for a song, but I was really struggling with trying to put words to it.
Fast forward four years, I was going through a lot of bigger life changes - I got my first big corporate job out of college, I was moving down state, and coincidentally, I had my first big breakup, which was really difficult for me to process. However, through that breakup, I wrote "Solace" from the perspective of wanting to overcome the emotional weight of losing that closeness and intimacy you develop with someone so close to you - it was a really therapeutic experience. It wasn't until mid-2019 that I got serious about finishing it through, which is where the last verse comes in. I never knew how I wanted to end the song because I wanted to let some time pass to see how I would naturally cope with my emotions, and not write something out of malice or frustration. I think so many breakup songs tend to speak directly from the heart, which is a great thing for emotional resonance, but at the same time, I didn't want to put on some sort of facade with how I felt about my ex-girlfriend.
I think back to this really great interview on NPR's Fresh Air that Terry Gross did with Jason Segel in 2009 after Forgetting Sarah Marshall came out. Segel said, "It was very important to me for all the characters in Forgetting Sarah Marshall that they not be stereotypes. I didn't want it to be a diatribe against a cheating ex-girlfriend. It would've been really easy to make her just a real villainous character...but the thing that occured to me is...my ex-girlfriend is a pretty cool lady. Why would I assume that her new boyfriend is going to be a jerk? I felt that's what made the movie more complicated and real than just one of these comedies that come and go".
My ex-girlfriend didn't cheat on me, but even though I was dealing with a lot of emotional frustration at the time, I knew that my frustrations weren't with her - it was with myself, life, and the circumstances, and I'm really happy that I let those emotions settle down because I think the song is so much stronger as a result.
Here's a link to the Fresh Air interview, by the way!
Who are some of your biggest musical influences and how do those influences impact your songwriting?
My musical influences are quite literally all over the place, but I'll do my best to give a sampler platter! Growing up, the first artist I ever really connected with from a lyrical standpoint was John Mayer. His first three records are pretty perfect, in my opinion, but Room for Squares is still my favorite record of all time from a lyrical and structural standpoint. Third Eye Blind's self-titled record also comes to mind as a record with so much sonic complexity in how everything is ordered and flows - it is God. I got really into the Warped Tour sect of pop-punk/emo/rock in middle school, and was introduced to everything from Weezer to Motion City Soundtrack to Silverstein to Against Me! Ever since then, it's just been an ever-growing rabbit hole - I love a lot of '90s-centric emo, pop-punk, hardcore, alternative, etc. I think a little bit of everything collides with my taste and little nuances from each genre help impact my writing.
Your "Solace" 7 inch recently went up for order. It seems like it's been getting a great response. How have you felt about the response so far?
The response is absolutely mind-blowing so far. In a process that's taken over a year at this point, it's been a rollercoaster ride, so the relief of simply getting the vinyl in the mail was the biggest weight off my back. My friends Yabs and Ari at A Few Good Records, especially, have been super supportive with their extensive knowledge of running a smaller DIY label, and I'm very appreciative of them throughout this year. The output of support from friends, family, and this community has been incredibly kind and gratifying. From strangers buying the record from an Emo vinyl merch group that I was an admin in for a few years, to people on subsects of Reddit buying copies - it's made me very thankful for how many people are willing to invest in our hard work.
How important was it for you to have it released on vinyl?
Very much so! I've been collecting vinyl since 2011, when I got my first cheap-o player from the Kmart I was working at in high school. Even when I was 18, it was a hobby I saw a lot of my other friends with similar music taste getting into, so I wanted to start earlier than later. As my collection grew, and I started to write music more, it quickly became a bucket list goal of mine to physically press a song of mine on vinyl, and now that it's happened, it's a very gratifying feeling to say I've done it.
The b-side is your cover of The Wonder Years "Hoodie Weather". I think it's a great cover. What made you choose that song?
The Wonder Years is actually my favorite band. I first heard of them when they got announced for Warped Tour in 2011, right before they were kicking off the Suburbia album cycle. I was one of those people who, in a very short time, went from casual listener to megafan in a matter of a few months. Suburbia is my favorite album of all-time, along with John Mayer's Room for Squares and Third Eye Blind's self-titled, as I mentioned before, and "Hoodie Weather" from Suburbia always stuck out to me as a song I really connected with, as I was leaving high school and starting out in the world on my own. I decided to learn it to try and play at some local coffee house gigs at my college, and it was the cover that always got the best reaction from friends. Along with an original song, I always knew I wanted to record the cover of that song at some point, and it worked out great to pair it with "Solace" as the b-side because they were done in the same recording session with my friend Nick LaForge (Grey Matter / Binary Sunset).
"Solace" came out in 2019. Can we expect new music from you anytime soon? Is there any chance that you're working on an EP or album?
Admittedly, I'm not working on anything directly right now, but I'm always writing! I have a Note on my phone where I'm always writing down catchy one-liners I'll think of, with the possibility of coming back to them at some point. As of right now, I'm just enjoying the "Solace" train and hoping something else clicks song-wise in the near future.
Thanks for taking the time to answer the questions. Do you have anything else that you would like to add?
You can purchase "Solace" on vinyl here - as of Thursday, March 10, we're halfway sold out of the /100 press, so if you want a copy, I'd buy one sooner than later! Outside of that, you can find me on Twitter @ igotdefeverman, and on Instagram @ duhfever. I also have a podcast called Films for the Void that I do with my friend Eric every other week, and you can find us on Twitter @ films_void!
Follow Landon Defever:
Follow Sound In The Signals: