Corduroy Pants - Sound In The Signals Interview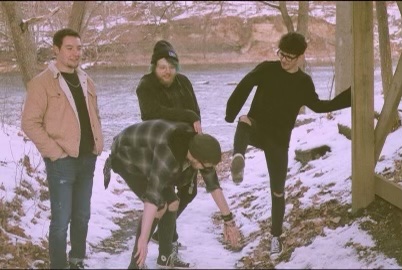 I recently had the opportunity to interview Corduroy Pants. We discussed how they formed the band, their early interest in music, writing their new EP, the context behind their song, "Taco Bell Breakfast", and more. Check it out below.
First, thanks for the interview.
Thanks again for having us.
Can you tell me how you got together and formed the band for those who may be unfamiliar? How did you initially become interested in music?
We started with Vic and I (Dane) started playing and screaming over acoustics in various parking lots but officially started in the Goodwill parking in Lansing, Michigan and then later on went full band with Maverick joining on drums and Gaven joining playing lead guitar, and then adding our new guitarist Alec to play rhythm guitar about a year later.
As far as how we initially became interested in music in different ways. I (Dane) became interested in music at a young age by wanting to play guitar and later in high school writing different genres of music but landing where I am now. I was also very inspired by Michigan band Hot Mulligan and I think that's what sparked me wanting to be in a band.Vic was inspired by early 2000s R&B and 5 Seconds Of Summer. While Maverick was brought up in a musical family with his dad also being a drummer in multiple touring acts. Gaven grew up being around various punk bands and being inspired by the likes of Glenn Danzig of the Misfits.
You've been working on new music and released your new EP recently. What can you tell me about the EP?
With this new ep we were actually able to write this together instead of one of us bringing a song to the table and going from there. As far what we did for the writing we wanted this one to be more personal so we wrote these songs as more of stories. We feel like this ep is very self reflective and we have more of a solidified sound from our prior pieces of work.
Did you try anything new with your writing process on this EP?
As far as the writing process we went into this one with the mindset that we wanted the choruses of all the tracks to hit hard while the verses stayed pretty mellow. Also just writing together and being able to feed off each other's energy was something we didn't get do. I also feel we honed in and wrote a bit more technical and took our time. We also had the ability to cut songs that didn't fit instead of putting everything out at once.
"Taco Bell Breakfast" is one of my favorite songs of yours. Can you tell me about writing that song specifically?
Vic and I (Dane) wrote Taco Bell Breakfast about losing some family members. This was written in a time where we were listening to a lot of Hot Mulligan and Vic just figured out how to use open f tuning. We wrote this song acoustic a little bit before the full band line up started. In the second verse Vic wanted me to mention that it's meant to seem like his uncle that passed is talking to him for a bit of context.
What song would you recommend for someone to check out who is new to the band? Why?
We would recommend either Taco Bell Breakfast or Scooperman Ice Cream off our new ep. We feel like those capture us best and what our most consistent sound is.
Thanks for taking the time to answer the questions. Do you have anything else that you would like to add?
As far as other things we'd like to add. Our new ep 'I think we should go now' was mixed and mastered by John Coote of Michigan band finalbossfight! and is out on all streaming platforms. We have a show Jan 21st at the avenue in Lansing, MI; come on out if your 21+ no cover. Check us out on Spotify and Apple Music. Our instagram is @corduroy_pants_band and our twitter is @corduroypantsmi
Go check out Vic's skating page @doggybonesvic on instagram. Thanks for having us.
Follow Corduroy Pants:
Follow Sound In The Signals: