Adam Lohrbach (Home Grown / Radical Radical) - Sound In The Signals Interview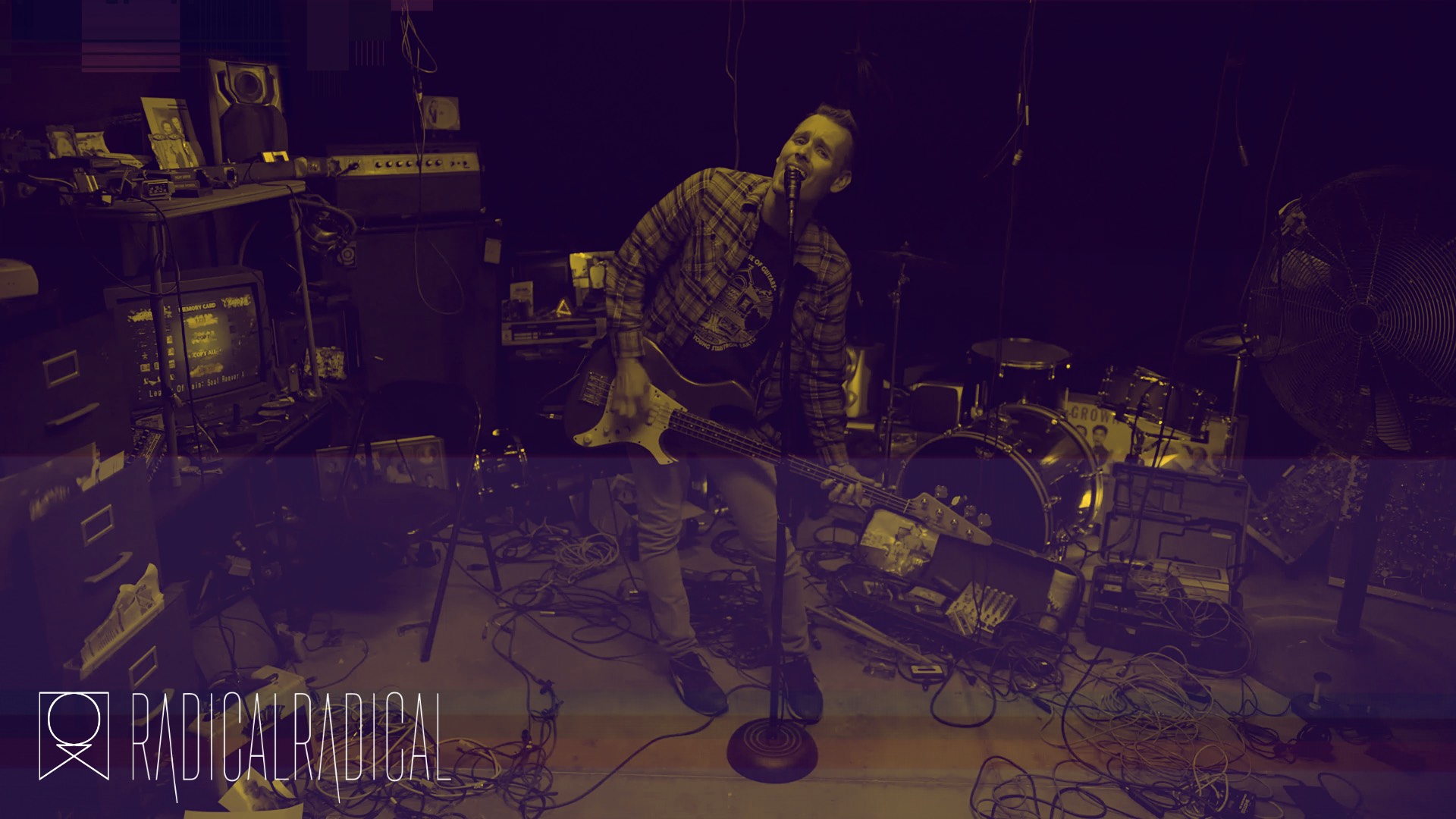 I recently had the opportunity to interview Adam Lohrbach. We discussed creating Home Grown's 'Kings of Pop' album art, recording with Parker Case, his time on Drive-Thru Records, playing bass with Yellowcard on Warped Tour, the possibility of a Home Grown reunion, his latest project Radical Radical, and more. Check it out below.
First, thanks for the interview.
Happy to be invited, thanks.
The Home Grown 'Kings of Pop' album artwork and layout was something that was so well executed. Can you remember who came up with the concept and designed it? What do you remember about putting together that interior layout and photos?
I'd say from our inception we never took things too seriously and that was reflected in just about everything we produced. There was a darker evolution to our sound in the later records due to various musical and life influences, but overall humor was a huge part in how we made connections with our friends and fans. I think "Kings of Pop" was just another manifestation of that schtick. Michael Jackon is the obvious "king" of pop, but what band could lay claim to being the collective "kings" of pop? You can see where we were going with this. Whether at a live show or as art, slapstick and hyperbole saturated our performances and overall image.
I honestly can't remember how we came up with the artwork for that release. My guess is that Richard and Stephanie had some ideas and then we took them too far. The shoot for the artwork was in some back parking lot in LA. They rented an old, dilapidated limousine and hired a couple of older gals to be our entourage. Again, you can see where this is all headed. Kings should have the best of everything and so we made sure to poke fun at ourselves for brandishing such an outrageous title.
'Kings Of Pop' was reissued on vinyl a few years ago. I was wondering what you thought of that and did you have any involvement in the pressing?
I was not aware of that. I'm happy to know that more people are able to enjoy the record, but at the same time wonder where the money is going.. Something I'll have to look into honestly.
After 'Kings Of Pop', Home Grown released 'When It All Comes Down'. I really liked the style and sonic progression that EP had. What encouraged the band to start branching out of the pop/punk style and adding more emo type influences?
In the early 2000's there seemed to be a converging of different touring scenes. It wouldn't have been unheard of to go to a punk show and see a hardcore band, a ska band, and an emo band in the same lineup. The scene back then was generally open to various styles and performances especially if they had a live show that left everything on the stage. We found ourselves either touring with emo bands or having emo bands open up shows at their local venues.
For us personally, bands like Thursday, Jimmy Eat World, Taking Back Sunday, Brand New, etc. were beginning to influence our sound. I think we were always committed to a "pop" sound overall in terms of harmonies and hooky choruses and guitar leads though. A short time before we worked on the E.P. my girlfriend at the time (now my wife actually, long story) had left me and I was heartbroken. I couldn't really write from any other point of view than the shattering of that experience. Those songs reflected a darker time in my life.
Parker Case worked on that last EP. What was it like working with him? What made you want to work with him?
Ah Parker, he's an awesome guy. He had a home studio and had invited us to record it with him. It was local and really vibed with how studio work needed to play out for us at that time. He has some fun production ideas as well throughout the process and had a good mind for the poppunk/emo/rock vibe. Shoutout to his parents, they were amazing hosts.
I remember JamisonParker and I know Jamison was part of The Starting Line's artwork. Do you remember if both of those guys were close in the Drive-Thru Records orbit at that time? How did you meet Parker?
I'm really not sure what connections they had with Drive-Thru. John might have a better idea of that. Come to think of it, I can't remember how we met them, ha! We were friends with Parker before he and Jamison signed with Interscope way back in the day but to be honest, it's all foggy. Great guys though. Their talent and creativity spill over into all kinds of projects they find themselves in.
Many artists have discussed their time on Drive-Thru and some describe good experiences and others bad. What was your experience like on Drive-Thru?
I'd say overall I'm very grateful for our relationship with them. They came to us at a time when we really needed some wind in our sails. Before we had met them, we had been touring for about a year and a half on the record "
Act Your Age
" that got dropped from the label we signed to. We were essentially doing everything on our own with no label support and touring to survive. They were very formative years but also challenging to have to basically fund everything on our own.
Drive-Thru were genuinely excited to sign us and had a good pulse on the scene and what it took to launch (or in our case, relaunch) their artists. They were able to fund the recording of our record with the legend Steve Evetts, offer some tour support, and market the record. Coupled with the momentum of a new record and being able to tour with similar sounding artist on their label we were able to gain worldwide momentum rather quickly.
Those Drive-Thru DVDs were a pretty big deal in that era. What was it like being featured on those DVDs and what did it do for your band?
I can only credit that to Richard and Stephanie and their team. We were just along for the ride in terms of marketing strategies like that. We had no clue how much influence DVDs would have in our genre. It reminds me of when we had the song "Face in the Crowd" featured on one of the earliest punk compilations ever called "
Punk Sucks
" from Liberation Records. That compilation exploded and allowed us to tour and show up all around the country to waiting fans we would have never anticipated. What can I say really...surround yourself with good people and good things tend to happen.
What is one story about Home Grown that you've never talked about before that sticks out in your memory?
I remember opening up for Sublime at the Barn in Riverside. We were so excited to see them play (and for them to see us play). Well, they showed up late to the show, completely inebriated, and seemed to barely make it through their own set. It was so deflating at the time, but hilarious now. To their credit, I saw them about a year before that in Blackstar Canyon at a festival and they absolutely killed it. Also, I look fondly back on the time Yellowcard needed a bass player for quite a few shows on the Warped Tour and I was able to fill in for them. It was wild because sometimes our set times were so close together, I would literally run over to their stage with my bass, plug in, and we would hit the first note seconds later and start their show. Sometimes they would be on stage waiting for me as I ran up.
I have to ask; have you and/or other members ever thought about reuniting Home Grown? Have you kept up with any of the members at all?
We have been flirting with the idea for yeeaaaaaaars now. I'm open to it. I'm probably the least connected with the other guys but still connect with them every once and awhile. We were all at John's baby shower shortly before Covid and we all connect online of course. Having 3 kids and living 20 minutes away puts a bit of a damper on making easy, intercity connections.
After Home Grown you renewed your interest in your Faith. What caused you to find that path again? Were people in the pop/punk world surprised and/or supportive when you went in that direction?
I had been a Christian long before I joined Home Grown but found my faith really took a backseat to tourlife and everything the limelight offered. I could have easily (and rightly) been described as a hypocrite. Some of those darker moments around when "When it All Came Down" was released really caused me to reevaluate who I was and where I wanted to be in life. At that time, it made the most sense to me to let it all go and focus on my relationship with Jesus. It wasn't a decision made lightly. I knew that it would have a massive impact on my friends in Home Grown and the direction their life was headed in.
For me, it was the right decision to make, but it was still painful and frightening to leave it all behind. The worst part of it was that my decision was completely unexpected and caused my bandmates to have to adjust their lives so quickly.. They're obviously very resilient and talented, but that still doesn't make it easy. I think overall there were mixed emotions in my leaving. Some people sympathized with where I was in life and encouraged the direction I was taking. Some were obviously grieved at the loss of a member in Home Grown. Some took easy shots at faith in general and made snide comments. I suppose I experienced the entire gambit of reactions and can sympathize with where most of them were coming from.
You recently talked about your current project Radical Radical. Can you tell me a little about that project? Do you know when we might hear some music from it?
Radical Radical (@
radicalradicalmusic
) is a pop punk/emoish/punk rock project that began a couple years ago. It all started when I went through a crushing bout of depression. It was a miserably beautiful experience. It's miserable to live under the dark cloud of depression, but it did expose a lot of things in me that I had no idea existed until they were brought to light. There were things I had to learn, and many things I had to unlearn. Near the end of that time, I began writing a lot of poetry. It helped give language and even some personal insight into where I was and how I got out of it.
From there I started experimenting with how this poetry could morph into lyrics as my heart started getting rekindled towards the pop punk sound. It was effortless. In the past I had always written the melody before the lyrics and constantly wrestled with what to say. This time, I knew exactly what I wanted to say and simply needed to present it in a way that was meaningful to me and would hopefully help other people on their own journey.
A couple years later, the record is written and self-recorded. I'll be releasing my first single "Misfit Toys" on March 5th, 2021. We shot an incredible music video with it that will be released shortly after and a couple of alternate synthwave and 8-bit versions of the song from Justin Fowler. I just sent the stems to Russell (former drummer of New Years Day) to start practicing for live shows in the hopeful near future. I'm most active on Instagram. Look up @radicalradicalmusic to hear some snippets. The website has about 8 song samples on it and my highlight reels have a lot of studio captures of the songs being written from last year. I'll be releasing super limited merch to purchase for anyone on the mailing list too.
Thanks for taking the time to answer the questions. Do you have anything else that you would like to add?
I've recently been reimagining some old Home Grown songs on the acoustic guitar. I have them on my personal Insta Account (@adamlohrbach) and mastered versions up on
YouTube
. I'll be working out 3 more versions this week actually and posting in the next couple months. Thank you to everyone for all the incredible memories throughout the lifetime of Home Grown. I'm forever grateful to you and I'm looking forward to hopefully reconnecting with many of you through Radical Radical.
Follow Adam Lohrbach:
Follow Sound In The Signals: