Horror Section - Sound In The Signals Interview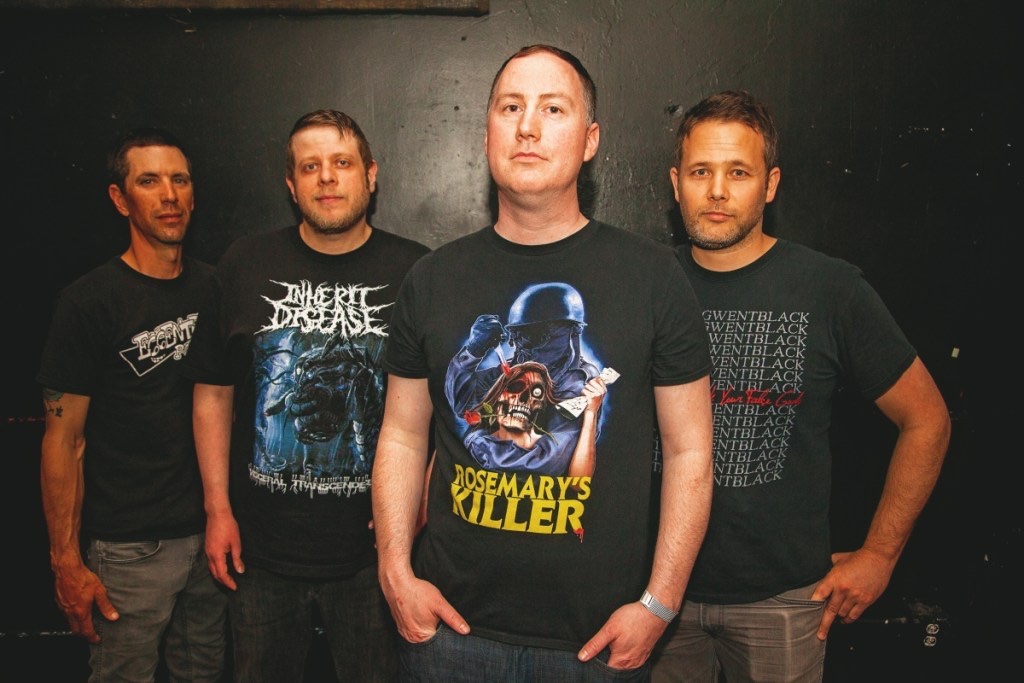 I recently had the opportunity to interview Teflon Dave of
Horror Section
. We discussed recording during quarantine, Halloween music and movie recommendations, the band's upcoming EP, and more. Check it out below.
First, thanks for the interview.
No problem, thanks for the opportunity to talk again.
You released 'Teflon Dave Alone In The Basement' earlier this year. Can you tell me a little about recording that project?
As soon as quarantine started I began to think of ways to continue making music. Around that time Henry from Memorable But Not Honorable reached out and said he was going to start a cassette label and asked if I wanted to be the first release. I felt a little uncomfortable doing an acoustic thing since in general I don't love solo acoustic stuff. But as I thought more about it decided why not. I'm glad I did though, it was fun to do something different.
In the spirit of the old school home demo I did as little takes as possible and used my old podcast gear to record on my computer. Sure it could have been better and used more studio finesse, but that's not the point. I ended up doing one original song (with a video on YouTube), songs from my current and previous bands (Horror Section, Fintas, and The Teflon Dons), and one Riverdales cover.
I watched your live basement performance earlier in the year. Is there any chance that we'll see more of those?
It's a possibility but it's not on the agenda any time soon. I had a lot of fun doing it and I think people enjoyed it but it's not something that needs a regular occurrence. I'd like to do a full band live stream but we haven't been together yet since before the quarantine.
It also had a cassette release. Is there any chance that it might get a vinyl pressing at some point?
I've been approached to do a vinyl version but for now I think it's best suited to remain on the original format. The cassette is sold out but you can still stream the release on the Memorable But Not Honorable bandcamp site. The door isn't shut on doing more acoustic releases though.
You're running a Halloween sale on your webstore right now. Can you tell me a little about it?
On 10/23 our new Collection II CD was released which is a follow up to our Collection I CD from a few years ago. 16 tracks of our out of prints 7", comp tracks, and rarities. Both Collections were released earlier this year as a gatefold double LP, but that is largely sold out online (you can ask your local record store for a copy or check out bigger sites like Amazon).
To celebrate our new Collection II CD we're also doing 31% off of shirts, hoodies, shorts, and hats through Halloween. It's been great so far, some of the sizes are already sold out. Hopefully we can clear out inventory for new designs and reprints.
You put up some test presses for the sale and all the 7 inches sold out almost immediately. The artwork for them is really cool. Who came up with the alternate artwork for those?
Travis from Eccentric Pop Records did the art for those. I think they turned out great! We've done a few special covers for tests in the past and since we had some extra to sell Travis helped out with art and we had a small number screen printed. I thought there would be some interest but didn't expect them all to sell right away.
Do you have plans for any new music this year or are you currently working on anything for next year?
Yes, we have a new EP recorded that should be out early 2021. We're also writing more material right now for other projects but of course that's moving slower than expected given what's going on. I also have a few side projects I've been working on that I hope to release next year.
As Halloween approaches, what are some of your Halloween movie recommendations for this Halloween?
The Halloween series is a must every year. Other regular movies I revisit every year are Trick R Treat (and Trick or Treat for that matter), The Barn, Creepshow, and the Garfield Halloween Special.
What's your earliest memory of watching a horror movie and really enjoying it? Is there anything that's came out more recently that has inspired you the same way?
Enjoying it might be a stretch since it scared the crap out of me but my earliest memory was seeing Friday the 13th part 6 on TV. As far as more recent, maybe it's because it's that time of year but I really like the 2018 Halloween. Was really cool to see one of the iconic slashers back on the big screen and I think they did a good job on it.
What songs will be on your Halloween playlist this year?
Too many to list here but here's a few.
Anything by Slasher Dave and John Carpenter for synth spooky mood vibes
Misfits, Samhain, and Danzig are a must
Harley Poe - Gorehound
Nim Vind - Killing Saturday Night
Calabrese - Ghostwolves
Dead Man's Bones - In The Room Where You Sleep
Balzac - Nowhere #13
Thanks for taking the time to answer the questions. Do you have anything else that you would like to add?
You're welcome! Hope everyone manages to have an awesome Halloween. There may not be any parties or bars open this year but I'm just as happy doing a fire pit, placing treat bags out, and watching some horror movies. Cheers.
Follow Horror Section:
Follow Sound In The Signals: