Slick Shoes - Sound In The Signals Interview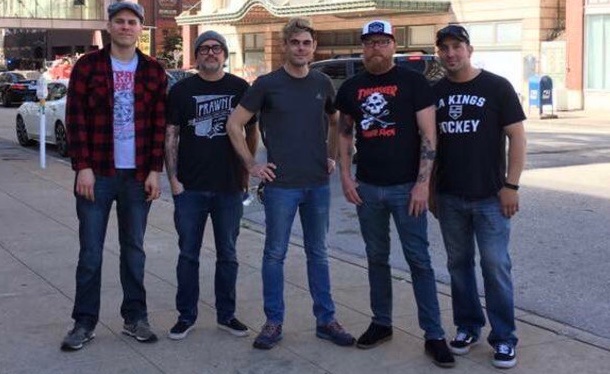 Slick Shoes, a pop punk band from Antelope Valley, CA, formed in 1994 and released their self-titled EP in 1997. Since then they've released more music, gone through some member changes, gone on hiatus and reunited. They recently announced they have resigned with Tooth & Nail Records and will release a live album. They tell us about recording this show, what it's like coming back to Tooth & Nail, what fans can expect from their new album coming next year, and more. Read it below.
First, thanks for the interview.
It's a pleasure. Thank you for having me do this!
You just announced your new live album 'Broadcasting Live'. Can you tell me about recording it? What's the process like when you're recording a live show?
Honestly, it's a lot of work. We knew we would need a cohesive set list, and that we needed to rehearse as much as possible. But there are a lot of things that weren't as obvious we needed to consider: Figuring out which venue to do this thing, and the logistics and legalities that go along with that are treacherous and time consuming. Making sure the sound system is sufficient and compatible with the recording equipment is an important detail we hadn't thought of. Thankfully, we had a good team (including Tom Chichila, and Andy Alonso, among others) who helped navigate us through the whole process.
How did you choose the songs for the album and what were the shows like that you recorded?
We actually only had one
show
to make this live album- August 18th, 2018 in Anaheim. It was probably one of the best shows we have played over the past few years. The room was full of the most faithful of our fans, friends and family, and they really brought the energy.
For this show, we picked the songs that we like the most. We wanted to include at least a song from each album, but this set skewed more toward
Rusty
and
Burn Out
. We broke the list into groups of songs that flowed together seamlessly.
Are there certain songs that you always like to play live and/or ones that fans always love?
There are a few songs that tend to make every set list every time we play. Parting Ways is one of our favorites. I think when people see us live, they either want the energetic songs such as East on Tracks, Darko, Fall, etc- or they like to hear a love song that they can identify with such as Feeble or Angel.
You resigned with Tooth & Nail. What made you want to resign with them for this and your upcoming album? What is it like coming back all these years later?
When we decided to record Broadcasting Live, we really didn't know how we were going to release it. We wanted to put it on vinyl, but that can be expensive. We talked about the possibility of crowd funding. We have friends who had extremely successful crowd funding campaigns, (i.e. MxPx, FIF). But we have seen crowd funding turn into a nightmare for others, whose members got into personal debt to fulfill orders. So we weren't eager to jump into a crowdfunding project either.
A friend connected us with an A&R at Tooth and Nail, Adam Skatula. They were interested in releasing the live album, and we were interested in recording new music. We worked out a deal that made it possible to do both. We are stoked that we get to write and record music again, and Tooth and Nail helped make that a reality. We're happy to be back!
With the recent announcement of the live album, you also announced that you're releasing a new album next year. What can you tell me about the album? How far along are you in the process and what can fans expect?
We are currently in the studio, (as weekends allow), working on a full length album with producer Steve Kravac, who also produced
Burn Out
, our first EP, and vocals on
Rusty
. It's coming along great. As of now, drum tracks are done, and guitars are in process.
Fans can expect a dynamic record with songs ranging from fast, melodic and dark, to songs that are light and poppy.
I know you guys have had a few member changes along the way. How did you come together and decide to play shows and record a new album?
The group of guys we have now are the original four guys who were there from the beginning- All of us recorded the EP,
Rusty
, and
Burn Out
together. We all live within 10-15 minutes of each other, and we like to hang out together. Back when we were a full time touring band, it was just impossible for the four of us all to continue to make a living and support our families from music. Now that we can do things at our own pace, we get to make music the way we used to- best friends just hanging out and writing songs.

I know you've been playing shows and releasing some music, but with the signing and upcoming album announcements it feels like you are making a more formal return and plan to be even more active. Is that a true assumption? What can we expect to see in the future?
We definitely would like to continue to play shows, and continue writing and recording music. We have been consistent saying that we will never be a full time touring band again, but when it can work with our work schedules, families, etc, we want to continue to get out and play as much as possible.
Slick Shoes have a couple albums or more that are considered "classic pop/punk" albums. What's it like seeing how your music has lasted the test of time and how it is resonating with a younger audience now?
It's awesome that those early records connected to some of our fans to the point that they are still excited to listen to those albums 20+ years later. We are grateful that we still get to make music and play shows. We appreciate that we still have an audience that wants to see us live, and wants to hear new music! I'm not sure how it's resonating with the younger audience because we don't really differentiate between age groups, but we definitely like to see new fans.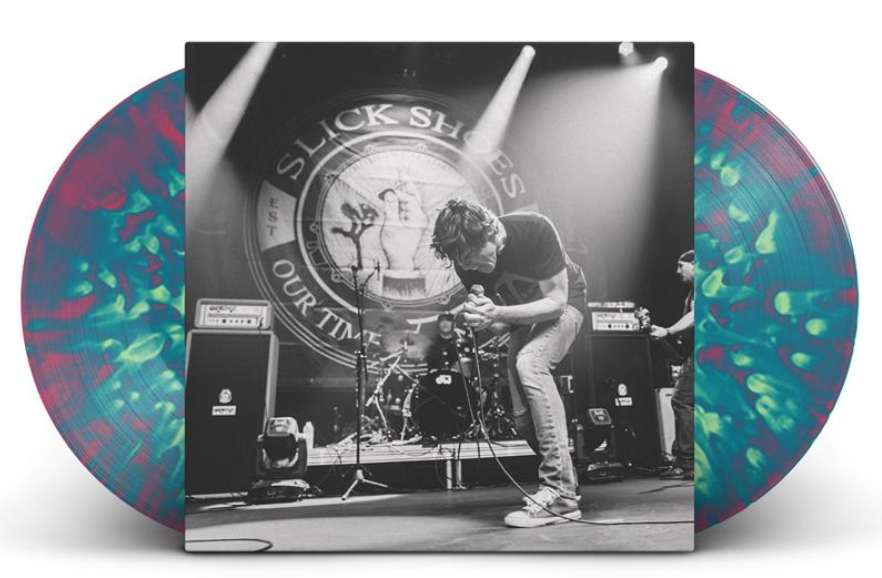 The live album is coming out on vinyl and fans are really excited about finally being able to own some of these songs on vinyl. Would you like to, or will we, see more of your recordings released on vinyl?
We would definitely like to see more of our work on vinyl. It's something we have been looking into and working on for a couple years. There may be something in the works.
I guess that wraps it up. Thanks for taking the time to answer the questions. Do you have anything else that you would like to add?
Thanks for the questions! Follow us on Instagram and Twitter @slickshoesband, like us on Facebook at Slick Shoes - Official, and follow us on Spotify to keep up with news and new releases.
Follow Slick Shoes:
Twitter
Facebook
Instagram