Values Here - Sound In The Signals Interview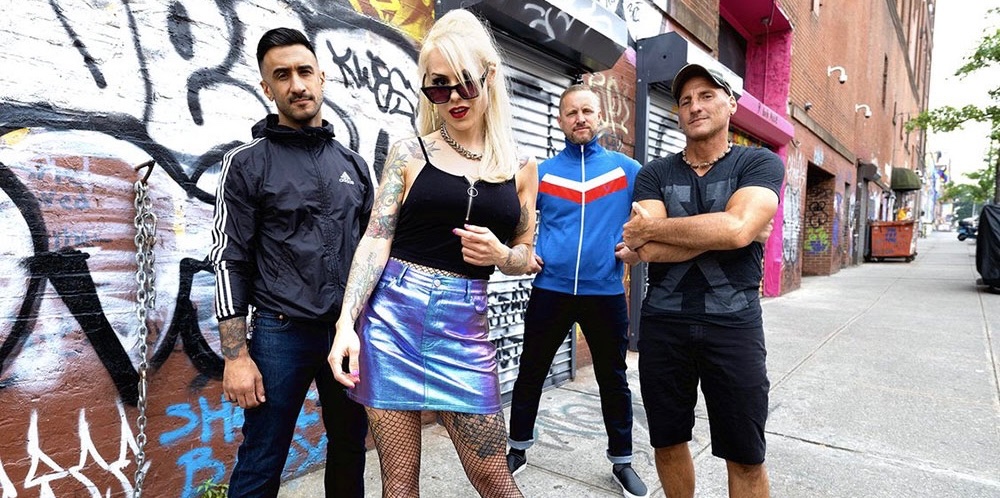 Bernard J. Hunt
I recently had the opportunity to interview Chui and Porcell of Values Here. We discussed how they formed the band, writing and recording their upcoming album, releasing vinyl, designing the band's logo, and more. Check it out below.
First, thanks for the interview.
Porcell and Chui: Thank YOU!
Many of you have backgrounds with some great bands. How did you get together and form Values Here?
Porcell: Me and Chui met at a Shelter show and thought up the idea for doing the band, and I was stoked to do a band with a girl singer since I had never done it before. I had known Tim from way back, we actually went to the same high school together and later on I played guitar for his band Bold on a few tours. Vinny also played drums in Bold on some of the later tours so that's where I met him. The cool thing about this band is that we're all really good friends and get along well and have history with each other.
Chui: Porcell and I met in Barcelona the last time Shelter played there and thanks to Instagram we kept in touch and started the band.
Does it make you feel more nervous or excited when you're launching a new band and announcing the debut album? Why?
Porcell: I'm just really excited about it. You have NO IDEA how many hours and months we worked tirelessly writing and recording all the songs for this album, and it turned out even better than I had ever expected. I'm just stoked for people to hear it and to be able to play all these songs live.
Chui: We are suuuuper excited!! We've been putting SO MUCH EFFORT in this record that we cannot wait to finally show it to the world!
You recently announced your new album 'Take Your Time, I'll Be Waiting'. What was the recording process like for the album?
Porcell: It was a long journey. First we tried to record it ourselves, which we ended up scrapping. Then we recorded with a different drummer, but that also didn't work out. Finally I called my old friend Tom Soares, who produced the Judge "Bringin' It Down" and Shelter "Mantra" records, and asked him to help. He actually went on to become a big time record producer and worked with Jay Z and Britney Spears, so I wasn't sure if he'd record a completely new and unknown band, but I think as a favor to me he took on the project and was a huge factor in making this record sound as great as it does. So yeah, persistence and determination go a long way!
Chui: As Porcell said it was like a back and forth, he sent me the musical part and then I wrote the melodies and the lyrics, and recorded them here in Spain. Again thanks to the internet nowadays using dropbox and lots of videocalls we could work in it " easily". The bad thing was the time difference but sometimes it worked better for us because he sent me stuff while it was daytime in NY, night in Spain, so when I woke up (he was sleeping) I worked on it so when he woked up the song was ready 🤣🤣 like a factory that does turns
You released the first song on the album "Will Be Tomorrow" with the album announcement. I think it's a great first track. I really like the way the guitar sounds on the song. What type of guitars and setup did you use for this album?
Porcell: Don't even get me started talking about guitars and amps and rigs lol because it'll be the longest interview you ever did! Yeah I love the guitar sound, basically guitar left is my Gibson Les Paul Custom and guitar right is my Fender Telecaster that Fender very generously hooked me up with. The combination of the heaviness of the Les Paul mixed with the clarity and brightness of the Telecaster really makes the sound come together. Then I used my Gibson SG for all the lead tracks. It's a great guitar for leads because it has a very high end sound that cuts through the wall of sound of the rhythm guitars. Fender also hooked me up with a Joe Strummer signature acoustic guitar, which I used all over the album as well, especially on the very last song "Last Forever" which is basically an acoustic song. Fender ALSO sponsored us with a Precision bass which was the main bass on the album as well, so we can't thank them enough. I used a TON of different amps and amp simulators on the record, but mainly it's the Les Paul through a Mesa Boogie rig and the Telecaster through a Marshall.
Which song was the easiest to write for the album and on the other hand which one took the longest to complete?
Porcell: Will Be Tomorrow, Bring Me the PMA and Earthlings were the easiest to write for me because the music was already written. A few years ago Bold was going to do another album, which I wrote a few songs for, but the record ended up never happening. When me and Chui were first talking about doing a band I sent her demo versions of those unused Bold songs, which turned into those three Values Here songs.
Chui: The easiest ones were will be tomorrow and do you know why, the first two singles. They literally flowed right away I didn't had to even think to write the melodies and lyrics, I always say that they were sent from above because they were perfect just as they came.
The longest ones I think it was PMA and feeling down I had to re-do them like 3 times; we are perfectionists.
What's your personal favorite song from the album and why?
Porcell: Wow, that's hard to say because I love every song! If I had to pick I'd go with Will Be Tomorrow, because that was the first music I had sent to Chui to sing on. Like I said, it was previously a Bold song called "Don't Bury Me" which never saw the light of day, and I always really loved the music. I had a demo of just the music sitting around on a hard drive so I sent it to Chui and within a day or two she sent me back Will Be Tomorrow complete with harmonies and backup vocals, which blew my mind. From that point on I knew we were onto something.
Chui: This is difficult... I don't think I have a favorite it changes depending on the day and how I feel.
One thing I really like is that a lot of you have been in bands for years, but you've never strayed away from working on new bands as well as pursuing sonic exploration. When so many artists get stuck on playing one sound for so long, how have you been able to keep it fresh and continue pushing sounds and boundaries?
Porcell: I don't like to rest on past accomplishments. I like to push myself to move forward and try to go beyond the boundaries of what I did before. I never want to be one of those people that's stuck in the past. I'd rather create something new and exciting and have something to look forward to.
Chui: For me as a professional singer I got to sing lots of different styles, as well I studied them, there are tones of different muscle configurations to sound the way you need for each song, i always put my style in it but I love to have the ability to sing wherever and whatever I want.
That's the reason why I think I will never get stuck or sound always the same because I find inspiration everywhere and then use it in my songs. I will never limit myself or put myself in a box to fit, no matter what!
You're releasing vinyl for the new album which includes a small number of liquid filled records. They look really cool. Whose idea was it to create those?
Porcell: All the credit for that goes to Oise, the owner of End Hits Records. He's also a boundary pusher and super creative and likes to do things that haven't been done before. When he re-released the Shelter "When 20 Summers Pass" record, it was his idea to do the pop-up gatefold art, which is the first of its kind and incredibly cool. For the Values Here record, it wasn't enough for him to just have liquid vinyl, he wanted to have floating metal PMAs in it as well! It's basically the coolest vinyl ever made and I can't wait to get my copy!!!
Chui: Those vinyls are the most incredible thing I've ever seen, Oise is a genius
I really like the logo for the band. Who came up with the concept for it and designed it?
Porcell: Chui's a tattoo artist and an amazing illustrator, so I wanted to have her draw something really cool as a band logo. I mean, Youth of Today had the X fist logo, Judge had the hammers and Shelter had the cool burning wheel logo, so this band also needed something iconic. Poor Chui, she probably drew over a hundred logos and every time I said, "It's good but it's just not it!" Finally after months she drew the torch and I was like, "That's it! That's the one!" She was a good sport about it lol and she also agrees that the torch logo was "the one."
Chui: Porcell said I drew 100 logos, it's not true I think I did like 300 🤣🤣🤣🤣 but I'm glad I did because the torch is just perfect.
We wanted something that was iconic and something that evoke positivity. The light of the torch guides you through the darkness and the fire reflects the energy and drive that we have
At this point in your career, what's your favorite thing you've achieved as an artist so far? What do you still hope to accomplish?
Porcell: Music's been good to me. It's taken me all around the world and I've had adventure after adventure over the years and played so many amazing shows. I can honestly say though that I am as stoked as ever for this Values Here record to come out and I just wanna start playing. If we can get kids singing along and feeling an emotional attachment to the music and the messages of the songs, that's all the accomplishment I need.
Chui: For me personally making this band with this incredible musicians, that are fucking Icons and putting out this record is the biggest thing that I made in my life. When the records comes out I will go to all the record stores in Europe just to stare at them like a crazy person 🤣🤣🤣 I'm so excited!!!!
If you told the the teenager Chui that when 20 summers passed she will make a band with members of Youth of Today and Bold she would go fucking nuts. I still think it's crazy this Universe opportunity I've been given. I couldn't be more thankful.
Thanks for taking the time to answer the questions. Do you have anything else that you would like to add?
Porcell: We're a brand new band, so if people can help spread the word about us and this new album, please do it in any way you can! Check our instagram @valueshere and share our videos and posts! We need your help and support! Thanks to everyone out there, we appreciate you so much!
Chui: Thank you!! Stay tuned for the next single and follow us on Instagram!
Follow Values Here:
Follow Sound In The Signals: