Resignation - Sound In The Signals Interview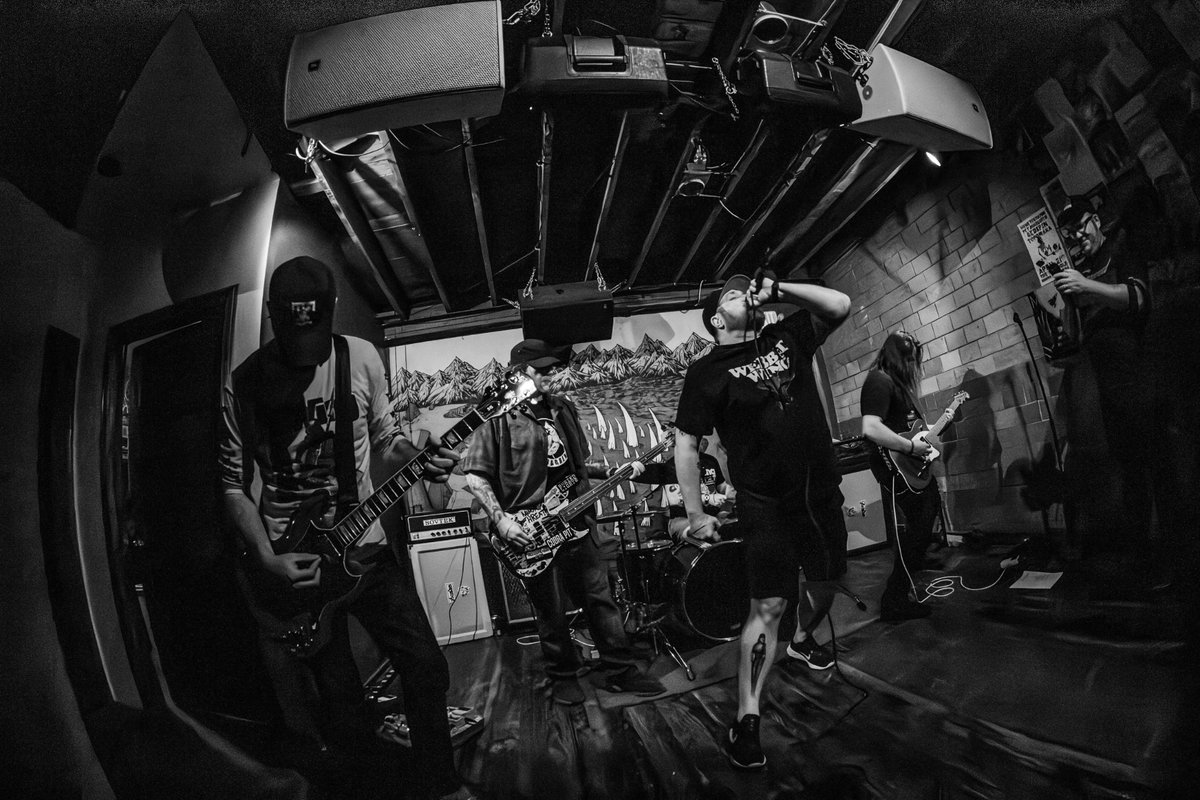 Rusty Anderson
I recently had the opportunity to interview Wes Allen of
Resignation
. We discussed the band's cover of Texas Is The Reason's "Back And To The Left', musical influences, collaborating with Zach from Sparing, the importance of mental health, upcoming plans, and more. Check it out below.
First, thanks for the interview.
Of course! Can't thank you enough for asking.
You recently released a cover of Texas Is The Reason's "Back And To The Left". What about that song made you decide to cover it?
Yeah! It's really exciting to have that out into the world. In terms of why we chose that song, selfishly, it's my favorite song ever. Texas Is The Reason changed the way I approached music. I was a teenage hardcore kid when that record came out. It was revelatory to hear music made by hardcore kids that expanded upon the sound, introduce melody, open spaces, and all while still holding onto the urgency & aggression that drew me to hardcore in the first place.
Texas's music opened the door to what would ultimately become the music that truly developed my taste. Our guitar player Chris (Chilcote) & I have been playing in bands together for 20 years and Texas Is The Reason has been a staple influence on what we do this entire time. As a band, Resignation never shies away from the fact that we're heavily influenced by the sound of Revelation Records bands from the late 90s-early 00s. Texas is the start of that.
What was the recording process like for it?
Recording process was pretty easy honestly. We recorded with J.C. Griffin at Lakebottom Recording House in Toledo, OH. We did our demo and our EP with him as well. It's cliché as fuck, but he's a sixth member of this band. He understands who we are and what we are trying to accomplish. So, he's the best person to interject with advice or critiques. The only real stress of recording that song comes with the pressure of knowing "hey, you're recording a cover of a beloved song. Don't fuck it up". You want to treat that song with respect while ensuring you've also left your mark on it.
The next phase of releasing the cover was all great circumstances falling into place. I'd let Rob Froese know, who runs the label we're on (Friend Club Records), that we had that cover and we wanted to release it but we were not sure what way we were going to do that. It didn't have a home, essentially. Tim Anderl of Sweet Cheetah Publicity entered the picture. He'd begun releasing cover tracks by artists and the proceeds were going to the organization of their choosing.
Right away, we knew we wanted to donate all our proceeds to Hope For The Day, an incredible organization we're already working with. They provide mental health resources & assistance while also helping to reshape the conversations around suicide and suicide prevention. Tim was able to involve J. Robbins and Dan Coutant in the mixing and mastering process. That part is still surreal to us.
Zach from Sparing is also featured on the song. How did it work out for him to feature on it?
Our friendship with Sparing came from mutual admiration and becoming online friends. I tweeted about their EP on Sunday Drive and how much I loved it. Turns out, Zach & I both had pro wrestling fandom in common and we've been buds since. When we knew we were going to record that cover, I knew I wanted to get another voice on it to give it something different. It also represents the multiple generations of musicians who've been influenced by that band. I hit him up and he was down to help. It turned out perfectly. We were so stoked to have him be a part of it. We love Sparing. Everyone should Also, someone should put a Resignation/Sparing split out haha!
You released your EP 'You Are More Than Right Now' earlier in the year. Are you pleased with the response it's received so far? What are your thoughts about it now that it's out?
We've been really humbled by the response to the EP. Working with Friend Club Records made the process all the better. We view Resignation as an opportunity to put something positive and honest into the world. There are no dreams of fame. The 5 of us enjoy working together, we don't take the opportunity for granted. Additionally, we wanted to use our music as a platform to talk candidly about mental health, equality, all while sharing a message of hope and compassion. If we were lucky enough to have that resonate with some people, we felt like we'd accomplished something.
Fortunately for us, Friend Club Records believed in what we were trying to accomplish. We took the opportunity to include friends on every aspect of the EP including the artwork. Having Jeff Caudill (Gameface, Low Coast) handle the artwork and layout using Levi Hutmacher's photography was special to us. Working with people we love and respect is such a luxury and we don't take it for granted.
Our thoughts on the EP are hard to articulate. It's the first release, so you put everything into the songs. But at the same time, once the record is out you're already onto a new batch of songs. You're constantly evolving. But we love these songs and we're glad that other people do as well. We're still playing at least 3 of the songs from this release every show. Lyrically, those are some of the most important and personal songs I've ever written. So, there is the catharsis of putting that into the world as well. I'm very fortunate to play music with talented people who all respect one another's input and contributions. I cannot think of 4 other people I'd rather put those concepts together with.
I really like "CKA". Can you tell me about writing that song?
It's funny you mention that song. It was the first song we ever wrote so it has a much different sound than everything else we've done. When the band started, we were initially going for a sound similar to Lifetime. But as we continued onward, the music evolved so much differently than anticipated and truthfully, I'm glad it did. But CKA was still a song we cared deeply about releasing. It's my son's initials, Cash Kenneth Allen. A few years ago, my son approached my wife & me because he was intending on taking his life that evening after we went to bed. We are very fortunate that he had the wherewithal to share this with us as a plea for help. He knew these feelings were not normal and that he needed help. We contacted a crisis unit that evening, and he was hospitalized for 10 days.
Life has been infinitely different for him since then. That time in a crisis unit, the post-care of therapy and dialed in medication regiment has helped him realize that life is worth fighting for. But as a parent, that experience forced me to reckon with several elements of my own mental health struggles and how they're impacting my kids. It also leads you to step back for a wider view of the version of the world we've given these kids. Let's be honest-it's fucking grim. I don't need to detail all the fucked up things that we're living in, but it's all very draconian.
My hope lies in Gen Z. I truly believe they're going to exact the change necessary to seeing actual progression take place. CKA touches on that. It was my way of telling my son to be gentle with himself, his heart, his mind, and with others. The community around you NEEDS compassion as much as you do as the individual and this was my letter to him reminding him of that.
I also wanted to add: Cash has been writing and recording music, playing shows. He's used his trauma in the healthiest was possible. He channeled it into art. He has 2 tracks streaming right now and an EP that will be out at the end of August. To be able to play on bills with your kid has been really special. It brought the entire song full circle for us.
;
Stylistically, I've heard the EP compared to bands such as The Get Up Kids. Who are some of the biggest musical inspirations for your sound?
That comparison is accurate and welcomed! We love The Get Up Kids and they're absolutely an influence on our music. In terms of influences, I think people wouldn't be too surprised if they've heard us. Texas Is The Reason, Samiam, Hot Water Music, Elliott, Split Lip, Chamberlain, Gameface, Farside, Rival Schools, Far, Grade all impact our sound greatly. We're also inspired by so much new music too! Webbed Wing is a band favorite. Fiddlehead, Teenage Wrist, Narrow Head, Feverchild, etc. There's a ton of great music being made right now and you're nuts if you're not motivated by it!
What's coming up for the band for the remainder of the year? Are you working on more new music? If so, what can you tell us so far?
Still playing shows and writing! We've got some some shows in August and September already booked, more to be announced. We tend to stay in the Midwest but we'll be around. We also have a split coming out with Family Medicine this year who we just did a run of shows with in the Midwest. They're our brother band. There's a true kinship with those dudes. We love them so much. So, a split release was just an easy choice. Their drummer David Gilley & I talk several times a week. Can't say enough good things about Family Medicine. Everyone should love that band!
We've also been writing for the next release which we're aiming for fall of 2024 on. We're planning on releasing another single at the beginning of next year, but our writing focus has been on that next release. I think people are really going to dig these new songs that we're working on.
I know you do a lot of advocacy for mental health. Why is this important to you and what's something you would tell someone who is struggling?
Mental Health advocacy and awareness is why Resignation exists. All 5 members of Resy deal with our own mental illness struggles of varying degrees. I've had my brushes with suicidal ideation including an attempt to take my own life at 20. So, this journey has been ongoing for me. To have it resurface in my kid was the most jarring experience I've ever had. The feeling that you "infected" your child in some way is the first place the brain goes. We know that's not how this works, but it's still so overwhelming to see your own child suffer of that same affliction.
So, that advocacy for us IS our music. We take the opportunity to play music and make ourselves available both online and in person. I think I can speak for a lot of us who came up through punk and hardcore when I say that we're drawn to that music because it provides a sense of belonging, a sense of community. If you're at a show, there's a few hours that you shut the world out and you are a part of something that the outside world cannot fuck up for you. But it doesn't end there. Do I believe that music can save our lives? Yes! That doesn't mean that you're magically cured. We have a saying in Resignation: It's okay to not be okay, but it's not okay to ignore that.
Acknowledging the pain is the first step on that path. Seeking out the proper care and (if necessary) medication will help to stabilize the overall quality of life. Therapy is a crucial tool in your mental health arsenal and one I wholeheartedly standby. It has helped me to sort through the messiness of anxiety, hurt, and anger that comes with a depressive episode. This is why we're honored to work with an organization like Hope For The Day. They're able to help people allocate the necessary resources and assistance to being a recovery path. We STRONGLY encourage folks to visit their site: www.hftd.org
Thanks for taking the time to answer the questions. Do you have anything else that you would like to add?
Thank you again for having us and thank you to Sound In The Signals for covering the release of this song. I guess the last thing I'd want to say is, if you've not heard us, Resignation's music is streaming everywhere you get your music. Supporting smaller bands like us starts there. Adding our songs to playlists, sharing it with people, that goes a long way for independent bands. You can purchase a download of our Texas Is The Reason cover exclusively on bandcamp for a limited amount of time, with 100% of the proceeds going to Hope For The Day. We'd love your help in spreading that awareness and supporting this organization.
Beyond that, I want to say this: We're in the midst of a truly fucked up time in history. It's incredibly defeating to see what we've become. There is a constant and ongoing assault on the rights of the LGBTQ+IA community, women, and minorities all perpetrated by a useless and ineffective government who exists solely to profit and destroy. No amount of bullshit made up legislation can erase your existence no matter how hard they try. If you find yourself in a situation where you feel threatened or at risk, there are organizations and groups in your community that will not only provide assistance, they will stand alongside you.
You are not in this fight alone. You have allies, you have love, you have support. Even at these moments where the world feels it's most hopeless, there IS hope to be had. You are loved. You are needed. Resignation's DM's are open. When we say we love you, we mean it. And it's not just us. There is a scene in your town. If you feel alone, seek it out. Go to shows. Participate in the arts. WHATEVER YOUR THING IS, you will find solace in that community of likeminded people. We need you here. We need one another.
Follow Resignation:
Follow Sound In The Signals: