Ricky Himself - Sound In The Signals Interview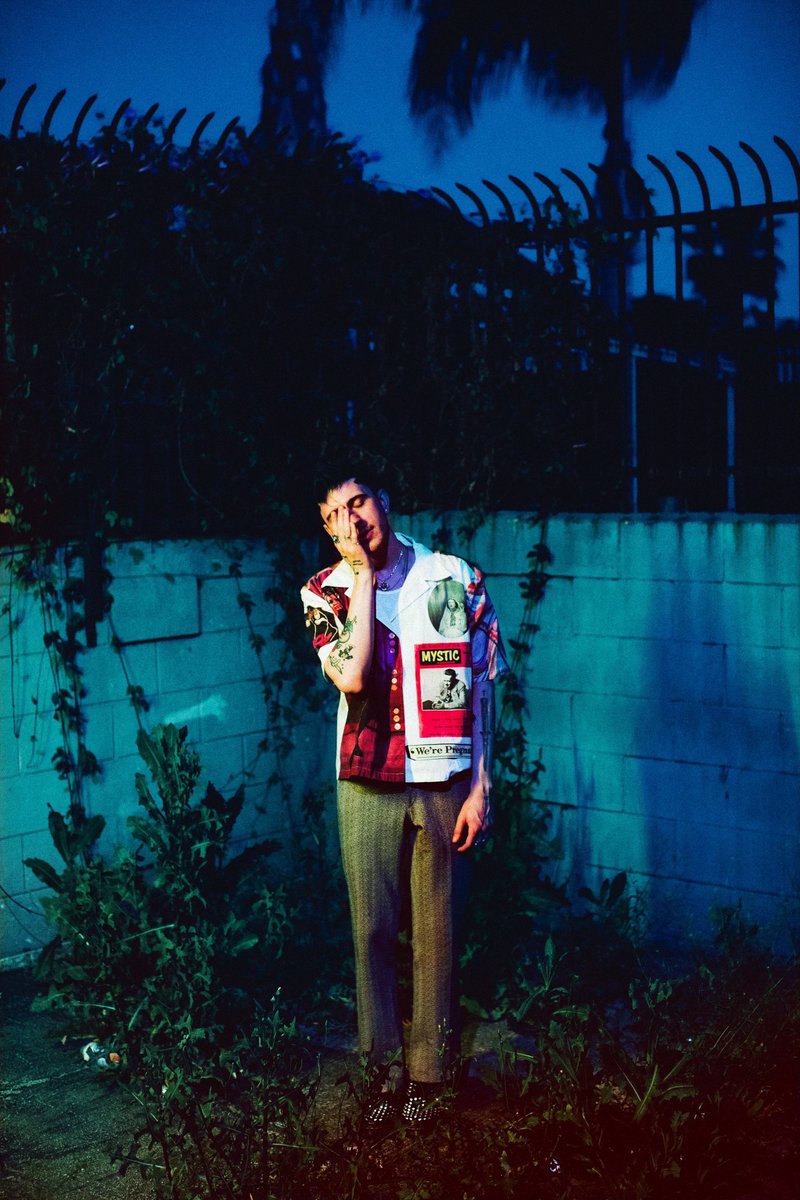 I recently had the opportunity to interview Ricky Himself. We discussed thoughts on 2021 EP 'Poser', taking a break from releasing music, sharing clips of unreleased songs, songwriting, collaborating with Mark Hoppus, creating visuals, and more. Check it out below.
First, thanks for the interview.
Thanks so much for even caring to interview me, it means a lot !
You released 'Poser' in 2021. I thought it was fantastic. Were you pleased with the response the EP received? What are your thoughts on it now?
I have mixed emotions about my EP, I loved all the songs me and Dylan had made and loved everyone who was involved in making that project what it was, I feel like I could've maybe capitalized a bit more once I released it and worked some of the songs more, I'm so proud of those songs and wish they were heard by more people.
I think "I Know You Like Black Flag" is one of the better songs of the last few years. Did you know when you finished that song that it was a special one? How long did you work on it?
I really appreciate that you feel that way about that song, I really love the sentiment of it, I love how tongue and cheek that song is. It only took a few days to get it done, I wrote the bulk of the song the first day and then Nick Long wrote an amazing chorus to it that really summed up everything I was trying to say. Using a pop punk song to light-heartedly critique pop punk music is my favorite joke I've ever told.
Aside from appearing in and directing some videos you've been fairly quiet since the release. Why did you take the break from releasing music? What have you been up to musically?
I don't know how conscious the decision was to take a break, life kinda kept happening and I got dropped from my label. It messed with my head a bit and I began to really question what it would take emotionally to continue making music. Everyone around me has always encouraged me to continue and I most likely will at some point but for now I'm semi retired !
You've been posting a lot of clips of unreleased songs lately. I think you said you have 203 unreleased songs finished. Is there any chance that you're working towards releasing some full versions anytime soon?
Those songs have been made over the course of the last 2 years, some of them are pretty good and I'd love to have people hear them, but releasing music isn't in my immediate plans, I'm sure something will motivate me to eventually release more music though.
One song I really liked was "Pretty in Pink". Can you tell me more about writing it? When was it written?
Pretty in Pink is one of the unreleased songs I really would love for people to hear. I wrote it for my girlfriend Kailee, that song means alot to me, I wrote it almost two years ago and it was supposed to be on my EP but didn't quite make the cut even though it was a favorite for a lot of my team at the time !
Some of these unreleased songs vary in style. Some are similar to songs we heard on 'Poser' while others venture into new territory. What sounds are you currently the most interested in creating stylistically?
Currently the sounds I'm interested in are from the '60s and '70s. I haven't really previewed any of the songs I've written recently, but they're some of my best songs I think, I've just been a bit of a hermit as of late. I've written another 50 or 60 songs on guitar just sitting on the couch at home, haven't had a chance to properly record any of them yet though.
Do you generally start with the music or lyrics when you're writing?
I used to start with the music first, but lately I've been starting with lyrics when I write. I picked up reading recently and song ideas hit me in a totally different way now since I started reading more, it's been a refreshing change of pace creatively.
You had the chance to work with Mark Hoppus. How did that happen and who are a few people that would be dream collaborations for you?
Dylan Bauld who produced my whole EP is friends with Mark. The first session we ever had we made
parasocial
. At the end of the session Dylan said that he thought Mark would like the song so he sent it to him and Mark responded and said he really liked the song, within the next few days we had another session with Mark and we wrote a new verse. It's cool cause in the version that was released Mark sings the verse I wrote and I sing the verse that Mark wrote. I'll never get over the fact that I grew up listening to Mark and Tom singing together on records and now I can say the same thing! As far as dream collabs go I'd probably have to say Third Eye Blind, their self-titled is one of the most pivotal albums in my life.
At this point in your career, what's your favorite thing you've achieved as an artist so far? What do you still hope to accomplish?
My favorite thing I've accomplished was the song and video for
Imposter
. It's the best representation of who I am as a creative. The song really poignantly gets across how I feel like such an imposter in this industry. I also am really proud of the video cause it's the only video of mine that I wrote the treatment for and was executed exactly the way I saw it in my head. I really hope to do more of that in the future, where the song and the visual get equal creative attention.
Thanks for taking the time to answer the questions. Do you have anything else that you would like to add?
I really would just like to thank you for caring to interview me, this is my favorite part of being an artist, just being able to verbally express my intention, I really appreciate you, thanks a lot !
Follow Ricky Himself: