Grave Animosity - Sound In The Signals Interview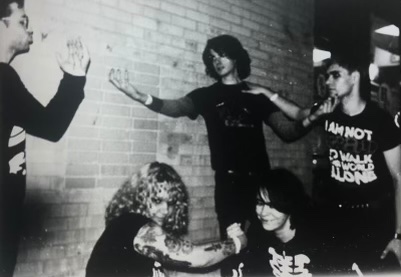 I recently had the opportunity to interview Grave Animosity. We discussed how the pandemic sparked the band's creativity, musical inspiration, what to expect from their upcoming music, lyrical inspiration, and more. Check it out below.
First, thanks for the interview.
Thank you for reaching out! Stoked to talk about stuff.
Can you tell me how you formed the band for those who may be unfamiliar with it? How did you initially become interested in music?
Grave Animosity was sort of formed out of the demise of a bunch of local bands that disbanded right before or during the early stages of the pandemic. I was in a band for a long time that never really went anywhere and I wasn't happy being in or with the material we were putting out and having a year or two where it was impossible to do anything really sparked my creativity, and I got together a bunch of my friends from other bands, and now we're here! In terms of how I got into music, it's always been a natural thing for me. My parents introduced me to all the punk classics as a kid and I've always just been looking for new music and into learning how to make it.
You've described your sound as "if Taking Back Sunday did Bright Eyes". Can you explain what you mean by that?
Whenever I write a song I'm thinking about how I want to write a Conor Oberst song and make it sound like it could've been played on Warped Tour 2005. I don't know how to describe how we actually sound, but that's what I'm aiming for!
You released some acoustic based demos in early 2022, but I had the chance to listen to your newer demos and your sound has really evolved. What caused that sonic evolution and what can people expect from your new music?
I write everything on either my acoustic guitar or a piano, so when I decided to put out a few demos that was the natural choice. But I've always wanted GA to be a full band, not a solo project, and everyone adding their own unique tweaks to the songs is what really makes them rip. People should except something different, fun, and emotionally taxing. I think it's sick.
One of the demos I really like is "Hey Rosa". Can you tell me about writing that song specifically?
Hey Rosa!! I love that song. That song was written while I was kind of in between places, thinking about a lot of the friendships that have drifted apart without noticing over the last couple years and resenting people who didn't really do anything that you can say was that bad. It was a very quick song to write but I spent a lot of time working on interesting chord changes. I also tried to rip off Lagwagon in the bridge.
Do you have a new song that you're most excited for people to hear? Why?
Two are tied right now for songs I'm the most excited for people to hear! One is the third song, it's one I wrote after seeing Phoebe Bridgers live a few years ago about something she said on stage, and also about how much I love Elliott Smith and Blake Schwarzenbach. Second is the last song. Not many people have heard the demos but if you know you know. If you don't you will soon.
What's your favorite part of the writing process? What's your usual writing process?
Usual writing process is I see or hear or read something that inspires me, I sit down with a guitar for a couple hours and hammer it out, and then we play it in our practice space and everyone adds their own little flare. It's a pretty simple process right now, my favorite part is always trying to learn new jazz chords so I can rip off all my favorite artists better.
The vocals on the new demos are great. I really like the lyrics. Who and what are some of the vocal and lyrical inspirations for these upcoming songs?
Thank you! We have so many Spotify group playlists for our influences, probably more than songs at this point. Lyrically, I'm always trying to be like Jets to Brazil, Bright Eyes, Laura Stevenson, or Spanish Love Songs, and vocally I'm just trying to be a 2000s emo star. Think Pete Wentz's iPod Classic.
I know that you plan to release new music this year. Do you have a timeframe for when fans might expect to hear new music?
We're in the process of recording now, so hopefully late spring, early summer if all goes to plan! We'll have a release show with all of our friends and it'll be sick.
Is there any chance that we'll see physical releases like CDs, cassettes, or vinyl for the new release?
Yes!! Sean (our drummer) makes sick cds. The concept for the packaging is drafted out and we'll have some interesting non-conventional CDs. In terms of cassettes or vinyl that might be a little later in the future. We'll see.
Thanks for taking the time to answer the questions. Do you have anything else that you would like to add?
Thank you for having me! Everyone stream Bottom Bunk, Life Looks Good, and Lavender Point, and we will see you very soon!! <333
Follow Grave Animosity:
Follow Sound In The Signals: