NOT - Sound In The Signals Interview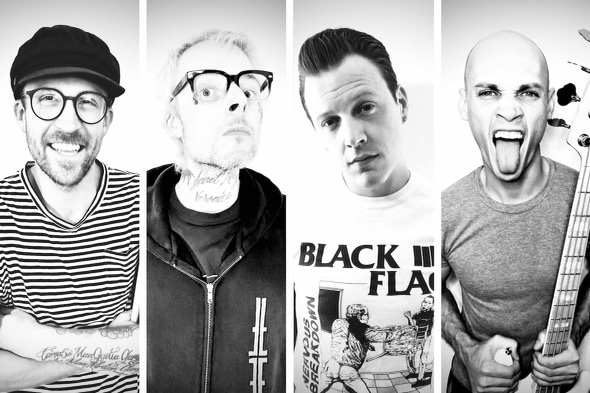 I recently had the opportunity to interview Davey Warsop of NOT. We discussed why ALL has been an influential band to him, how he started writing for NOT, the writing process for "Anxiety", a favorite musical moment from the song, details about their upcoming album, releasing it on vinyl and cassettes, and more. Check it out below.
I really like the idea behind your band and that you've taken so much influence from ALL particularly. Descendents are such a classic punk band and they have such higher visibility over ALL. What makes ALL such an influential band to you?
They were just the soundtrack to all my formative years...they were always there. I lost my virginity and fell in love with my first girlfriend to the soundtrack of "allroy for prez". We became best friends and that record was just always on. I spent my teens learning to play music whilst listening to ALL and they just kinda set the ultimate bar of musicianship, songwriting and work ethic. I saw them play for the first time at the foundry in Birmingham, England when I was 15. They didn't stop for 2 seconds the entire set, it was so intense and my jaw was just on the floor.
I then missed the last bus home and Stephen and Natalie Egerton let me come back into the venue, took care of me and let me hang out with them. They were SO down to Earth and friendly and we talked for an hour or so until I could get a taxi. I think that personal experience made me walk out of that show a fan for life and decided I had to go and buy their entire back catalogue. It's funny, I'm actually friends with those guys now and live in California. Stephen and Natalie say they still remember that night!
What are your top 5 favorite ALL songs and what is your favorite ALL album?
Oh man, that's a great question, but so hard cuz I love so many. Ok here's five greats... but in no particular order.... "just perfect", "she's my ex", "long distance", "million bucks", "can't say" ... oh fuck but then what about "birthday i o u" !? hahaha.
You recently released your song "Anxiety". Can you tell me about writing and recording that song?
So I worked at the Hurley Recording Studio for years in Orange County, California. Whenever there was downtime in an evening I would demo my own songs. After being a ALL and Descendents mega fan all my life, there was one night I was tinkering around in the studio and I just thought it would be fun to try and write the ultimate rip off song. The product of that was "anxiety". I thought it was so funny, but good, that I had to keep writing more, just for my own amusement. Then I showed the demos to Brendan and he began writing in that vein too. We were just having fun saying 'lets "go for all" and make the ultimate ALL tribute! Until suddenly we had an album on our hands! But "anxiety" was the catalyst, it was the very first song I ever wrote for NOT, roughly ten years ago now.
Do you have a favorite lyrical or musical moment from it? Why?
Favourite musical moment is the second verse when Jarred plays this super quirky bass run as I sing " too many things that I cant change". Jarred is such an unbelievably talented bass player... he's literally Karl Alvarez's stunt double. He's put the icing on the cake on this record, no doubt about it.
The single artwork for "Anxiety" is really cool. I think it pays homage to the era you're influenced by nicely. Who came up with the artwork concept and designed it?
Well, the singles are actually showcasing small parts of a bigger image that we will use for our album cover. I came up with the basic idea and concept. Then discussed it with an incredible artist friend of mine - Josh Grelock ... he often goes by JOSHR. We definitely wanted a very 90s pop punk throwback whilst of course giving the ultimate cheeky nod to ALL. Cuz really, the whole reason we're doing this is to put a spotlight on an amazing band that is no longer making records and maybe always were a little overshadowed by Descendents. But I don't wanna give too much away right now before the actual LP artwork drops.. so you'll have to wait and see. But check out JOSHR's other work @therealjoshr
You have an album coming out this year. What can you tell me about it so far?
There's 14 songs. It was recorded at my studio - Strong Studios in Long Beach, California. Which feels somewhat fitting to me, since it's around the corner from where Descendents rehearsed and also same city as sst and cruz records once resided in. I produced and engineered the album. Then we gave it to Paul Miner to mix at Buzzbomb Sound Labs in Orange, California. Vinyl will be coming out in the USA on Wiretap Records. Brassneck Records for UK and Europe. Waterslide Records in Japan. And I think Vinnie from Less Than Jake / Paper and Platsick is gonna put out some cassettes.
You're releasing the album on Wiretap Records. What's it been like working with them for this album and what made you want to sign with them?
I generally think whoever is the most passionate about the music should be the people you work with. You could have a giant label with loads of money, but if they don't care much and you're not a priority, then what's the point? Rob is just super cool and down to earth and just genuinly loves the music so it felt right to go with him. I still don't understand how that guy gets so much done, he has a full time job, a family... and then still kills it constantly with his label. He genuinly must sleep 3 hours a night. hahaha
ALL and Descendents have such classic mascots. Have you thought about coming up with one for NOT?
You'll have to pre-order the vinyl and wait and see!
Have any of the members of Descendents or ALL heard your band's music? If so, what do they think about it?
So I was an assistant engineer on recording sessions with Bill and NOFX several years back. And my other band sharp shock has opened for Descendents. Brendan and Jarred's other band mercy music has opened for them too and recorded at the blasting room. So, we're all friendly with those guys. Bill, Stephen and Karl have all heard it... and they gave us the ultimate seal of approval!! I think Stephen's words were "you guys fucking killed it". Bill thinks it's gnarly and told us he was impressed. He also agreed that the entire point of writing songs and playing music is about ripping off your idols. So the fact that he really was empathetic and flattered to hear our record was a total relief. I'll be honest, I was slightly worried, haha. He actually said he liked it so much that he'd love to mix it for us, but sadly couldn't fit it in his schedule. As for Milo... none of us know him so well, so I've no idea if any of the others passed it along to him.
Thanks for taking the time to answer the questions. Do you have anything else that you would like to add?
Check out all our other projects - sharp shock, suedehead, mercy music! I also produce and engineer records for bands like bad cop bad cop, the used, face to face, upper downer, lovebreakers, suzi moon, chuck ragan.... go check out their records and hit me up if you're a band that wants to make an album! And cheers for the interview. I appreciate it!
Follow NOT:
Follow Sound In The Signals: