Joseph M. Edwards (Empty Handed NJ, Take Today) - Sound In The Signals Interview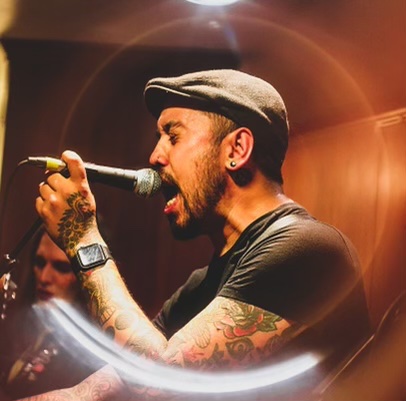 Chris Sikich
I recently had the opportunity to interview Joseph M. Edwards of Empty Handed NJ and Take Today. We discussed his early interest in punk, his introduction to recording and performing, the New Jersey music scene, plans for new music, and more. Check it out below.
First, thanks for the interview.
Hey, thanks for reaching out!
We recently talked about your early career in music with your band Empty Handed NJ. How did you initially get into punk?
So when I was younger I basically just listened to whatever my older brother listened to. At some point I grew tired of hearing kris kross on repeat and so one night I was in my bedroom and I took my alarm clock radio and started to roll the tuner dial from end to end. Doing this landed me on "basketcase" by green day. That was the entry point for me. green day, the offspring. A friend of mine's older sister introduced us to bands we couldn't find on the radio like face to face, fugazi, snapcase, etc. that just drove us deeper into the underground music scene at the time.
What made you decide to start playing an instrument and what did you start with at first?
I was so into green day that I used to pretend to play guitar with a broom. I wasn't even a teenager yet. One day my father said something about taking guitar lessons and so I did. I tried taking lessons at the local mall, but my teacher was barely present in our lessons. A friend taught me power chords and that changed everything for me. Been pretty much self-taught ever since.
When did you first get the idea to start a band and how long were you playing music until Empty Handed NJ formed?
I don't think it was long after picking up a guitar and getting a hang of it that I wanted to play in a band. It went from just getting together with friends in basements making noise to starting my first "real" band. The same friend whose older sister introduced my friend and I to lesser known bands than what was on the radio, we had been going to shows together and decided to start a band. We never played any shows but would get together and write songs. We recorded our first demo with the help of his step-father on a cassette four track. A year later we hit the studio for the first time ever and recorded our final demo. That wasn't enough for me. I had been going to shows and making friends and wanted to be more of a part of it. Some friends and I decided to start a band in summer 1999 which was the initial seed of what became Empty Handed NJ.
What was your favorite studio experience or moment from recording those early Empty Handed NJ songs? Why?
It's kind of hard to say because for EHNJ we had never entered a real studio until after we broke up. In the very beginning we would just record our practices on cassette and give those out. Our first real demo (2000) was half recorded at our drummer's house and the other half recorded at this kid's house. All of which was engineered by his father who worked sound for The View (yes that view). It was a learning experience.
Our next recorded endeavor was the following year (2001) when we recorded our full length album with Ace Enders. I believe Ace was more or less just getting into the recording process and we would make the trip down to his parent's house to record that. After doing our first reunion show in late 2006, we ended up re-recording a bunch of songs at a real studio. That one, much like our very first demo, was just the drummer and I. That might have been my favorite experience in the studio because by then I had learned a lot as a musician and got the chance to revisit those songs in a proper studio setting.
Do you have a favorite show you played with that band? Why?
Honestly, I think our final reunion show was my favorite show. This having been my first real band, there were so many learning experiences along the way. We took just about any opportunity to play a show. The final reunion show brought together one of our core line-ups. We got to play a packed mill hill basement with tons of friends and probably sounded the best we had ever sounded.
The New Jersey scene you came from has a lot of history and some really great bands came from it. What are some of your favorite memories from that scene?
So I grew up in Burlington and was a regular at the derby firehouse and burlington elks lodge. Going to shows between those two places, it was easy to make a lot of friends and see a lot of shows. Oftentimes it would be a matter of which direction my friends and I wanted to go to catch a show because there was always something going on any given weekend. I got to see the original Catch 22 with one cool guy. I went from seeing humble beginnings to sharing shows with them. Being able to go see friends play and feel comfortable at a show, surrounded by people very much like myself. That was always great.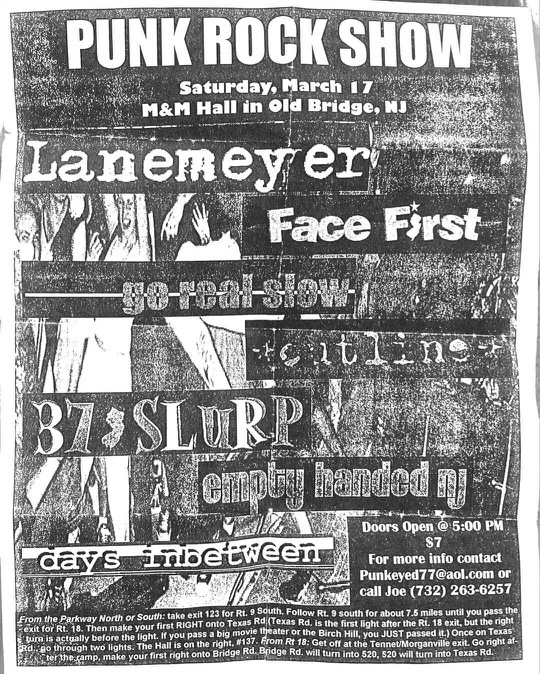 In your opinion, who were your top five favorite bands from that scene?
humble beginnings were probably my absolute favorites. boxcar was a major influence locally for myself. lwl/jettison which I'm counting as one band. go real slow were some of the first friends I had made in the local scene. bigwig, especially their second album, was a favorite of mine.
What are your thoughts on the New Jersey Pop/Punk archive? Has it being around caused you to want to go back and listen to some of that older music?
The NJPP archives is such a great resource. I've known Pulito a really long time and spent a lot of time playing shows together, I'm always stoked to see what he gets his hands into. It's really great having somewhere to pull up seemingly long lost music from my youth. Of course it's always weird having my semi-embarrassing old music on there and Joe has even surprised me with video footage I didn't know existed of EHNJ but overall I think it's great and am beyond stoked it exists.
What do you think has changed and also what do you think has remained the same about the punk rock scene through the years?
Social media. Growing up going to shows as early as the mid-90s, the entire thing was different. We made flyers and photocopied them at the local 7 eleven to give out at shows. With the introduction of social media, people approached things differently with more focus on how many followers and such. Social media algorithms suck. Locally, I watched a lot of people grow out of it with a small handful continuing forward with new projects and/or still attending shows. There are those of us who to this day took what we learned from growing up in a punk scene and carried it over to our adult lives and just the way we approach things. The talent of younger bands has drastically improved. There were a lot of not great bands around but nowadays the younger bands break out into the scene sounding so good in comparison.
This Was The Scene Podcast, hosted by Mike Doyle from Lanemeyer, also covers that NJ scene. Have you checked out many of those episodes? Were you a fan of Lanemeyer at all?
Doyle sucks. haha. I'm actually bad with staying up to date with podcasts but I am subscribed to this was the scene. I was very much a lanemeyer fan back in the day. Even got to play shows together. I actually just caught lanemeyer's reunion set with jettison a month ago and got a chance to catch up with everyone before and after the show.
You've been posting some photos from the early 2000s, which was when that era of pop/punk and emo took off in a huge way. At the time, how did you feel about the mainstream success of the genre?
Honestly, I've always been kind of indifferent. From the EHNJ days to now, we've always just wanted to play music with our friends. It will always be rad to see friends blow up and do great things.
A lot of people know you're currently in Take Today. What do you having coming up in 2023?
Take Today had a really awesome 2022 and with the calendar flipping over to 2023, we're approaching this coming year somewhat differently. Last year we didn't release any new music so that's on the the to-do list. Planning to get back into the studio soon and working on some new music.We're also looking at playing shows in new areas.
Thanks for taking the time to answer the questions. Do you have anything else that you would like to add?
You can stream the final Empty Handed NJ ep anywhere you stream music (including bandcamp). Take Today recently released our first vinyl released which can be bought at taketoday.limitedrun.com, our music can be streamed everywhere (also on bandcamp). follow take today on instagram/twitter @taketoday, facebook.com/taketoday.band
Follow Joseph M. Edwards:
Follow Sound In The Signals: