Hopeless Romantic - Sound In The Signals Interview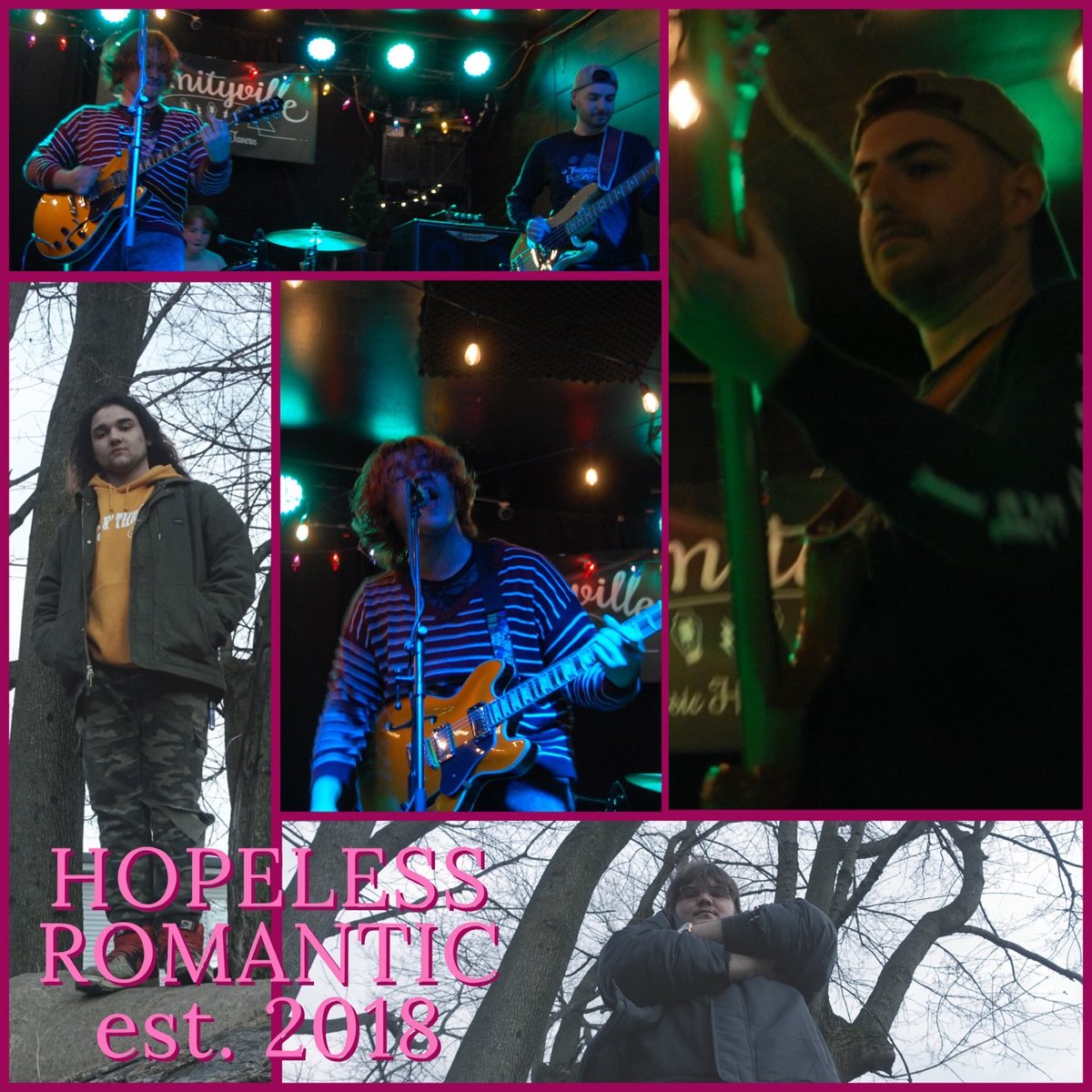 I recently had the opportunity to interview Ryan Daniels of
Hopeless Romantic
. We discussed his introduction to music with musical theatre, musical influences, the Long Island music scene, the writing and recording process for their upcoming EP, releasing the EP on cassette via Outcast Tape Infirmary, and more. Check it out below.
First, thanks for the interview.
Hey, no problem! Thank you guys so much for having us.
Can you tell me how you formed the band for those who may be unfamiliar with it? How did you initially become interested in music?
I grew up doing musical theatre, it's my first passion and it certainly set the groundwork for my musical tastes. I grew up on showtunes mixed with classic bands like MCR, Fall Out Boy, and Pierce the Veil. Certainly set an interesting soundscape for the future music to come!
The band was formed all the way back in 2018. Originally, it was myself (Ryan Daniels) and my buddy Dave Carroll who now plays with an awesome band called Few Faces. I had been writing songs for the longest time and just sitting on them and one day I finally put out a couple of my tunes on Bandcamp. At the time, Dave had just started doing shows at my local theatre where I grew up, and he dug the stuff. We started jamming and came up with a band name and from there it was history. We put out our first EP in December of 2018 and another single in December of 2020. We did it all homebrew style, played all the instruments, recorded on Garageband. True DIY grind. My buddy Jared Grossman joined up on bass when we started playing live shows and realized we'd need an extra set of hands up there to play the songs we put out! Eventually, Dave went on to focus fully on his project Few Faces and my little brother Shane Hahnel joined on drums.
Who are some of your biggest musical influences? Why?
Our sound is heavily inspired by the emotional, personal, rough-around-the-edges sound of the Folk Punk and Emo scenes. Acts like The Front Bottoms, Modern Baseball, Alex G all the way to older names like Braid, Nirvana, The Smiths, Radiohead, all inform our sound and the way we compose our musical and lyrical structures. Sometimes we play heavy and hard and other times we like to draw things back and feel the vibe.
You're from Long Island. The music scene there has some great history and has had a big resurgence lately. What's your opinion of the current music scene?
I think that the scene here has so much potential to return to its former glory, and I truly feel that some of the amazing companies and bands on the Island are going to be the spark that pushes that change. We are consistently inspired and motivated to be at our peak performance because of the amazing talent we get to share the scene with.
You recently announced your new EP 'Constance'. Can you tell me about writing and recording the EP?
Sure thing! So, this was the first music we recorded with our new lineup and it was super important to us for it to be a huge step up from our previous work in terms of sonic quality. Lyrically and musically, I feel I've matured a lot since I wrote those first projects and I would like to think that it shows through in the songs on this record. The main theme I centered the EP around was the idea of losing things; people, objects, feelings, anything. Theres songs about addiction, relationships, grief, abuse, generational trauma. We went with the name "Constance" as a reference to Mr Nebercracker's late wife from the classic children's horror film, "Monster House" and as a juxtaposition to the themes of loss throughout both that film and the record.
We recorded at our home studio on Long Island. We did our best to make the best product with the resources available to us. All the drums for the record were tracked on an analog mixing board routed into a USB interface. All of the vocals were done with a towel and an isolation shield. We truly did the thing and went full DIY for this one!
You released "Sunken Eyes and Big Plans (Over It)" with the EP announcement. Can you tell me about writing that song specifically? How far along into the writing process was it written for the EP?
Sunken Eyes was one of those songs that comes to you at the last minute in the studio when you're noodling between takes. I started playing with the riff sometime soon after we were nearly wrapped on drums. By the time I finished the lyrics, we knew we had our first single on our hands. We hope that people come to think of this song as an anthem. A cathartic release of frustration be it at the people you care about or the world in general.
You also released the music video for the song. What was the video shoot like and do you have a favorite moment from the video?
We shot the music video on our property in the Lehigh Valley of Pennsylvania. We knew we wanted to shoot a music video for the record as that was something we'd yet to have done as a band. The shoot was super fun, just us out in the yard coming up with stuff we thought would look cool and fit with the song and filming it! My favorite moment from the video has got to be the mic drop at the end! Had to throw that in there for the love, haha.
Outcast Tape Infirmary is releasing a cassette for the EP. How did you end up working with them on the release?
Once we had everything set for the EP release on our end, we knew we wanted to start pitching to labels and get some more ears on our stuff. We've been fans of Outcast and the other groups on the label for quite some time, so it was super exciting when they got back to us! We jived on the ideas for the tapes and Bob liked our tunes so we decided to go ahead for a limited physical release! We certainly hope this will mark the beginning of a long and fruitful working relationship between Outcast and HoRo.
How important is having physical media like cassettes and vinyl to your band?
In the current state of the scene, physical media is making a huge comeback. Listeners are finding a lot of value in the more traditional forms of consuming music, and we are fans of it ourselves! There's something special about holding onto a physical copy of a record that means a lot to you that you don't get just adding it to your Spotify library. We hope to continue sharing that feeling with our fans for many releases to come and expand from tapes to Vinyl and CDs as well!
Thanks for taking the time to answer the questions. Do you have anything else that you would like to add?
Well first of all we wanna thank you guys once again for talking with us! We have so much cool stuff in the works! We are currently in the studio working on what we think is going to be our best project yet, we're scheduling shows for the year and trying to get out to more cities and share our music with more people, so be sure to stay tuned to all of our socials so you never miss an update!! "Constance." is available everywhere March 3rd digitally and on cassette through Outcast Tape Infirmary, pre-order now!
Follow Hopeless Romantic:
Follow Sound In The Signals: