Bully Maguire - Sound In The Signals Interview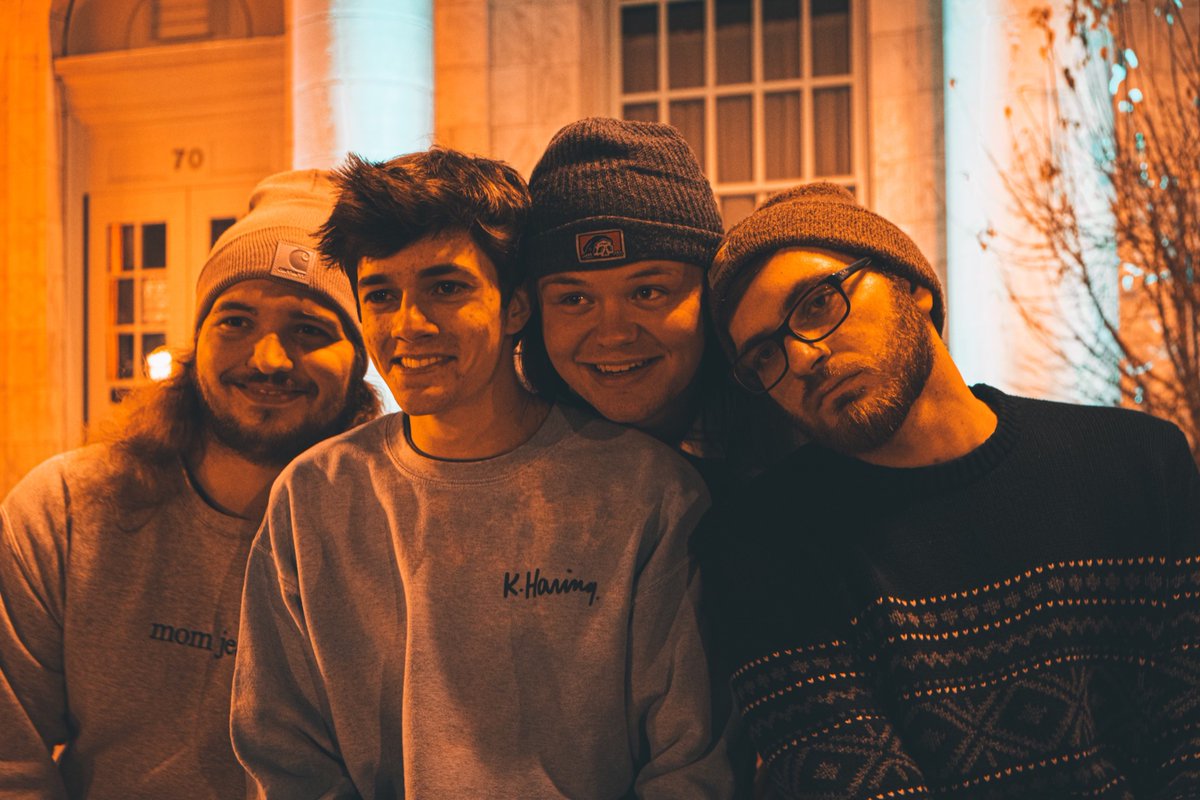 I recently had the opportunity to interview
Bully Maguire
. We discussed their upcoming EP 'Pizza Time!', favorite songs from the EP, which song was the easiest to write and which song took the longest to complete, how Spider-Man influenced the band, artwork, collaborating with Sleepy Clown, and more. Check it out below.
First, thanks for the interview.
Thanks for asking us to do this! Wicked stoked to have the opportunity.
Can you tell me how you formed the band for those who may be unfamiliar with it?
So myself (Jeremiah) and Dylan (lead guitar) had been in a few bands throughout high school, and after graduating and starting our lives and whatnot we finally found time to start playing music together again. Initially this was gonna be just a one off acoustic project, but eventually we both had more time and knew we wanted a full band. Dylan had reached out to George (drums) and asked if he'd be willing to jam some time, and George said yes. Our first bassist Cam had to leave for some personal reasons, but Bryan ended up joining and was a perfect fit. We'd all know each other from our small music scene here in Pittsfield so it was pretty natural getting together.
You have a new EP 'Pizza Time!' coming out March 24th. What was the recording process like for it?
Recording was pretty intense, but luckily we have Bryan. He's had the most experience with recording from his projects Things I Miss and Rituals of Sorrow. It was my first time doing anything to a metronome, and he was great about helping understand the whole process.
I've had the chance to listen to the entire EP and I really liked the production and mixing. Who did you work with on this EP?
So, this entire EP was recorded in a barn. Dylan's manager was kind enough to let us practice and record in the upper half of his barn/garage and we did this whole EP ourselves (shout out Charlie). Bryan had 90% of the equipment we needed and luckily we were able to score some good deals on the stuff we needed. Bryan also mixed and mastered everything. DIY or die baby.
I really like the acoustic version of "Gwen Stacy's Mom". Can you tell me about writing that song and why you decided to have both a full band and acoustic version?
That song was initially written as an acoustic song, but when we were getting ready to play our first show we needed material to play, so the full band version came to fruition. We also decided to release it on our 2022 demo as a full band just to have something to show off. We're pretty proud of the evolution of that song.
What's your favorite song off the EP and why?
My personal pick is Sarah Jessica Uncle Ben Parker, from the first time Dylan showed me the guitar parts I knew that it was gonna be super fun to write lyrics to, not to mention it's probably the song I'm most proud of lyrically.
What song on the EP was the easiest to write and which song took you the longest to complete?
So the easiest song was probably "Who Brought Willem Dafoe?". It was the first song we had written back in May 2022, and is my second favorite song. That was back when we had Cam on bass. We would rehearse in the basement of the restaurant I work at, after learning the structure we played it through and we all kinda looked at each other like "holy shit this is sick". The song that took the longest was probably "Peter Parker… I Hardly Know 'er!!" We had a little bit of time constraint and schedule conflicts so not everyone was on the same page, but with how well we work together as a band we were able to overcome everything once we were all in the same room.
Your name, as well as a lot of the song titles on the EP, are influenced by Spider-Man. Where did the interest in that come from?
Honestly, we all just love those movies. Tobey Maguire was the Spider-Man we all grew up on, and one day Dylan and I were hanging out and we found a meme about Willem Dafoe. One of us said "ayo who brought Willem Dafoe?", we decided it'd be a funny song title so we kept it. A few months later we couldn't think of a name for the band and with bands like Carly Cosgrove having their whole theme I figured Bully Maguire would be a good fit. From there we decided to have a little fun with our song titles.
Who took the cover photo and why did you decide to use it for the EP?
My good friend Shaun Harmon and his friend Elano Dallmeyer did a photoshoot with us, they liked the lighting of the pizza shop and we as a band had already known we were calling the EP "Pizza Time!". It just kinda made sense.
You're working with Sleepy Clown for this with plans to release a lathe for it. How did it work out for you to partner up with them on this release?
I found the band Haunt Dog from Philly and I really liked their music. I saw Sleepy Clown was working with them so I shot the label a message. Tommy has been super easy to work with and we're very grateful to have this opportunity. There have been a lot of really cool releases from Sleepy Clown and we're stoked to be another one in the books.
How important is it to you for your band to have physical media like cassettes and vinyl?
I think it's really important. Collecting physical music is super fun and it's the best way to support artists. I always enjoy getting new records and being able to read lyrics and the thank yous left on inserts. Seeing pictures from the recording process, finding little details in songs and stuff like that is always exciting. I can't wait to share that with everyone.
Thanks for taking the time to answer the questions. Do you have anything else that you would like to add?
Just to say thank you to everyone who's been supportive. We're hyped to share this EP with you all and we can't wait to put out more music in the future. If you like what we're doing, support our friends too!! Check out Sinking, Cemetery Weather, Arms Like Roses, Broken Vow, Stonk, Haunt Dog, Cutlass, and Montclair.
Follow Bully Maguire:
Follow Sound In The Signals: