flora mma - Sound In The Signals Interview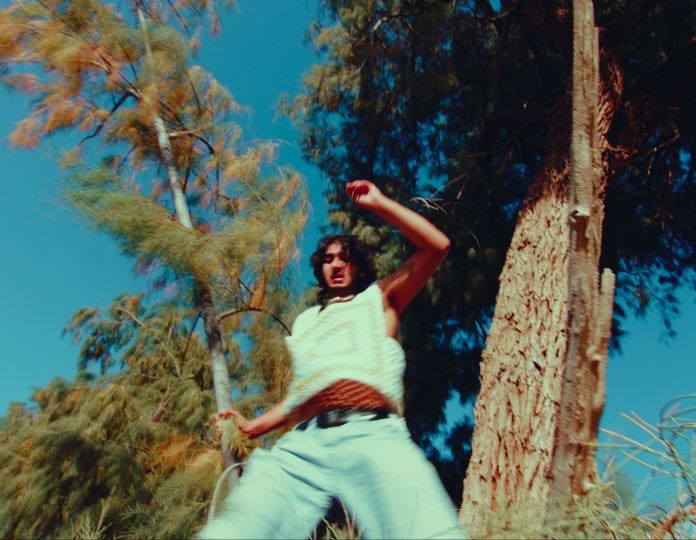 I recently had the opportunity to interview
flora mma
. We discussed the writing and recording process for the new EP, musical influences, how music can help someone express their feelings, favorite lyrics and musical moments, and more. Check it out below.
You released your EP 'Goddamn This Guilt Is Gonna Kill Me' recently. Have you been pleased with the response it has received so far?
Yes! I'm really working on not having any expectations for releases because it can crush your soul when things don't blow up the way you dream they do. I'm super grateful that anyone listens at all! But I'm really trying to be happy with the songs just because I like them and not worry about how many streams they get or anything else.
What was the writing and recording process like for the EP?
So this is actually like just some of the songs off of an album I have coming out at the start of next year. These songs are just like a collage of how I was feeling at different points in my life. I was initially going to put them out as singles, but a friend told me that I should put them out as an album. I've been super hesitant to put out an album because I feel like it's a huge statement as an emerging artist, and once you put out your debut album and it flops people don't care anymore.
But I'm really proud of the songs and realized they go really well together and I can't picture them not going all together at all anymore. The songs were mostly recorded in my bedroom on my macbook, with a Scarlett 2i2, and a SM7B. I had a lot of help from my friends Estelle Allen and Leo Dolan. A lot of these songs I wrote in my head and then fleshed them out in Logic later.
How does your writing for this project differ from the work you did in The Blank Minds?
This writing project is different from The Blank Minds because these songs are more like patchwork. In The Blank Minds it would be like a simultaneous process of writing guitar parts and lyrics. Flora MMA is kind of like a part of a beat, a melody I wrote in my head, a beat my friend made and I sang over, a feeling, some notes I wrote in my phone. I guess in a lot of ways The Blank Minds was similar, but everything was written on guitar for the most part. I would write a song on guitar and show it to the band and we'd built it from there. Now, I'll have a bit of a song, bring it into Logic and see where it takes me.
I hear a ton of different sounds and styles on the EP. What were you listening to when you were writing it and did it influence the sound of the EP at all?
Oh yes, 100% I'm super inspired by other songs. A lot of songs start by me just hearing a song I'm obsessed with and dragging it into Logic and trying to replicate it. I have like a 50 track playlist called "oooh I want to make a song like that." Goddamn This Guilt Is Gonna Kill Me was me trying to make my own version of Year 3000 by The Jonas Brothers. I Can't Stay was Cool With You by Her's. One Two Three was initially inspired by a Deb Never song and then I'm just a huge sucker for epic breakdowns and 2000's guitar anthems. But I would say my overall inspirations for this album was The 1975 (they're my #1 fav band all time), Dominic Fike, Orion Sun, The Script (or really any 2000s alt group), Twenty One Pilots and Brockhampton. But yes I am just a big ball of my influences.
What did you want to achieve sonically with the EP? What do you hope fans take away from the listening experience?
I think my main goal sonically is always just to make stuff that makes people feel something, and I think by something usually the more sadder, emotional difficult side of things. I have a hard time crying and just expressing sadness and music is the biggest way I do that. I want to make music that sounds like the soundtrack to someone's favorite film, I want to make music that makes you feel like you're in a coming of age film when you walk down the street, or sit on the bus, etc. I want fans to just have music that makes them feel seen and says all the things they want to say but don't know how.
I think the title track is fantastic. Can you tell me about writing that song specifically?
Yes, so writing that song literally started off with me sitting at my desk thinking like "hmmm what kind of a song do I want to make next." I decided I wanted to make a banger like Year 3000 by The Jonas Brothers. I wrote that chord progression and then that hook just kinda spilled outta me. I remember recording a little demo of the acoustic guitar and vocals and drum loop and sending it to my friend Estelle.
I went over to her place a little later and she re-recorded the rhythm and lead guitar, put down bass and came up with the instrumental for the verse. She also recorded that sickkkkk guitar solo, which really makes the whole bit for me. She's my absolute favorite guitar player, she's no frills and knows exactly the melody I want to hear.
The lyrics are about getting sober. When I wrote it I was about 6 months sober and still feeling really really crummy about all the mistakes I made while drunk, and there were a lot. I would get hit with these overwhelming feelings of dread and guilt and it would be really hard to see myself in any form of a positive light.
Now I'm like a year and 6 months sober and I rarely have those feelings anymore and I'm so grateful, because it was really hard to forgive myself and keep moving. But I eventually listened to myself and realized me feeling guilty and bad about myself did not help any of the people I hurt, in fact it just made stuff worse. That's kind of what the song starts to realize.
Do you have a favorite lyrical or musical moment from the EP? Why?
At the moment one two three is my favorite. I just love how there are basically 3 different songs mashed into one song. My favorite lyric from the whole album isn't on any of these songs but I'll tell you anyway cuz it's all I can think of, "Boys scare me cause I don't know what they are feeling inside, I'm just way too much." That song is called WTF (I Was Falling 4 You).
Is there any chance that you'll have a physical release, potentially cassettes or vinyl, for the EP?
At the moment, no. However, this is me manifesting a vinyl print in a couple of years when the album becomes my og fans best kept flora mma secret.
Thanks for taking the time to answer the questions. Do you have anything else that you would like to add?
Just that I really appreciate you guys reaching out and asking me questions about the project, it always feel really good to share how and why I make music.
Follow flora mma:
Follow Sound In The Signals: