Jivebomb - Sound In The Signals Interview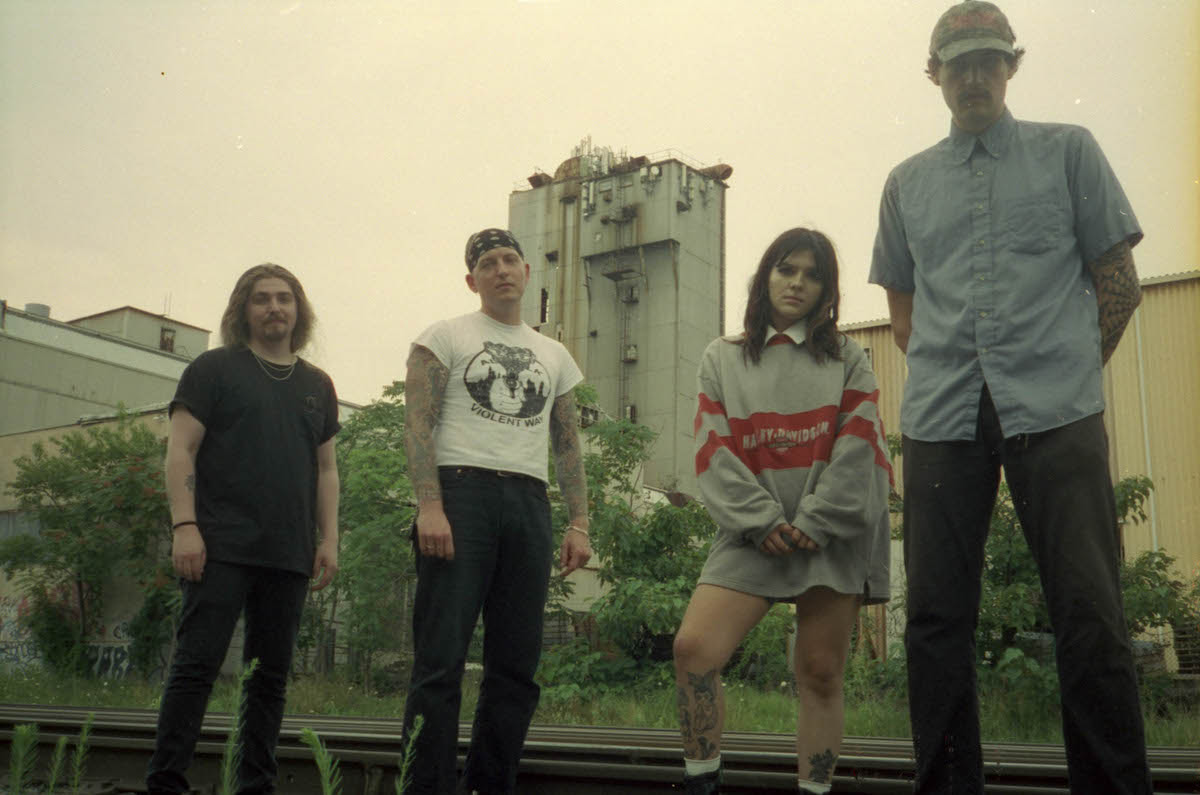 Evan Reilly
I recently had the opportunity to interview
Jivebomb
. We discussed their writing and recording process for new EP, 'Primitive Desires', lyrical inspiration, favorite lyrical moments from the title track, the songs they are most excited to perform live, working with Flatspot Records, the importance of physical media, and more. Check it out below.
First, thanks for the interview.
Kat: Thank YOU!
Harper: Yeah, thank you for doing this
Ethan: Thank you <3
Mees: Thank you!
You recently released your EP 'Primitive Desires'. Can you tell me about the writing and recording process for the EP? Who did you work with and where did you record it at?
Kat: We recorded with Matt Redenbo at Magpie Cage Studio here in Baltimore, we've recorded everything so far with Matt which has always been so fun and easy for us to be comfortable.
Harper: I always strive to write things that are hard and catchy. I write a lot alone in my room and then I'll take it to the group and we'll tweek it to encompass things we all feel. Sometimes I'll ask Kat for an emotion she wants to convey or a scenario she wants to write a soundtrack for and we go from there.
What are some of lyrical themes that you explored on these new songs?
Kat: A whole lot of introspection, but also making space to just have fun and not say anything meaningful at all.
Can you tell me more about writing the title track specifically? Do you have a favorite lyrical or musical moment from it?
Kat: I looove when the song gets progressively faster, shit makes me feel sick in the head. The most prominent feeling that came up while writing the song related to inner turmoil, which everyone experiences in some capacity. "Lived too little to have lasted this long" captured it best I think. Everyone's got their "thing" they don't talk about dealing with that lasts a lifetime cause you never get tired of dealing with yourself.
Harper: Kat writes all the lyrics herself, I think she went crazy with "A blissful dream going violently wrong".
I had a chance to listen to the EP early. There's such energy and an immediacy to these songs. Is there a song that you're most excited to perform live and see how the crowd reacts to it?
Kat: "Ditz" is my most anticipated cause I think we (mostly Harper) really freaked it on that song!!!!! I'm also excited about "Steel" cause the girlies who get it, get it.
Harper: Yeah, I'm really proud of "Ditz", I can't wait for everyone to hear that one.
Ethan: "Illusion of Choice" is such an unrelenting banger. It feels a lot like the bands we listen to and take inspiration from in the van together, more on the "punk" side of "hardcore punk".
Mees: "Ditz" is the one for me, I feel like it was a challenge for me to write and also play. I'm impressed with how many different sounding parts fit seamlessly into a single song. I also love playing "Steel".
You signed with Flatspot Records for this release. What made you want to sign with them and how has the experience been so far?
Kat: Baltimore shit baby!!!
Harper: They know this shit and they know what's real.
Ethan: Some of the greatest hardcore bands of all time have come from Flatspot, and some of the future Hall of Famers are on there currently. But most importantly it's some real deal Baltimore shit.
Mees: Oh man, I've known Che as long as I've been going to shows in Baltimore. I met him through a mutual friend of ours on the day of End It's first show. Fast forward a few years he was at Jivebomb's first show with Restraining Order in September of 2021. After the gig he asked if we would play a fest he was booking in January (now Disturbin' The Peace fest). After the fest, Che asked us if we would be interested in doing a tape with Flatspot and we immediately said yes. Baltimore Band, Baltimore label and a mix of right time, right place. Shout out Flatspot Records, Ricky, Che, H833.
Flatspot has released and worked with a lot of great artists. Who are some of your favorite artists or releases from the label?
Kat: Speed is one of my favorite Flatspot bands right now we gotta get those motherfuckers out here soon.
Harper: There isn't a bad band on the roster, but yeah I agree with Kat, Speed takes it for me. I'm also unbelievably excited for our tour with Scowl too, they've been absolutely killing it.
Ethan: Speed is it for me. I love that band and the new record so much. The new Rule Them All has also been on repeat.
Mees: Speed and Law of Power for me. Can't wait to tour with Scowl.
There were a lot of cool pre-order items for the new EP including cassettes and shirts. Is there a particular item that you're most excited about releasing?
Ethan: The tapes, nothing beats physical media. I also love a good embroidered hat.
Kat: Definitely the cassettes considering we DIY'd the fuck out of the demo cassettes, there's for sure some people out there who copped a janky JVBM tape made at home (with love!).
Harper: The tapes of course because being able to hold a physical copy of music you and your friends made is truly one of the best feelings. We were all pretty stoked on the ringer tees too; those are fresh.
Mees: The ringer tee and the tapes. The whole spread rocks, I remember seeing the design with the little character and the flatspot logo together and thinking "I can't believe this is happening".
Thanks for taking the time to answer the questions. Do you have anything else that you would like to add?
Kat: Thank you!
Harper: Thank you to everyone who's helped make all this possible.
Ethan: Thank you to anyone who has ever booked us on a show, interviewed us, bought merch, anything. If you wanna see us play your city hit us up!
Mees: This is only the beginning and thank you to everyone who has supported the band, coming to a show, told a friend, used our songs in an Instagram video of you bench pressing. We appreciate it all and thank you!
Follow Jivebomb:
Follow Sound In The Signals: