Sparing - Sound In The Signals Interview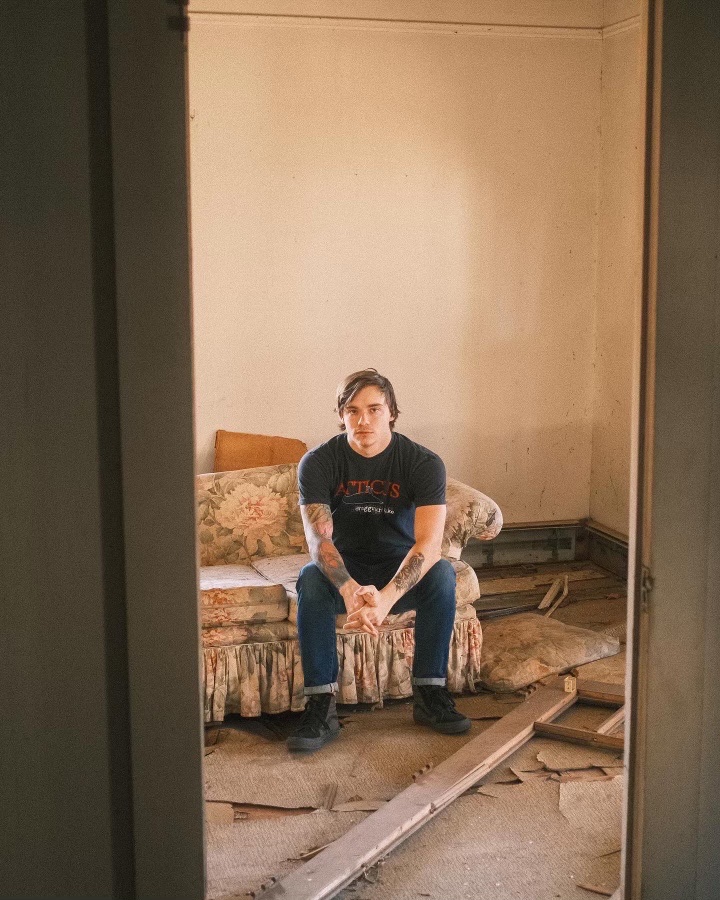 I recently had the opportunity to interview
Sparing
. We discussed how the project began, how the Drive-Thru Records era influences songwriting for the project, details about an upcoming EP, thoughts on latest EP, 'Old Dreams', pressing the new EP on vinyl, covering Rufio's "Still", and more. Check it out below.
First, thanks for the interview.
Thanks for the chance to talk! SITS was one of the first outlets to spread the word about "Old Dreams" so it's really cool to circle back a year later!
Can you tell me how you formed the project for those who may be unfamiliar?
Sparing started out of a curiosity to write as a solo project. Something I had never done before up until Sparing started. It began very simply, just me, my guitar and a drum machine app on my computer haha, but has grown into something I'm extremely proud of. I think each batch of songs that have come out has passed the one prior in the song writing, lyrical content, and overall catchiness. It's still mainly just me at the end of the day, with the help of some amazing musician friends to help me create the live aspect, but Sparing has had a huge sound change year over year and I can't wait to show the next chapter in that progression.
I've seen you talk a lot about how the Drive-Thru Records era really influenced Sparing. What about that era really appeals to you? What are some of your favorite albums from that era?
I think it's just the rawness, and still DIY feeling of the whole label. At a time in early 2000s when bands were getting signed to major labels, and that pop punk style was really making waves on pop radio (sum 41, green day, good charlotte, blink) you still had bands in the underbelly of the genre really pushing the envelope and making memorable records that may not have reached the same amount of ears. Some of my favorites being the bands Homegrown, The Starting Line, and Allister. I still try to attack my song writing with those ears in mind, just stuff I would have wanted to hear when I was a young kid playing Tony Hawk games and consuming as much music as humanly possible.
You have a new EP coming out soon. What can you tell me about it so far?
New EP is going to be 5 tracks, coming back out with our friends Sunday Drive Records, and is for sure a more pop punk/post hardcore leaning sound. Less 90s and more 2000s. I think these songs really are the best songs I've ever written in my life. They are more streamlined than the songs on "Old Dreams" and just more focused sonically. I still was trying to figure out the sound I wanted with the band with that last EP, and I really feel I nailed it this go around. Can't wait for people to get a taste of it soon.
Do you have a song that you're most excited for people to hear? Why?
I think I'm most excited about people hearing the title track (which I'm going to still keep a secret until I get ready to tease the record haha) BUT it's the first song I've had the pleasure of having a friend sing alongside of myself on a Sparing track. My friend Brooke comes into the mix with a back and forth vocal heavy song, where we tackle the life of a failed relationship/marriage and the weight of the feelings that come with that. Brooke did such an amazing job with their verses, and our voices together in the chorus is really something special. I think it's going to be a crowd favorite, and one that people might relate to on a deeper level with the lyrical content.
'Old Dreams' is a fantastic EP. It seems like you really found your sound on that EP. Do you have a favorite moment from recording it?
I think just top to bottom Old Dreams was the best time I've had in the studio for a record. Like I said earlier, Sparing is mostly a solo project, so I'm doing everything on the records with the exception of drums. So it's an insanely taxing experience mentally and physically, just each day going non stop. But each day you get to hear the songs get better and better and shape into the final product that you dreamed of, it's the most rewarding thing ever. The newest EP coming out was a way harder experience for me for some reason. Little things going wrong and plans getting messed up on a near daily basis. Shit almost killed me haha, but I still think the next EP is the one to look out for. I poured about 99.9% of myself into it, not sure I will survive a full length one day haha.
"Colorblind" is one of my favorite songs from it. Can you tell me about writing that song specifically?
Colorblind went through the most revisions of all the songs, and is probably the most different sounding song on the record. It was initially a song diving into politics, but I found myself just feeling fake typing out the lyrics. I just wasn't getting any point across, or saying really anything of substance other than surface level stuff. So I scrapped it, and just wrote from a different perspective. Just hitting the lyrics from more of a "growing up, and not being able to go back" topic. I find myself in a nostalgic headspace all the time, and growing old is such a weird feeling. I have to look for the good in life and in the little things, or I just start seeing the world in black and white, and just with a depressed lens. So Colorblind is about trying to remember the little things (and also in the good charlotte sort of way haha).
I know you released some cassettes for 'Old Dreams'. Is there any chance that you'll have a vinyl pressing of that EP or this upcoming one?
New EP is slated for a vinyl pressing with the good folks of SDR. I will probably have a massive sense of accomplishment holding onto that piece of wax. I've collected vinyl since I was young and it will be a total full circle moment being my first pressing.I just hope I can sell those things out haha. Buy a record please.
One thing that I thought was awesome was the limited Rufio slipcase for the cassettes. Did you decide to do that before or after you finished the cover of "Still"?
Way after! Sunday Drive did a cassette pressing for the band Feverchild that had a limited edition slip cover. So I decided to make some of my own for a show happening on new years, just to have something a little unique for the gimmick table. Turned out awesome!
What made you want to cover "Still"?
I got offered sometime during the roll out of Old Dreams to be on a compilation by my friend Hooty and the "Thrown Out Couch Podcast". He gave me a list of songs to choose from, and being the Drive Thru nerd I am, I picked out Still. The comp ended up falling through but I decided to still release the song with Sunday Drive on their Songs For November comp, and to make my boy Hooty happy haha.
Thanks for taking the time to answer the questions. Do you have anything else that you would like to add?
Again, huge thank you to SITS for the chance to talk. Just remember, there is nothing left to show, when there is no room left to grow...
Follow Sparing:
Follow Sound In The Signals: