3AM - Sound In The Signals Interview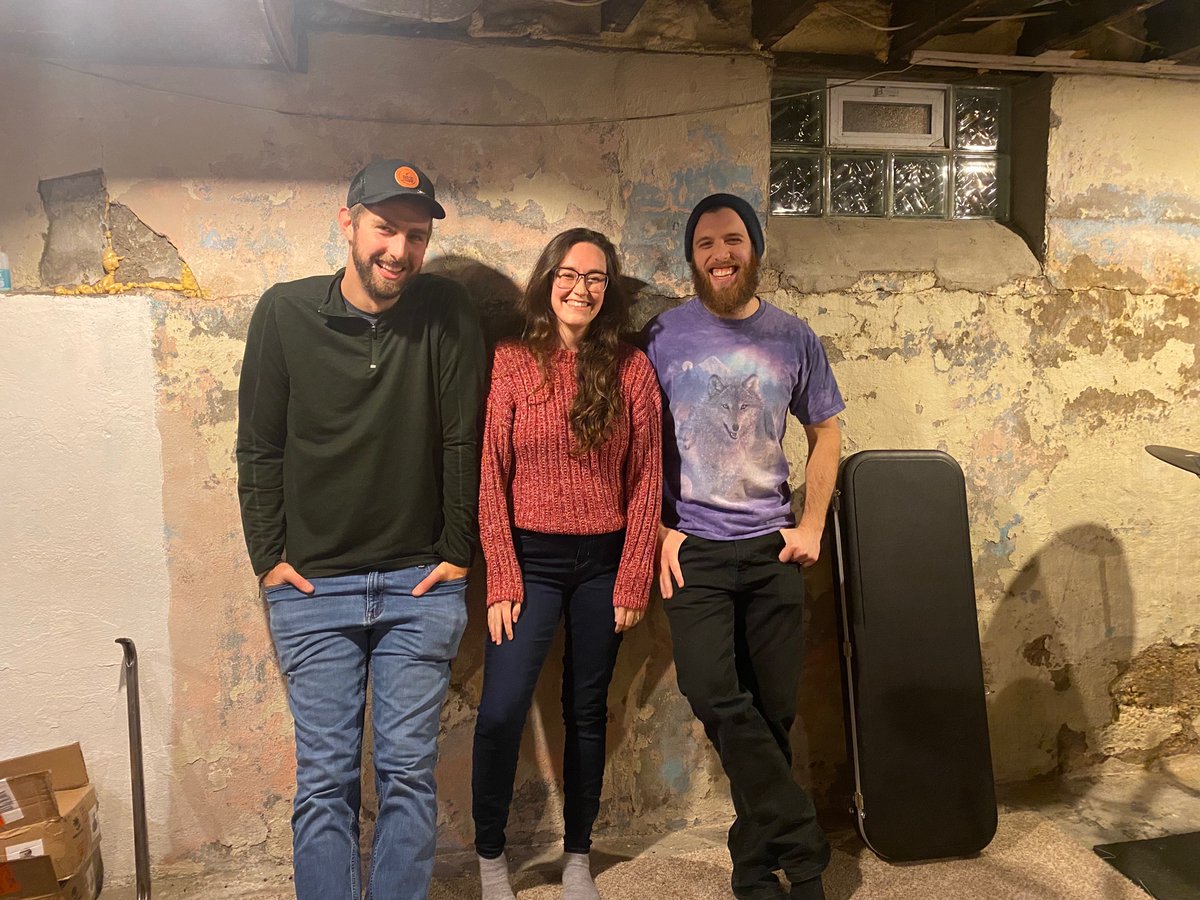 I recently had the opportunity to interview 3AM. We discussed how they formed the band, their biggest influences, the writing and recording process for their new album, 'Life's Hard', the song that was the most challenging to complete and the song that came together the easiest, making donations to the National Homelessness Law Center, their cover art, and more. Check it out below.
First, thanks for the interview.
Happy for the opportunity!
Can you tell me how you formed the band for those who may be unfamiliar? How did you initially become interested in music?
Craig: It actually all goes a while back. Hunter and I (Craig) met in elementary school and were immediately into similar music, which at the time was either nu-metal (i.e. Linkin Park) or Sheryl Crow (thanks mom). Hunter at this stage had already taught himself to play bass and guitar while I was busy taking piano lessons. With the desire to make our own music, I invited my childhood friend Alex to meet Hunter and "jam" (mostly just three kids playing out of tune instruments together). As every band needs a drummer, I decided to learn how to play them with countless hours of Rock Band, eventually buying my own set and actually learning how to play.
At this point there we had two guitarists and a drummer so naturally we invited another close friend TJ to play bass, having no prior experience (not that you need a lot for a rock band ;)). The quad eventually formed into our first band, Vital SoundScape. Unfortunately due to the way life works, TJ and Alex moved away and the band went on a permanent hiatus; however, spawning from the dissolution was the band that would soon be known as 3AM - Craig and Hunter. After multiple years of writing and refining songs with the limited time we had while finishing college, we released our first LP 'Summer's Alright.' Hunter's wife, Meghanne began to become much more involved at this point providing violin and necessary back-up vocals to our raspy, emo singing, and we subsequently released our second LP, 'Life's Hard'.
Who are some of your biggest influences?
This is a great question because we all have different yet similar tastes which ultimately help mold the music we make. Craig (in absolutely no order of favoritism): Marrietta, Dikembe, Blink-182, +44, Weezer, Into It. Over It., Charmer, Moving Mountains, Enemies, etc. Hunter: lots of the same as craig, plus Duster, WHY?, Alex G, Fog Lake, Aesop Rock, and MF Doom. Meghanne brings some country/folk vibes with influences like Luke Combs, Kelsea Ballerini, and Shania Twain, and is slowly coming around to emo, in particular Into It. Over It. We think all of that mashed together gives us something unique!
You recently released your new album 'Life's Hard'. Can you tell me about the recording process for the album?
Craig: As noted above, recording this wasn't a straightforward process, but still fun none-the-less. Hunter would lay down a good base of guitar and bass (and sometimes vocals), make his way up from Indiana to Michigan, and I would then lay the drums over as many tracks as possible with a short weekend. Past 8pm, in an effort to not to make all the neighbors mad, we would start editing/mixing, drink too many PBRs, play darts, and make some dope raps. This is actually the first time we've publicly talked about this, but we have an upcoming release of all our late night freestyles. They're really different from our normal music but a blast to make.
What was the easiest song to write and on the other hand which one took the longest?
For Craig, the hardest song was definitely "Looks like I'm Skating Again". On one weekend, he took a lot of attempts at recording and was not able to get it to exactly what he wanted (you can hear the frustration in the very beginning of the song!). Come a month later, he had refined what he wanted to lay down and then it came together flawlessly and ended up being one of his personal favorites on the album! The easiest might have been "Bummer and Sons". Hunter's sibling Madi got him an old banjo for his birthday in 2020, and while learning to play it the foundation for the song came along really quickly. Everything else that followed, the lyrics, the violin, the one-take on drums, came so easily it was like the song was already written and existed and we were just the ones to capture it out of the ether.
I really like the song "Life's Hard Lemonade". Can you tell me about writing that song specifically?
Hunter: Thanks! That song is an almost entirely verbatim recollection of a conversation I (Hunter) had while walking my dog one day. I consider myself kind of socially awkward, but I'll talk to pretty much anyone if they talk to me first. I ran into this guy and a woman, who stopped me to talk about my dog. They were walking home from the liquor store with a fifth, and the dude seemed like he'd had a bit to drink already so he was kind of all over the place in a funny way. He asked if I wanted to come drink with them, and when I said I couldn't he asked me what I was doing on the 28th, as it was his next day off of work at the bowling alley.
Later he started telling me about how the rent in the trailer park was going up, something crazy like another couple hundred dollars. I remember being really angry at the fact that not only were they paying way more than we were for a house, but also that that their rent was going up so much. It is so unfair, and really disheartening that while this conversation was in 2018, things have only gotten way worse in terms of housing. That conversation stuck with me as it was just such a random encounter, both funny and sad in different ways. I process events by writing about them, which is how much of our music is storytelling.
When we released Life's Hard Lemonade as a single, we wanted to do something in the space of housing justice. We launched a pledge for donations to the National Homelessness Law Center, a group that works in the short term to protect people experiencing homelessness and in the long term to address the systemic issues that give rise to homelessness. Through friends, family, fans, and ourselves, we were able to raise over $300 to donate to the NHLC. In perpetuity, proceeds from purchasing/streaming Life's Hard Lemonade and LHL stickers are to be donated and matched to the NHLC. #HousingIsAHumanRight #HousingNotHandcuffs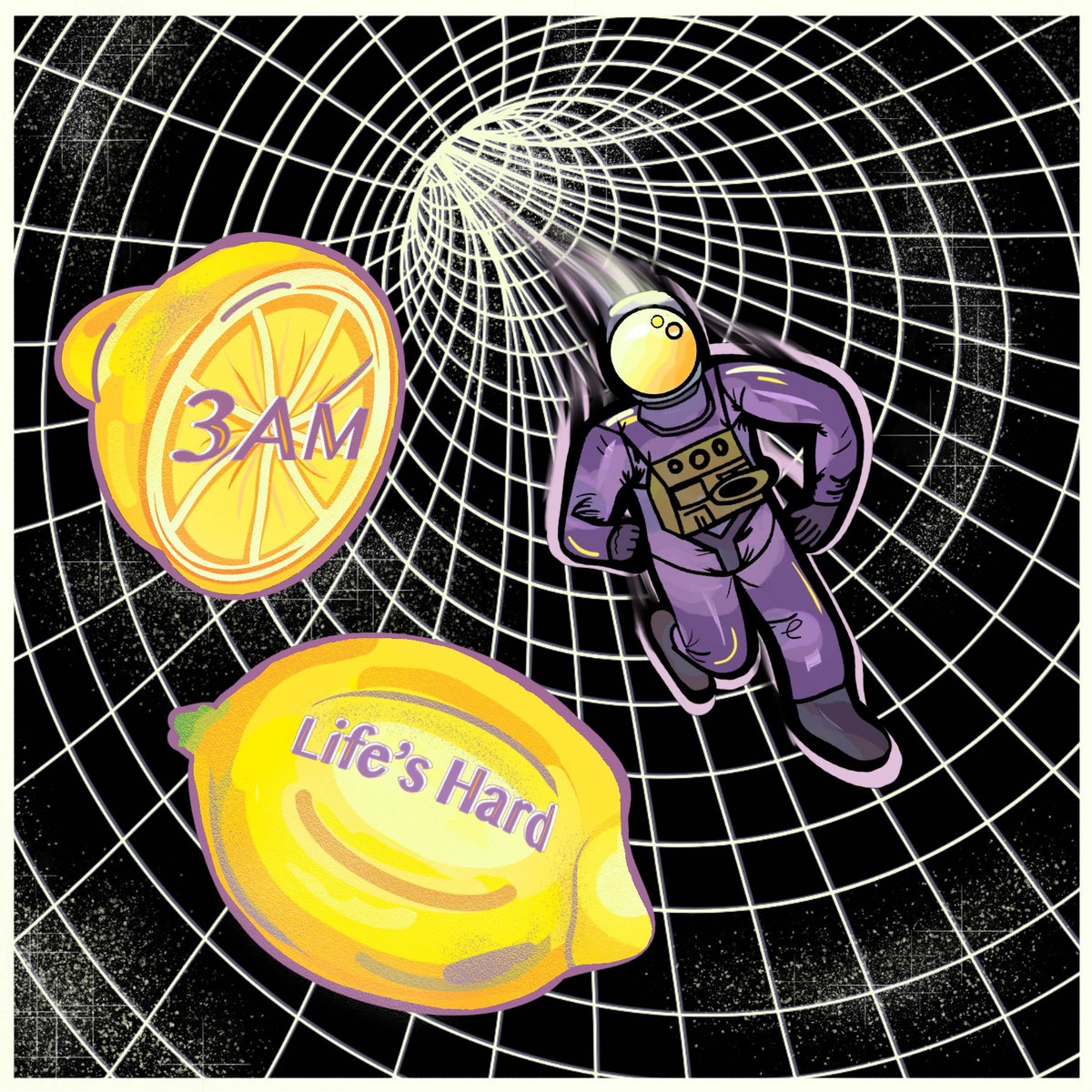 The cover art is really neat. Who came up with the concept for it and designed it? What's the meaning behind it?
Craig: Life's a f***ing black hole and sucks you in.
Hunter: To be more serious, Life's Hard was an idea we kept kicking around in different ways, saying it for really trivial things and truly hard things (eg life's hard lemonade). In our song 27s one of the lines sung by Meghanne is "My boyfriend wants to fall in a black hole and I don't know why". I (Hunter) found it really funny, the idea that someone falling into a black hole would just be like, "oh well, life's hard".
I asked my sibling Madi to create the artwork for us. I remember saying something really vague like "can you draw an astronaut getting pulled into a black hole?" and Madi ran with the idea and absolutely crushed it. Madi is a phenomenal visual artist (digital, paint, drawing), a published poet and writer, and a founder/editor of a literary magazine (@MyceliumLit). I would recommend highly checking out their work and the lit mag!
Thanks for taking the time to answer the questions. Do you have anything else that you would like to add?
Appreciate the opportunity a lot! All we want is to have fun with our friends, for people to listen to our music, and maybe a PBR sponsorship.
Follow 3AM:
Follow Sound In The Signals: