With The Punches - Sound In The Signals Interview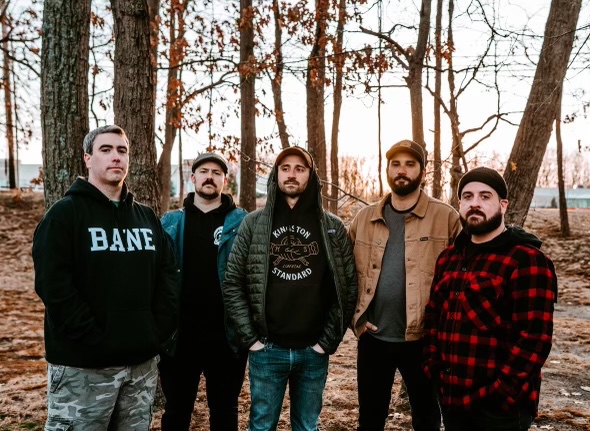 Alex Zarek
I recently had the opportunity to interview Shane of With The Punches. We discussed their signing with Mutant League Records, the writing and recording process for upcoming EP, 'Discontent', their hiatus and how the EP is the next step for the band, how new song, "Stoneham Blues" addresses loss and addiction, exploring what discontent means on the EP, releasing the EP on vinyl, what's next for them, and more. Check it out below.
First, thanks for the interview.
Of course! I will always make time to answer some questions. Thank you for caring enough to ask them. - Shane (Drums)
You signed with Mutant League Records recently to release your upcoming EP. What was it like signing with them and how's it going so far?
It's funny because Nate from Mutant League actually reached out to us when we had alluded to some new stuff going on in a Twitter post. We had some really great conversations with him and at this point in our careers it made too much sense to work with Mutant League to release this new record. The whole Mutant League team has been amazing to work with, we could not say enough good things about them.
You have plans to release new EP, "Discontent" on May 27th. What can you tell us about writing and recording it?
The process of this record has been going on since our "hiatus" started back in 2013. We actually wrote the first variation of "Stoneham Blues" around then. In the last 9 years we have sent riff ideas, drum beats, and vocal melodies back and forth (utilizing an awesome site called Splice) trying to put together some stuff. It's been hard with all of the things that have happened in our lives in that time, but knew we wanted to write some new songs. We managed to get some clear ideas hashed mostly via the internet, with a couple live jam meet ups in between.
Once we got this EP written, we went into the studio in March of 2020... I assume everyone knows what happened right at that time. We ended up getting some drum tracks and stuff down and then the world shutdown. We didn't get back into the studio until almost the end of 2020 to finish the recording process, by then it was hard to pick back up where we left off. Some time and a whole lot of effort from all the members of the band and Brendan Williams (recording engineer), we were able to make this EP sound amazing. It seriously has some of my favorite songs we have written to date.
The EP will be your first release in a long time. What made you decide that this was the time to release new music? How does it feel to be writing, recording, and releasing new music again?
We had always known we wanted to release more music. Back in 2013, we all loved this band. Anyone would tell you that if we were able to pay the bills and continue making this our full time career, we would have. Life happens though, getting older, responsibilities, social pressure, finances, they all start weighing on you. We decided it was best to step away to take care of what we needed to in our lives at that time. As I said before, we had been bouncing ideas off of each other for almost the entirety of the last 10 years. While this EP only has 5 songs on it, it has been hard to write now that we have busy lives outside of the band, we knew that these 5 songs felt like they were the next step for us. We all love them and are proud of the progress we have made as a band and as people. It just felt right that these 5 songs needed to be put out into the world now.
Especially since seeing the response from the release of "Stoneham Blues", it's been a whirlwind. It feels like nothing you could really describe, like the reason you started doing this in the first place. We could not be more excited about this release and everything that surrounds it. It feels like when we first started this band. We love playing music and we are humbled by the people who enjoy what we do. Couldn't be happier to be back.
"Stoneham Blues" is about struggling with loss and especially with those lost to addiction. What do you hope fans take away from the song?
I think our goal is to bring forward the message that people can look like they are ok when they are not. Some live lives that look and feel like they are on top of the world. However, you never know what someone is dealing with on the inside. Reality can slap you right in the face and reveal some unfortunate truths. Knowing this, always tell the people you love that you love them, check on your friends often, be kind to all those you meet, and never take your life or anyone else's for granted.
Are there any themes or concepts that you explored on the album? Can you tell us more about them?
While I am not the main lyricist in the band (that goes to our main man on vocal, Jesse Vadala), the album in general is this theme around the title "Discontent". In the last 10 years since we have been hibernating, we have dealt with a lot in our lives. Between jobs, relationships, moving, children, and more life hasn't been a cake walk for any of us. Discontent doesn't mean that we aren't content with the way our lives have played out, in fact, we are all really happy. Discontent moreso comes from some of the hardships we have dealt with in that time and that you do not have to accept them. In fact, discontent in your life can lead to good things. It allows you to realize that you aren't happy with something and that you need to make changes in order to get to a better place. It's this process that we have tried to portray in this new record.
You're releasing the EP on vinyl as well. What do you think about the fan response to the vinyl release and how important is it to you to have music released on vinyl?
So I am so excited to release this record on vinyl. "Seams & Stitches" and "Farewell" (Our first 2 EPs combined as a full length) have had previous releases on vinyl that did very well for us. This record is really special for us to put out on vinyl. Being back after almost 10 years and having the response we have received is overwhelming. Physical copies of music have always been important to all of us in the band. While today it's all about streaming and downloading music, there's nothing like having a hard copy of your favorite songs playing through some speakers in your room. It's what we grew up with and what we want to keep alive in this industry.
What else is coming up for the band in 2022?
Well, the record comes out on May 27th everywhere. After that, we are playing some awesome release shows that everyone should try and come out to if you can cuz they're gonna be sooooo much fun! Other than that, we may have a few more things up our sleeves, but I'm gonna have to keep you hanging like the scene after the credits in a Marvel movie.
Thanks for taking the time to answer the questions. Is there anything else that you'd like to add?
We appreciate you taking the time to do this interview also. Getting to talk to people and see their reactions to the new stuff we have worked so hard on has been nothing short of incredible. Thank you to all of you that are reading this, have listened to our new single, that care about this band. You are the reason we are who we are and are trying to do what we are doing. We love you all and can't wait for you to hear this new record and to see your faces in the crowd at a show.
Follow With The Punches:
Follow Sound In The Signals: