Max Bennett Kelly - Sound In The Signals Interview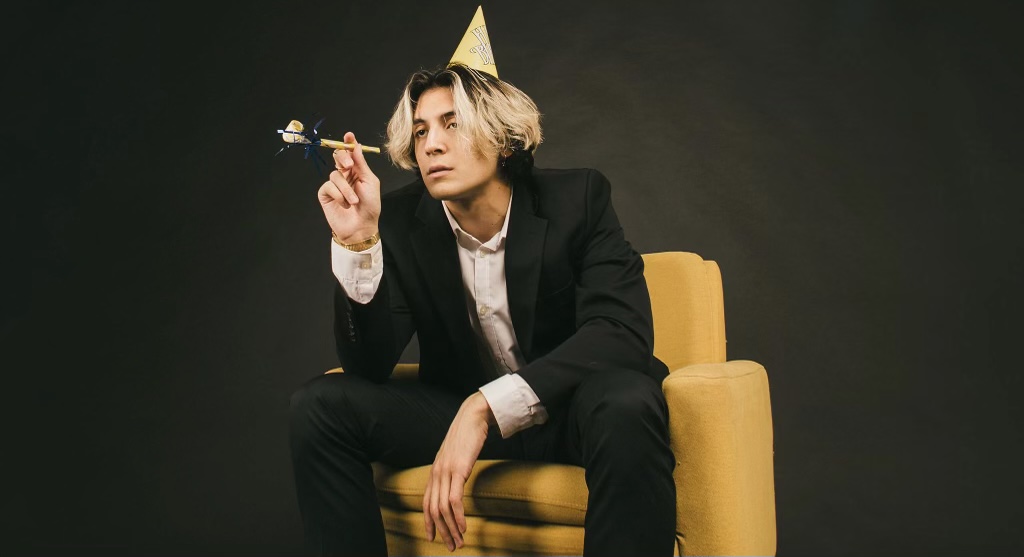 I recently had the opportunity to interview Max Bennett Kelly. We discussed how he started in orchestra and found Green Day, his biggest influences, how upcoming song, "Broke" is about being defiant against self doubt, how "Birthday" started as an idea for TikTok and turned into a song, details about an upcoming School Night Show and EP, and more. Check it out below.
First, thanks for the interview.
Thanks for having me!
Can you tell me how you started writing music for those who may be unfamiliar? How did you initially become interested in music?
I was in orchestra as a kid. I played the upright bass. Then I discovered Green Day at like 9 and that changed everything. I was obsessed with reading their lyrics. So I started writing songs that were just lyrics, because at the time that's all songs were to me. Then eventually I started a band with my neighbors and that lasted like 10 years.
How did you find your sound and who are some of your biggest influences?
I've always liked songs that hit you right in the gut right below your chest. I think it's not only the sound but the lyrics attached to them that gives you that feeling. My all-time favorite band is Brand New, I take a lot of inspo from them. I also went through a huge Wonder Years kick earlier this year. But it's not just emo stuff, I also listen to a lot of hip hop. Like, Mac Miller has had just as much of an influence on my lyrics as Max Bemis. I just like candid, honest songs, especially when they're about stuff I'd normally be embarrassed to talk out loud about if I wasn't singing it.
You have new song "Broke" coming soon. What can you tell me about the song and the writing process?
I moved to LA and lived in a garage and did clinical trials for money while all the other kids I grew up with got real jobs and started making real money. I was just questioning my choices, like what is wrong with me? I made the song to assure myself that it's all been worth it. Like, being defiant towards my own doubt.
"Birthday" has been such a big song for you. Can you tell me about the writing and recording process for it? Were you surprised by the response to it?
I dread my birthday every year. You can't stop it, you just keep getting older. It's like a yearly reminder of everything I didn't accomplish. I hate celebrating it. I was in the shower ruminating and wrote what became the chorus and first verse and put it in TikTok. The whole thing took like an hour. Then a month later it blew up on Instagram Reels, so I thought it would be cool to finish it. I totally didn't think of this as a "song" as much as a little piece of music for the internet, so I was surprised by how many people wanted me to finish it. I'm super grateful but also feel bad about how many people can relate. It's not a great feeling.
You have a School Night Show coming up on May 16th. What can fans expect from the set list? Do you have any surprises planned?
Well I'll say right now that the only released song I'll be performing is "Happy, Healthy, Well-Adjusted." I want to use this as a showcase for what's coming next. Also I've been really into country stuff lately so I'm gonna have my friend bring out a banjo for a song, it'll be dope.
You've been working on an EP. What can you tell me about it so far? Do you have a timeframe for when we might hear something from it?
Yeah, "Broke" will be the first song from the EP. It's a set of songs I wrote about my time living in the garage, feeling like life was passing me by while I was stuck daydreaming and playing the underdog. "Happy, Healthy" will also be on it, as well as 4 more songs. I'll play the other songs at School Night so come check out the show if you want to hear them early.
Thanks for taking the time to answer the questions. Do you have anything else that you would like to add?
Thanks again for having me. Keep streaming "Birthday" and all my other songs. Get ready for "Broke" and the video that'll go with it, world's not ready. I'm not even ready. Hmu @maxbennettkelly
Follow Max Bennett Kelly:
Follow Sound In The Signals: