Stand Still - Sound In The Signals Interview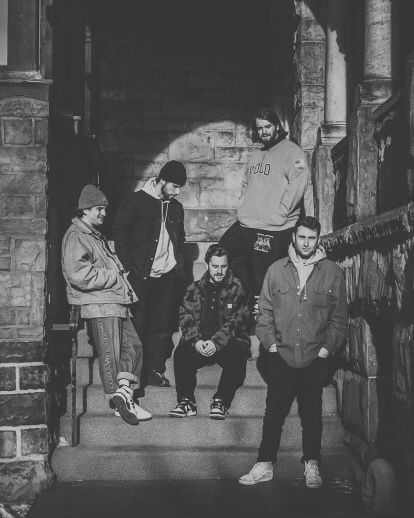 I recently had the opportunity to interview Bryan of
Stand Still
. We discussed how they formed the band, their thoughts on last year's EP, "A Practice in Patience", releasing it on vinyl, how their sound comes from growing up listening to their favorite hardcore bands, the early-mid 2000s emo and hardcore scene, working with Daze Records and New Morality Zine, the potential for new music, and more. Check it out below.
Can you tell me how you formed the project for those who may be unfamiliar? How did you initially become interested in music?
Stand Still started when Andre, Steve, and I decided to make a new band after Steve was the singer in our previous band Discolor, but wanted to get a frontman. We decided to start from scratch and started writing just before the pandemic started. Once lockdown was in effect, we wrote a lot of new music from home and sent new ideas back and forth. Once things started to calm down, we started to meet up and materialize the songs. We added Mat on bass who plays bass in my other band, No Idea. He suggested adding Gerry on vocals, so we had him at a practice and it clicked right away. As far as how all of us got into music, all of us had different paths to our interest in music, but my interest started when I was younger growing up listening to 90s music from my parents, and then lead to going to hardcore shows with my friends on Long Island when I was 13 years old.
Your EP 'A Practice In Patience' came out last year and since then your band has been getting a lot of buzz. Have you been pleased with the response to it? What are your thoughts on it now that it has been out for a while?
We are very grateful for the response, I think it's definitely more than all of us expected. It's energizing for us to see a response to this kind of music in 2022. A lot of us grew up listening to melodic hardcore bands that translated the same message and energy that hardcore bands did, and I think Stand Still is just our version of that. I think as a whole we are all very happy with "A Practice in Patience" and how things turned out. We didn't expect the response we got, but we are humbly taking that energy and we're putting that into pushing further with our new music.
Your band and various other bands, like Koyo and Foreign Hands, have been getting a lot of interest and you all seem to draw some influence and inspiration from the emo/hardcore scene of the early-mid 2000s. Is that an accurate statement for your band?
That's definitely an accurate statement. I can say for sure that Stand Still wouldn't be a band without bands like Silent Majority, Crime in Stereo, Taking Back Sunday, Capital, The Agent, and a bunch more. But I think we do similar things in taking the same message and energy from hardcore and putting our spin on it. Stand Still is our take on what melodic hardcore sounds like in 2022. Long Island is a special place for music and there are a lot of bands from outside of Long Island that we look up to also, but at the end of the day I think Stand Still has its own sound that materialized from growing up listening to our favorite hardcore bands.
What about that era of music specifically makes it so special in your opinion?
I think that era was just on a whole other level. A lot of our favorite styles of music were pioneered at that time and I think the style that stuck with us the most were bands that were born in hardcore but were always sonically evolving and sometimes combining different genres of music to make something brand new but familiar. Stand Still takes after bands that were born in hardcore and push the limits of the genre.
You released the EP with Daze Records. You sold out the first vinyl pressing and are currently on the second pressing. How important is having a vinyl product to your band?
Dealing with the current turnaround time from pressing plants isn't ideal, but this was the first record any of us had made that was pressed on vinyl so we were very happy to be able to have physical copies of "A Practice in Patience".
What's the experience of working with Daze been like so far?
Working with Daze and New Morality Zine for this project was an awesome experience. Both Lumpy and Nick are some of the best people in the game, and we couldn't have been happier with how everything turned out.
Is there any chance that we'll hear more new music this year?
Yes, we just announced that we will be releasing a new EP through Daze and Triple B Records soon called "In a Moment's Notice". We are excited to share more details soon, but that's all we can say for now.
Thanks for taking the time to answer the questions. Do you have anything else that you would like to add?
Thanks again for having me for the interview! If you haven't already, go listen to Private Mind, Victory Garden, Sparing, Warehouse, Pain of Truth, Wild Red, and Age of Apocalypse.
Follow Stand Still:
Follow Sound In The Signals: