408 - Sound In The Signals Interview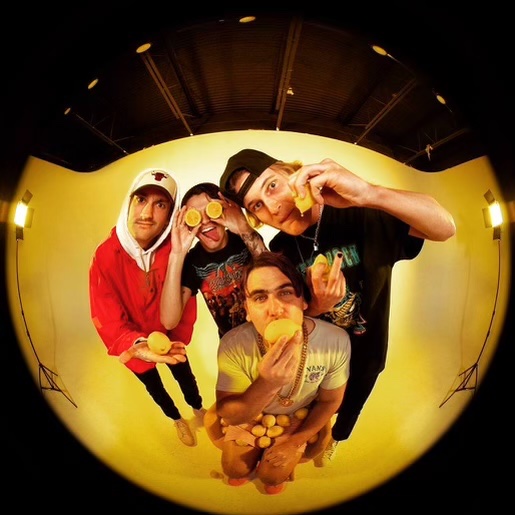 I recently had the opportunity to interview Mark Faroudi of
408
. We discussed the writing and recording process for new song, "Mark Hoppus", collaborating with Kellin Quinn and Magnolia Park, a favorite lyrical moment from the song, what to expect on their upcoming album, a song from the album that he's most excited for fans to hear, and more. Check it out below.
First, thanks for the interview.
Thank you very much!
You recently announced your song "Mark Hoppus", which features Kellin Quinn and Magnolia Park. I saw that you've had this song since January of 2021. Can you tell me about the writing and recording process for the song and what the rollout for it has been like?
Yes, I (Mark Faroudi) came up with the idea one night to reference Mark Hoppus in a way that most rap songs reference celebrities or athletes. I also wanted to make a song that combined the styles of Juice World and blink-182. I then called up Nick Hanus, my guitarist and said, I have this idea for this song, I think it would be awesome for Tiktok and for people that love Blink and Mark. Nick was all in and we recorded it immediately in February of 2021. We had the song mixed and mastered in March of 2021, but we really wanted to get other artists involved in the track. Also Mark later announced that he had cancer and that halted all movement on the track out of respect for him.
As the news of Mark's remission came out, we started to see the light at the end of the tunnel on releasing this track. Kellin got involved on the song in early 2021 and later I played it for my bros in Magnolia Park one day while they were shooting a video at my house. They thought it was awesome and it all came together and the song was completed. I have been wanting to release this track for over a year, but I am glad that it is coming out with the artists and friends that are all a part of this song. Really the goal of the track is to pay homage to Mark and hopefully he is flattered and listens to it. I play bass and sing because of him.
How did you decide the guest features for the song and what about both of those artists made them fit the song?
Kellin is a legend. Nick Hanus and Nick Roque the guitarist in 408 are massive Kellin fans and wanted him a part of the track when it was in the formulation stage. We thought it would be sick on this genre mashing song. Magnolia Park are like brothers to 408. I love all those guys for real. All of them are the most down to earth fun dudes to be around. I think 408 and Magnolia Park get along very well on the business side of things as well because we both have similar goals and tastes in music. We both support each other's product genuinely and wholeheartedly and that is very rare out there in the space of Pop Punk. It's starting to become more of a trend which is great for all musicians in the scene.
Do you have a favorite lyrical or musical moment from the song?
Yes, we were coming up with the intro and outro background vocals. I was trying to do some lil Uzi Vert type vocals as well on the track and we came up with a lyric we promised to never tell anyone what it is at the very end haha. Funny inside joke. It's almost like we were trying to summon Mark in some sort of weird way when it came out. $100 to whoever can figure out what that line is.
I also saw that you recently finished your album. What can you tell me about it so far?
Oh man we are sooooo pumped on this album! If you follow 408, you can find out that we are fans of so many different genres. We truly made an album that is completely unique and all over the place genre wise. Some songs are emo, some are punk, some are EDM, some are trap, some are pop country.
Your band has been very forward pushing in terms of bringing new sounds into the traditional pop/punk style. How did you continue to push the boundaries or try anything new on the album?
Oh yes, as stated in the question before the entire album is completely mixed with all kinds of styles. We loved every minute of it.
Do you have a song from the album that you're most excited for people to hear? Why?
That's extremely hard to pick just one, but we have some really cool features on this album. There is one song called "heartbreak anniversary" that I think people are going to love.
Do you have a tentative release date for it yet? Will cassettes or vinyl be available for it?
Potentially vinyl, some time in the fall is when we are looking to drop it.
Thanks for taking the time to answer the questions. Do you have anything else that you would like to add?
Thank you for your time and we are very pumped to show everyone what we are working on.
Follow 408:
Follow Sound In The Signals: