College Radio - Sound In The Signals Interview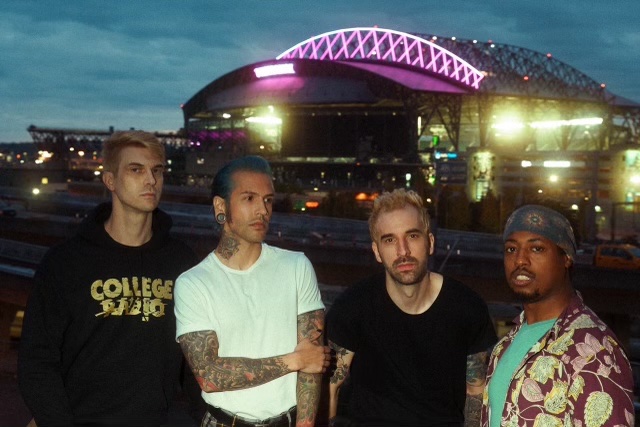 I recently had the opportunity to interview
College Radio
ahead of the release of their new song, "Survival Guide", which is
out
today. We discussed writing and recording new song, "Lemon", their biggest influences, how they work out their vocal trade-offs, the possibility of a vinyl release, and more. Check it out below.
First, thanks for the interview.
Evan - Thank you so much for chatting with us!
Gordon - ditto
Melvin - Thanks for interviewing us!
You recently released your new song "Lemon" and it's probably my favorite song that you've written to date. Can you tell me about writing and recording that song?
Evan - With this one, I demoed it myself in my basement, so I had it mostly done when I brought it to the guys. I just showed up one day with this weird emo-ska-punk thing, and everyone dove in headfirst. The songs always really come to life once the guys get their hands on them.
Gordon - This one was super fun to track! We did live drums for this one so it's extra special. Evan actually masterminded this one and with some vibes from me and Mike and our buddy Cade (Dusty Cubby/Midnight Movie) it really came to life!!!
Melvin - Glad you like it! It started as an idea Evan brought to us. It was fast it was edgy and the vocals were so raw. Funny enough I remember this was one of the first songs Gordon showed me from the new runs of songs we had coming up when I was meeting the band for the first time this past summer!
I really like the style of your band. You incorporate a lot of elements from the golden era of pop/punk, ska, and some emo elements. What, or who, are some of your biggest influences? What albums have made the biggest impact on you musically?
Gordon - We just love that old school skate/punk/ska/surf sound from the early 00's. For me bands like Alkaline Trio, Green Day, and blink-182 really impacted me the most. As well as bands like FFTL, Senses Fail, Aiden, Terror, sinking Ships. I think Nimrod by Green Day and TOYPAJ by blink-182 and Good Mourning by Alkaline Trio have to be my top 3 impacting records.
Melvin - Musically I find that my biggest influences come from bands like blink-182, Bayside, Neck Deep and Green Day. As for performing, I love the energy bands like Every Time I Die and the Foo Fighters bring to every set. If you come to see them live, you know you're getting everything they've got, and that's what I want to bring to every live set we play.
Evan - At least for Lemon, I'd say NOFX is a huge influence, musically and lyrically. Fast guitars and brutal honesty? That's my style. If I had to narrow it down to a single album of theirs, I think "Coaster" would be it. And I'd be remiss if I didn't also mention the Suicide Machines, Big D and the Kids Table, and Lagwagon. We're all about that old school, baby.
Your band features some great vocal trade-offs. How do you decide who sings what?
Evan - We try and do whatever serves the songs, honestly. Like, if I write a song with a higher lead vocal part, I have Gordon sing it, and vice-versa. That's what we did with Lemon, I just sing the low harmony in the chorus (when my Mom heard it, she said it was "nice that Gordon let me sing on it," hahaha). He does the high, pretty parts, I do the low stuff and all the screaming.
Gordon - Evan nailed that one!!! One thing I felt this group lacked was more vocals and when Evan came aboard we had the ability to really let it run wild and it's become a favorite amongst the fans!!
You've been releasing some great singles lately. Is there any chance that we'll hear another EP or possibly an album in 2022?
Gordon - hmmmmm
Evan - ;)
Melvin - Stay tuned we got something coming!
I know you released a cassette for the EP. Is there any chance that you'll release anything on vinyl anytime soon?
Gordon - ATM we are working on 2 special 7' to be released in March!! One of IUTGMU AND the other our recent 4 new singles!
Evan - People are so hungry for vinyl right now! We get asked this so often! YES! We are working on releasing IUTGMU, as well as some newer material on fancy-pants vinyl for you all!
I checked out the episode of High School Never Ends with Gordon discussing blink-182's 'Take off Your Pants And Jacket'. I thought that was a great discussion. What's your definitive blink-182 album rankings?
1 TOYPAJ
2 Self titled
3 Enema
4 California
5 NINE
I'm a huge Skiba fan so it's hard to not put those at #1/#2 but TOYPAJ just has so many memories that it's my all time favorite. Just don't get me started on Alkaline Trio ;)
Thanks for taking the time to answer the questions. Do you have anything else that you would like to add?
Evan - Thank you!!! To anyone who reads this, listens to us, watches our videos, sees us live, or perceives us in any way! We love you!!!
Melvin - Thank you so much for taking the time to read about us! Check us out on all your favorite music streaming places and follow us on your social media (IG: @collegeradiopnw) to keep with us!
Gordon - We appreciate you guys having us!! Keep rocking the new singles and make sure you jam out "Survival Guide" out 1/14!!!!
Follow College Radio:
Follow Sound In The Signals: