Marko DeSantis (Sugarcult) - Sound In The Signals Interview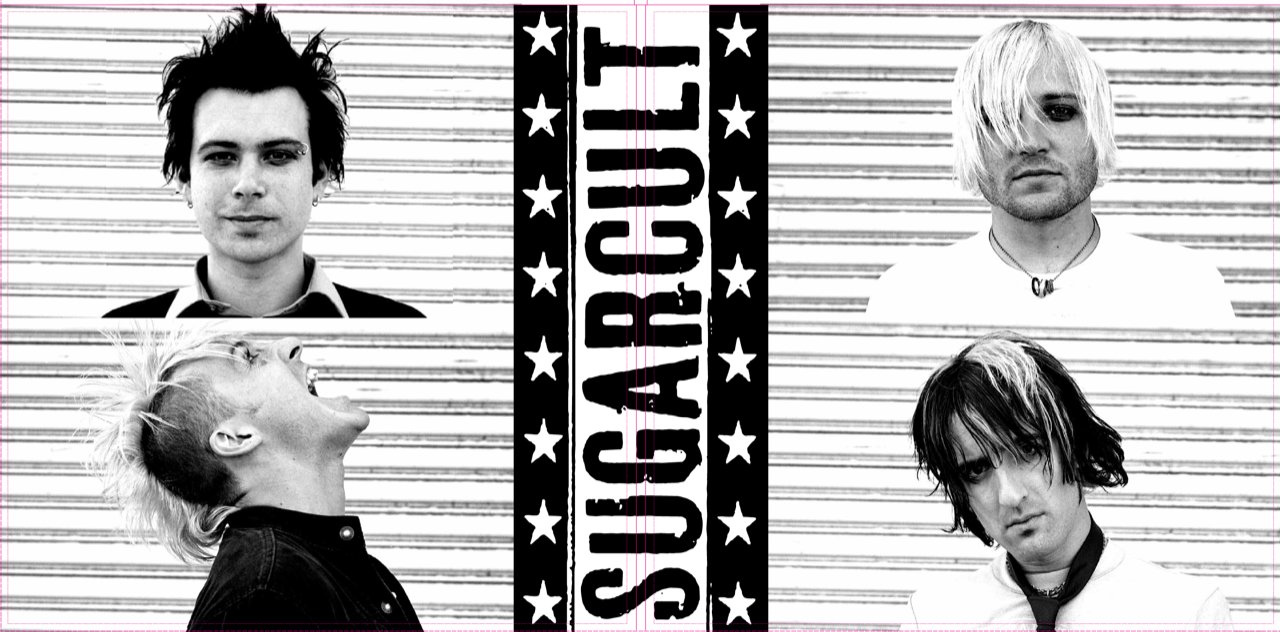 I recently had the opportunity to interview Marko DeSantis, lead guitarist of Sugarcult where we discussed the 20th anniversary of 'Start Static'. He shared more about his introduction to the band, some previously untold stories from recording the album, his favorite musical moments from the album, releasing the 20th anniversary vinyl pressing, filming the video for "Stuck In America", his favorite Sugarcult songs, and more. Check it out below.
First, thanks for the interview.
Thank YOU!
You recently celebrated the 20th anniversary of 'Start Static' and it's been fun to hear you discuss the time around recording that album. What's one story that you've never talked about from recording that album?
Oh man, there are SO many cool stories about making that record. The best ones are the ones about Tim's romantic shenanigans in various closets & vocal booths, that I am not allowed to talk about anymore… but are probably even more fun to imagine! You asked for 1 story, but I'll give you a greatest hits laundry list instead & let your readers choose their favorite:
On the first day of tracking we all stripped & played our songs completely in the nude… then we decided it was a bad idea since the air conditioner made the studio super cold & well y'know…
Ozzy Osbourne's guitarist Zakk Wylde was making his solo record in the same studio complex while we were there; he only drinks (a LOT of..) one specific type of beer (Red Seal Ale), so he hogged up the entire refrigerator in the common lounge are and had it stocked top to bottom with his beer supply. He was nice & offered us as many beers as we wanted… but then would invite us into his control room and force us to listen to his recordings at full blast & then tell him what we thought about it. He's very big & intimidating, so we politely said it sounded great, which would only empower him to play us even more of his songs, then he would regale us with these really graphic stories about his sexual exploits. It was equal parts awkward, gross, terrifying & kinda awesome at the same time!
Our song "Hate Every Beautiful Day" was mostly recorded by our drummer Ben in the small kitchen they had at the studio while he was killing time between other stuff that was being tracked in the main room. Fun fact: in that same small kitchen, most of Tom Petty's album "Full Moon Fever" was also recorded! In the big room other legendary records were made such as: Guns n Roses "Appetite for Destruction"; No Doubt "Tragic Kingdom"; Smashing Pumpkins "Siamese Dream"; Stone Temple Pilots "Core", etc.
What's your favorite musical moment that you contributed to the album?
It was my birthday during our recording sessions & I had my lifelong friend & teenage-era bandmate Chris Shiflett (Foo Fighters guitarist) come down to the studio for a little bday party we had; while he was there, I asked him to throw down a guest guitar solo on Bouncing Off the Walls… so the crazy lead you hear on that song was Chris' bday present to me! Other than that, I really love the way songs like Daddy's Little Defect, Stuck in America & How Does it Feel in particular are packed with cool nuances, dynamics and details that I suggested during pre-production that made the final cuts on the record.
One thing I always liked about the band was the dynamic between Tim Pagnotta and you. You always seemed to be really close friends and collaborators and it seems like you still talk quite a bit from listening to recent interviews from him and you. Is that true and what was it like having a person like him in the band?
Yeah, Tim is one of my best friends to this day & I will always consider him rocknroll family. I cherish the connection we have & the music & memories we've made together. I credit Tim's example & his encouragement with really helping me raise the bar as a person & as a musician & songwriter. We share a mutual respect & admiration & we probably, to some degree, believe in one another more than we might individually believe in our own selves. We can seamlessly go from deep intellectual conversations, to raw & personal emo confessionals, straight to catty judgmental gossip & hysterical immature laughter about the dumbest low-brow shit ever! It's truly a blessing to have a friend like him.
We immediately hit it off as pals when we first met at a Superdrag show back in 1998. I mostly played bass in bands back then & Sugarcult was just starting out, so I told Tim to hit me up if Airin didn't last. He & I would talk on the phone for hours every now & then & I would make him mix CDs of bands I thought he should hear. One day, he called me up & said the band wasn't working as a trio & asked if I would ever be down to play lead guitar. Ironically I had JUST that week had this huge heartfelt talk w/ my girlfriend & made this grand declaration that after playing in bands nonstop since age 14… I was finally gonna call it a day & give up on my dream of being a professional musician!
Anyway, I took Tim up on his offer & decided to give it a shot, not thinking it would amount to anything more than a fun last hurrah of sorts… 2 years later we made Start Static, which would go on to change our lives & make our wildest rocknroll dreams come true… 22 years later, here I am, still talking about Sugarcult! Life's a trip…
What's the first thing that you think of when someone says to you, 'Start Static' is 20 years old?
Time flies & damn we still look so damn sexy! Honestly, I'm just so pleased at how gracefully it's aged. I'm grateful that we somehow intuitively had the foresight to make records with the ideal of having them hopefully stand the test of time. As a band in general, we avoided trying to 'fit in'; instead we kinda lived in our own imaginary world & tried to evoke the spirit of legendary bands we loved from the past, all the while without limiting ourselves to a strictly retro template. We managed to be modern, but never trendy. Sugarcult aimed at making durable songs that resisted the temptations of passing fads & whatever cute hairdo was on the cover of that month's Alternative Press!
As a result, in retrospect, we're proud of every record we made. I love that all 3 records continue to attract new & younger fans that may have missed them in their day & our existing fans keep revisiting & rediscovering our songs. My hope is that Start Static (& it's siblings Palm Trees & Powerlines and Lights Out) can grow with our fans; some songs serving as sweet reminders of their youth & other ones that they may have originally skipped over, now resonating more as they have had more life experiences & new vantage points.
You're releasing a 20th anniversary vinyl pressing for the album. What differs about this pressing from the original pressing? What was the process like of putting this pressing together?
It was really fun! It got us as all back in regular touch with each other as a band, digging through the archives, reminiscing, laughing… & as always locking horns & choosing our battles over a some of the details!
This one differs from the original vinyl ltd run we did (in 2013: 500 blue; 500 white) in its vinyl colors (clear & black); bonus tracks (live version of Bouncing Off the Walls, in addition to an old demo of Say I'm Sorry, and our cover of No Action originally by Elvis Costello); & packaging, artwork/photos (gatefold cover; w/ embossed, gloss-on-matte cover art that wraps around from front to back showing the frayed end of the guitar cable; there's also a bunch of rarely/never seen photos added into the inner sleeve art)
As a crazy record collector myself, I can totally relate to the thrill & joy of scoring a coveted copy of a special edition of a record you love. So I made sure ours had lots of cool details to geek out on!
There's nothing like having a vinyl version of record you & your band made; it kinda validates it makes it feel more official! That's one of the reasons we chose to do one of the 2 color variants on black vinyl (the other one is pressed on clear vinyl); I feel like black vinyl kinda connects us to all those classic records from back in the day. Wild colors have become so common now, that basic black actually seemed the MOST interesting, cool & unusual! All that said… I think all the vinyl may have already sold out; but call your local independent record stores & double check… if they still have one, then snag it right away!
I know we're mostly discussing 'Start Static', but I have to ask about other possible future vinyl pressings. Is there any chance that we could see any other albums get pressed soon?
I'm a hopeless romantic & so I'll say definitely maybe! It's complicated. Unfortunately, the mysterious parent-company that owned the labels that both Palm Trees & Powerlines and Lights Out were released on, still controls the masters to those records. We still hate that company for royally fucking us over back in 2007 & so we really don't want to deal with them again. However, it might be worth 'going there' someday for the sake of doing vinyl pressings & making our fans happy. We'll see…
I remember watching your video for "Stuck In America" on Fuse. It was such a cool video for that era of punk rock. What was it like to create that video and do you have a favorite moment from it?
That was the first time any of us had ever made a music video, so it was super exciting! The director Shawn Foster was so nice & we loved his absurd concept of us being on some pseudo-Japanesey TV show playing to a crowd of fanatical Asian school girls! It was especially ironic since, at the time, we were still complete unknowns AND it would be another 2 or 3 years before we ever went to Japan. We kinda tempted fate though, as we eventually became big stars in Japan in real life & toured there countless times through the years. In fact, on our first trip to Tokyo in the summer of 2003, we got in touch with the actor dude that played the TV host in the video, who was living over there, & got him to put on a similar suit & come out onstage & introduce us at our shows!
If you had to pick a favorite song from each Sugarcult album, which one would you pick and why?
This is a hard question. We love all of our rocknroll children equally! Let me try to zero in on a deep-cut off each, that I think deserves more love & attention.
Start Static: How Does it Feel
I love the dynamics & nervous energy & I think the outro is one of the catchiest bits on the whole record "We don't wanna be the the enemies of what we used to be…". It's like a bonus chorus w/in a chorus. We tried that party trick on several other songs too.
PTs&PLs: Back to California
Definitely an uncharacteristic vibe for us, but such a beautiful & unique song. I love that we were inspired to implement unusual approaches to the instrumentation, such as egg shakers, 'Nashville tuning' on acoustic guitars & I used an e-Bow on my guitar & ran it through reverb & delay pedals. It never really went over when we tried it at our live shows, probably 'cause most kids were there to rock out & it's pretty slow & mellow, but on the record, it hits just right & honestly it probably is the closest any song gets to defining the heart & soul of that record's themes of tour-related feelings of alienation, disorientation, frustration, and ultimately losing the ability to maintain relationships back home, "…we couldn't win in the end, you're gone."
Lights Out: Riot
I feel like this whole record deserves more love, as it's the one that we had been building up to & reaching for sonically & it was set to be our biggest one yet… then the record company disappeared & we got tangled up in a mess of nasty legal battles that killed our momentum along w/ any hopes of recovery. It's our least known record, but it's also kind of our best one. Riot really captures the darkness, loathing, & intensity of Lights Out. I love the guitar solo I played & the false-harmonics in the verse guitars (an approach I gratuitously stole from Jawbreaker's "Save Your Generation" & Mötley Crüe's "Take Me to the Top"!). I also love the part where Tim reads a newspaper article through a distorted megaphone & the chorus is an absolutely quintessential Pagnotta monster of a hook: "we're making something beautiful, starting a riot…"
Thanks for taking the time to answer the questions. Do you have anything else that you would like to add?
In addition to the ltd vinyl pressing, we're also doing a digital version of the 20th anniversary edition; so starting 10/8/21, you'll be able to access all the bonus tracks from the vinyl (plus an extra bonus live version of Stuck in America) on all streaming platforms (Spotify, Apple, etc). So, there's that!
Thanks for the support & thanks to all the Sugarcult fans for always showing our band such kindness, love, dedication & patience!
Hit me up anytime on Instagram or Cameo, I usually write back!
Follow Marko DeSantis:
Follow Sound In The Signals: