Calling All Captains - Sound In The Signals Interview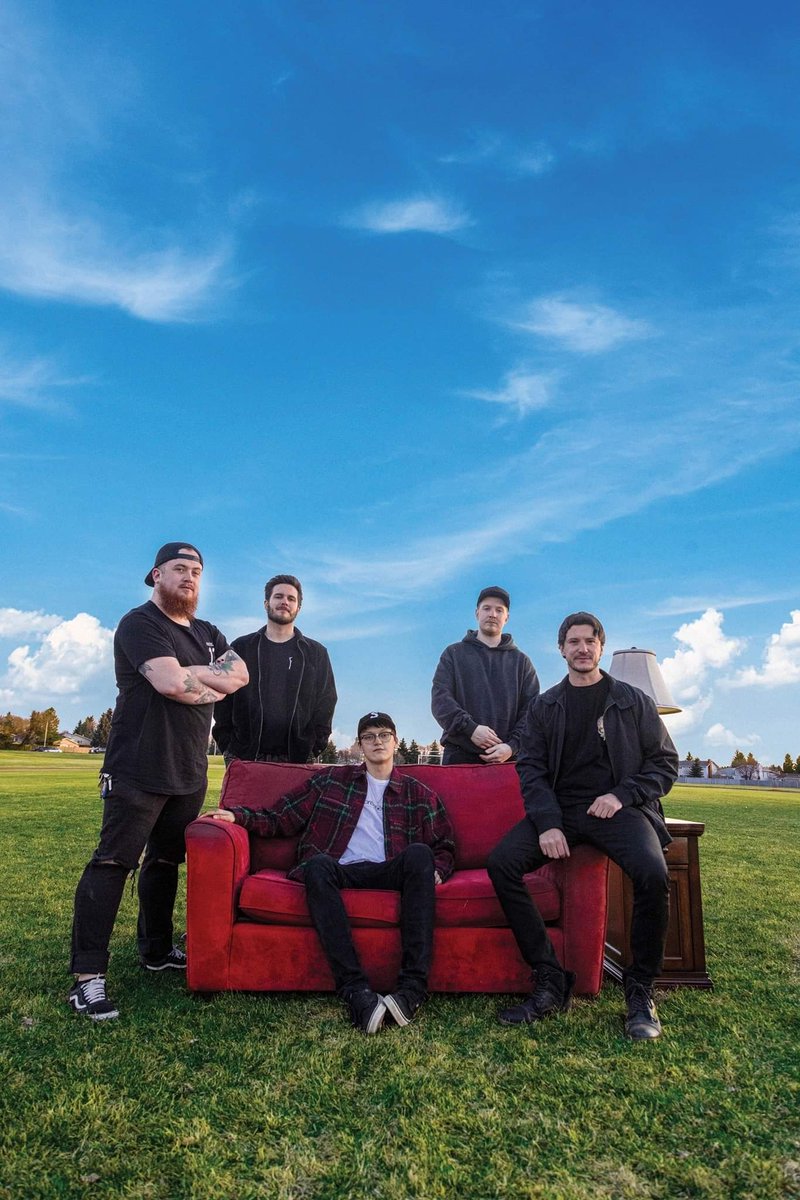 I recently had the opportunity to interview
Calling All Captains
. We discussed the writing and recording process for the new album, favorite moments from the studio, what inspired their songwriting, writing new song, "Wasted", the concept behind the album's artwork, and more. Check it out below.
First, thanks for the interview.
Nice, thanks for having us!
You recently announced your debut album, 'Slowly Getting Better', which will be out October 29th. Can you tell me about the writing and recording process for the album?
We actually had to change the plan on how to record this album a couple times. Obviously with the climate we were in, going internationally wasn't an option to record like we had initially planned. Instead we stuck to our roots and got in with Quinn Cyrankiewicz whom we had worked with on "Nothing Grows Here". We got to stay close to home, sleep in our own beds, and have weekends/evenings off to decompress and practice.
The writing process didn't really change a whole lot, Luc and Connor sit down and work on a bunch of songs, bring it to Brad, Nick and Tim for first round of critiques before taking them to Quinn and in some cases Ty Elgie. Ty was integral in some of the writing on our last EP and we wanted to bring him back in for the full length as well. Once they take a listen and talk to us we go into a final overhaul where we trim the fat out of songs, rework the arrangement, and edit in fills, vocals, harmonies. The biggest change was we sat down and recorded all the bass, guitars and vocals to programmed drums first, then Tim sat down and recorded all the drums in three days.
Did you try anything new with songwriting since you're working on an album as opposed to an EP?
Nothing too crazy. We've all been working together long enough that we know how we vibe with each other. There were definitely heated debates on parts to stay or parts to go, how a lyric or melody should sound, but at the end of the day we all have a record we are proud to be a part of and can not wait to show it off to everyone!
What was your favorite moment in the studio?
We got lucky and were alone in the building for the most part, giving us the opportunity to work on other songs while something was being tracked. There was one week that we shared it with a talent search live session which was cool because we knew a bunch of bands competing so it was a nice break to see some friends, masked up of course. We were also fortunate enough to celebrate Brad and Connor's birthdays in the studio where our manager Cam grilled an absolute feast for us!
What are some of the themes and inspirations for the album?
Initially when we started working on the record it was very introspective, as we looked at how we had been growing up, and dealing with the world around us, losing friends, relationships, coping with that loss. Then as time went on we started looking at the situation around us, the question of if we would ever be able to play shows again. The title says it all, Slowly Getting Better. As musicians, and more importantly as people, we are striving to heal and grow. We also wanted to call back to the EP when we talked about nothing growing in Edmonton. We did, and with that we've noticed more growth in our scene and the people involved with it. So even though the record talks about death, loss, battling demons and addictions, it also is a beacon of hope that we can get better.
You also released "Wasted" with the album announcement. It's probably one of my favorite songs, if not the favorite, that you've ever written. Can you tell me about writing that song specifically?
This song came from a lot of different places personally; for now I'll just say that this song is by far my favourite on this record. Singing about addictions and mental health struggles while simultaneously going through them is kind of a trip. Most of our songs have always had a rounded out feeling of hopefulness which I tried to convey at the end. I tell myself I'll be all right even at my lowest to hopefully get some hope for myself. Sometimes we get caught in the current of our mid 20s and have a day of reckoning where we need to look at ourselves and our actions. That's the theme of this whole record if I'm being frank. Just different experiences of the same journey of this #$@%ed up thing we call life.
The album artwork seems like it's making a big statement. Who came up with the concept for the artwork and why did you feel like it fit the album?
In the same mindset as going with Quinn to record the record, we went back to Kevin Moore of Soft Surrogate on the art. We sat on a zoom call and went back and forth on a couple ideas together before deciding on the casket. There are a lot of personal pieces incorporated throughout the art because the album itself is very personal to us. Once the physical copies are in hand I think they're really going to speak to a lot of people, not even just with the cover, but the build of the record itself. For an album that speaks on some dark topics we wanted to juxtapose it with something bright and vibrant, green grass, clean white casket.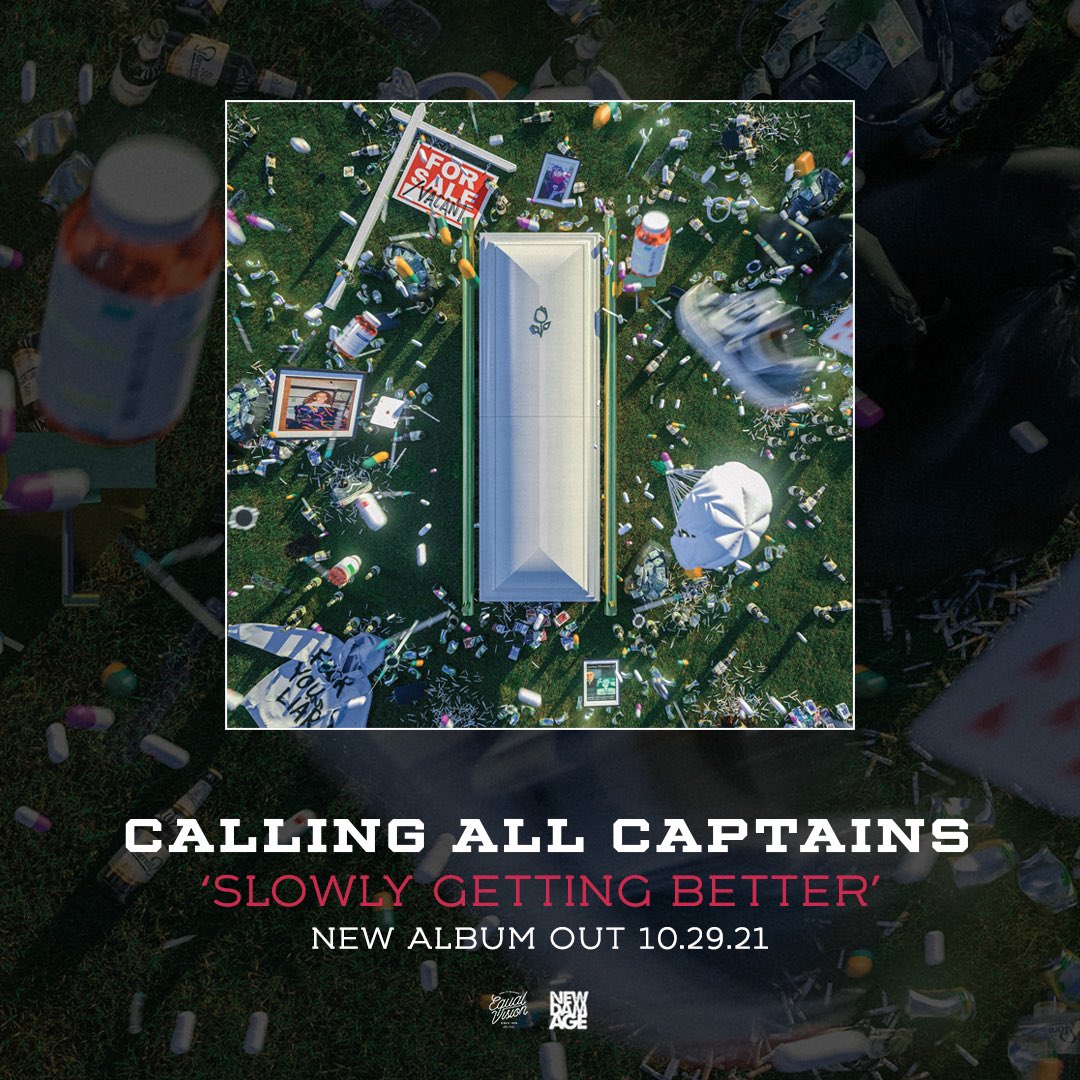 Can you tell us more about some of the various things included on the artwork? Why were they included and did you throw in any Easter eggs for fans?
We'll only speak on a few of these because as you can see, there is a lot, and we don't want to give any of it away. We wanted to tie in the single artwork for "Tailspin" and "Undone" so you can see the paratrooper toy and the duffle bag surrounded by vices. We tried to make sure there was something very personal from each of us as well as something that was representative of each of the songs. And yes, there are some Easter eggs to be found.
The artwork for the vinyl is different from the CD. Why did you decide on the alternate cover?
Again this isn't something to speak on heavily, once everyone has the physical copies I think it's going to make a lot more sense. We will say, the wait is going to be worth it!
Thanks for taking the time to answer the questions. Do you have anything else that you would like to add?
Thanks for having us! We hope that you enjoy the record and all the hard work we put into making it. Shout out to the whole team from Equal Vision Records, New Damage Records, Rude Records, Big Picture Media, Cam Birchill, Kevin Moore, Quinn Cyrankiewicz, Ty Elgie, and Caleb Shomo for all the amazing work that went into this!
Follow Calling All Captains:
Follow Sound In The Signals: