Back Home - Sound In The Signals Interview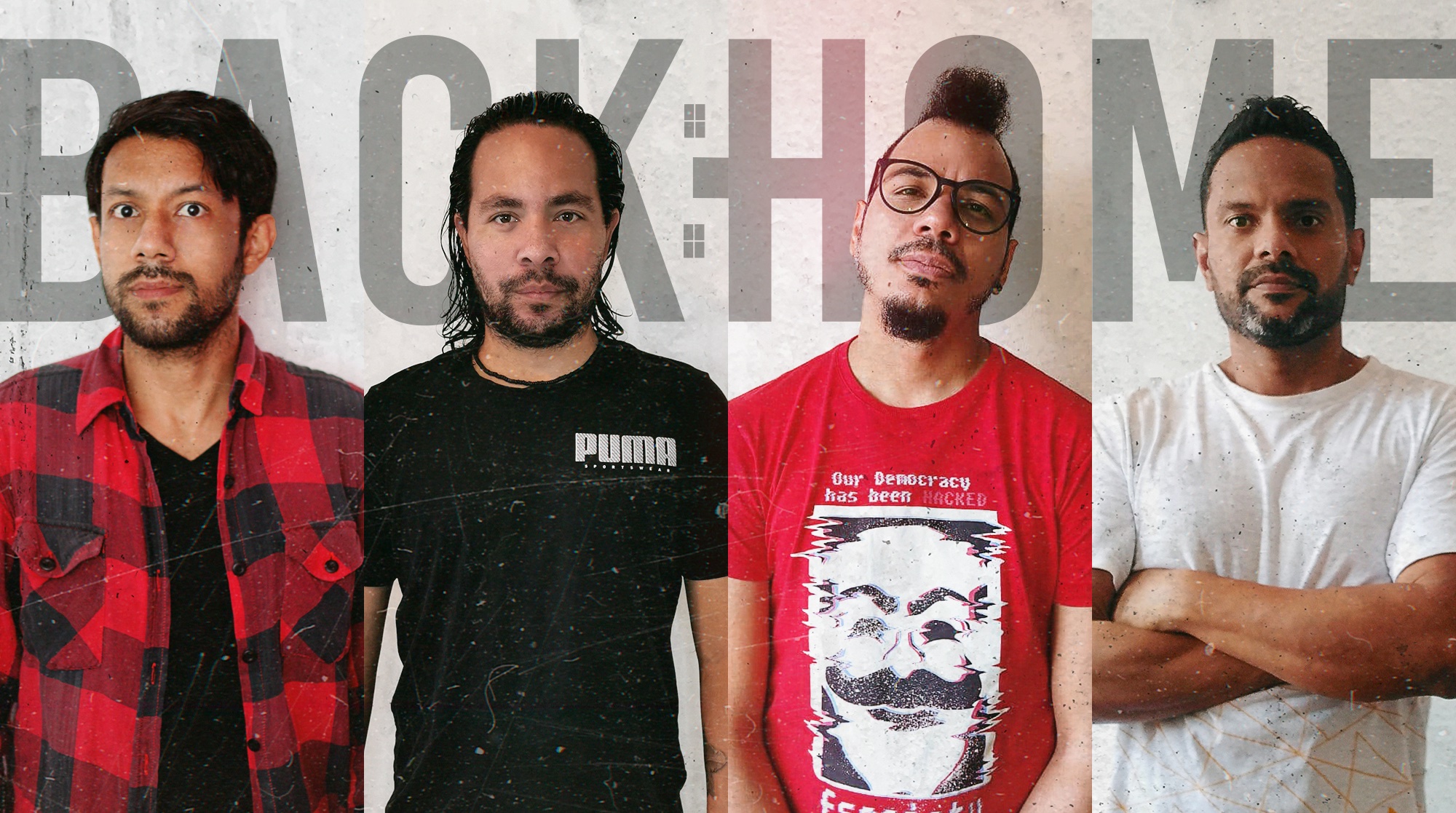 I recently had the opportunity to interview Damny of Back Home. We discussed the band's local music scene in Venezuela, the pop-punk bands that inspired them, how they formed the band, their new song, "Vista", how the pandemic has impacted the band, what's next for them, and more. Check it out below.
First, thanks for the interview.
Thank you guys for having us. It's an honor for us to be in this amazing webzine.
Can you tell me how you got together and formed the band for those who may be unfamiliar? How did you initially become interested in music?
Well, we all were borned in a little city called Maracay in Venezuela, Juan Carlos (drummer), Jorge (one of our guitarists) and I we used to play together in another punk rock band there in 2000, in 2005 Jorge leave the band and Alfredo (our actual lead guitar) came into the band, then in 2010 I think, the band broke apart and each one of us took different paths in our personal lives. That's because every one of us are in 4 different countries right now (Juan Carlos, our drummer, is in Panama City; Alfredo, our lead guitar is in Venezuela; Jorge, our chorus guitarist, is in Peru and I, Damny, bassist and frontman, I'm in Brazil).
After more than ten years without playing in a band, this pandemic was a perfect excuse to join each other and create something new, a new band, also because the conditions (we aren't in the same country and we are now growing up). Everything began like a hobby, you know? But we realized that we can do that in a fun and serious way. And we did it, we decided to record our first single and now we have another one coming out and an EP too.
And about how we initially became interested in music, every one of us had different processes, but Juan Carlos and I grew together in this. Because we were neighbours in Maracay and when my cousin came to us with the CD The Mark, Tom, and Travis Show of Blink 182 we just fell in love with punk rock, then we met bands like Lagwagon, NOFX, Millencolin, NUFAN, NFG and that's was our condemned. Until today we just can't stop to play punk rock or pop punk whatever you wanna call it.
Can you tell us more about your music scene when you were growing up and what it's like currently (pre-pandemic, at least)?
When we used to play in 2000-2010 everything was more on the stage, the best way for people to know you was to be on stage, now, that's important of course, but you have a bunch of ways that people can know your music. We have all those social media networks and streamings that allow your music to travel all around the world, I think that because of that we are here talking to you and there are people in India listening to our first single. And because this pandemic we the musicians had to reinvent the way to show our art, our work. And that's cool because it allows you to expand your creativity.
How has the pandemic impacted you personally and as a band?
It was hard, personally for every one of us. One of us got sick and the other lost his job, fortunately they healed and found a new job, but those were pretty hard days. Instead, between all of that we found the way to create a band, taking advantage of the free time and isolation, and was really creative and an opportunity to bond with each other.
You recently released your song "Visita". Have you been pleased with the reaction it has been getting?
Yes, we released it a month ago, "Visita" we're pleased with the huge reaction that we obtained around the world. We didn't expect it. Everything happens too fast. We are more than pleased, we are really amazed because the reaction and we are grateful about it. We can't wait to show you what's coming out, because there is much more coming out.
Can you tell me about the writing and recording process for the song?
Of course! It was a complete challenge, because we never made a song at the distance, you know? So we had to learn a lot about recording and all the equipment that you need to record in your house and the mix and master, in resume, all the art of musical pre production. But it was a really cool process, I became obsessed with recording, mixing and mastering, we learned a lot, but it wasn't enough and that's because we asked for help to mix and master our songs.
About writing, usually I write the songs and also begin a basic structure of the song and share it with all the guys in a little demo. Then everyone begins to make their contribution and we exchange some ideas via whatsapp, a lot of voice note, messages and new demos come and go and then when we decide that the song has the structure and sound that we like, we begin the recording process, then when all the tracks are ready we send it to another venezuelan guy that is pretty good at mixing and mastering. So it's pretty much that with all our songs.
I really like the sound of the guitar on the song. It adds a lot of energy to it. How long did you work on the guitar and what type of equipment did you use?
Well, thanks for the compliment, that's what we are looking for to transmit that energy and feelings. We had dedicated many times to achieve that sound but it's not been hard because we are pretty clear how we want our guitars to sound.
Like I said, I construct the structure and basic rhythm and that's what I share with the guys, and in this particular song we changed almost nothing of the first structure it really flows, but the distortion and all the effects and sounds that emerge it's all Alfredo, that's because he is our lead guitar, he is so creative, he always adds things that maintain the idea and simply makes the song grow and gain that energy that you mentioned.
About the equipment that we used it's pretty simple, a Squier Telecaster custom modified 2007 guitar with Seymour Duncan Custom Sh5 mics, strings 10-52 Ernie Ball and all of this through a Digitech RP500 multi effects, which was configured with emulations of Mesa Boogie Triple Rectifier and Mark IV amps, with a 4.12 Marshall 1969 Slant w/ Celestion 25W cabinet and also a Greenbacks and Mesa Boogie cabinets, all this it's going direct in the DAW.
You're about to release your second single. What can you tell me about it? What can listeners expect?
Yes, our second single is going to be released in April for sure, and we are so excited about it. And like you already said, our music has something nostalgic of that 2000 pop punk decade, so there is more of it present in our second single, in fact I think that most of our listeners are going to travel to the best era of this genre, but also they are going to met more of us signature, and of course this song it's faster than "Visita" and also so melodic, so you can have all the package.
Can we expect more new music this year? Is there any chance we'll hear an album or EP?
Yes, you bet! We have at least 3 more songs ready to be recorded. The idea is to release this second single and then, two months after release, our Ep with all these singles on it. And that's just for the first semester of this year.
Thanks for taking the time to answer the questions. Do you have anything else that you would like to add?
Thank you for inviting us to this awesome magazine. Well, actually we have great news for all, we are so happy because in this short time we got a contract with an independent label in the USA called Head Wormz Record who really liked our music, so you are going to hear more about us with these guys and of course from us in the next few days and all the projects that we are preparing for you. So we invite you to follow us on our social media to stay tuned.
Follow Back Home:
Follow Sound In The Signals: