Regrown - Sound In The Signals Interview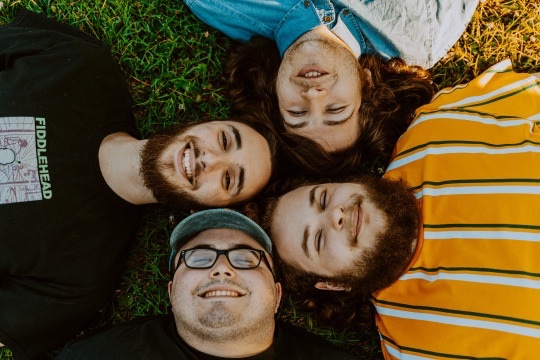 I recently had the opportunity to interview guitarist/vocalist, Ben Greenblatt of Regrown. We discussed the writing and recording process for the band's upcoming EP, their new song, "Cuffed", filming the music video for it, pressing the EP on vinyl, and more. Check it out below.
First, thanks for the interview.
Of course! Really excited to be here (virtually!).
You just announced your EP, 'Closed Casket Material'. What was the writing and recording process like for the EP?
We wrote this EP over the course of two years, starting in the summer of 2018, we recorded four of the songs that summer at a studio called The Gradwell House in Haddon Heights, New Jersey. The other tracks were recorded in the summer of 2020 at August from our friends in Kaonashi's house, it's been a really fun and interesting process watching this all come together over the past two years and it's been truly amazing to grow as a person and a musician with this band.
I know you've been playing some of these songs live for a while. What's it like to be preparing to officially release them?
It feels amazing honestly, these songs are a really honest reflection of who we are as people and it feels good to have that honest version of us out in the open!
You released "Cuffed" and released a great music video for it. Who came up with the idea to parody 'That 70s Show' and what was filming that intro sequence to the video like? Were there any outtakes that didn't make the final video?
Thank you for the kind words about the video! We originally had a typical break up story video planned out for this song but our director and friend Aaron Palmer came up with the idea to add the comedic elements to it. We really love how the product came out, especially the intro, filming that was exciting because we were able to get our acting skills up a little bit!
Can you tell me about writing "Cuffed"? What was the lyrical inspiration for the song? Did you start with the lyrics or music?
"Cuffed" was the second song we wrote for this EP. We wrote it when Lloyd and I were both in bad places mentally and we were letting that affect our relationships with other people. The song is about owning up to the mistakes that you've made but not letting them take over you and stunt your growth. We started out with the instrumental and then the lyrics came together over time.
The artwork for the EP is really interesting. Who designed it and came up with the concept for it? What's the meaning behind it?
Dylan Coverdale designed the artwork for the record! I've always viewed the dove flying over the casket as someone's spirit carrying on after they pass, not in a religious way, but in the sense that someone's memory carries on and floats throughout their friends' lives after they pass. You can only hope that the impressions and memories you make with people are good ones.
One thing I really like about your band is the way that both vocalists play off each other. It's really evident how well it works on your official recordings and you can also hear it in your performances especially in your 'Cemetary Tapes Session'. Was that vocal trade-off always something you planned on or did it come as you were writing songs?
Lloyd, our guitar player, was in two bands before this where he was absolutely killer at harmonies so it kind of came natural to continue that vibe with the Regrown stuff. I feel like we've really developed a dynamic performing together and I wouldn't trade it for the world. Kyle has without a doubt my favorite voice ever and I'm super happy to share a stage with him.
You've released some cassettes in the past, but this EP will be released on vinyl. How important is it to your band to have your music on vinyl?
Pressing on vinyl has always been a dream of mine and I honestly think about holding that vinyl in June for the first time like everyday. It gets me through all the bad days I have at work lately haha. I think we're all just excited to have a physical memento of this time in our lives.
Your band has some really good hype and I feel like this EP is very anticipated by a lot of people. What do you think it is about your band that appeals to listeners? How did you get to this point?
I think people can appreciate that we're an honest band that wears our hearts on our sleeves. There's no real aesthetic, there's no smoke and mirrors, it's just us writing songs about the things we go through daily and I think that's really special. We got to this point through a lot of trial and error, we played a lot of beat shows and spent a lot of time doubting what we could do. It wasn't until I met Pao from Kaonashi in March of 2020 right before the pandemic when he convinced me to really start believing in this band and pushing it as far as it can go. He introduced us to the team at Unbeaten Records and we got the ball rolling on this release together. It's truly been a special experience and I'm super grateful that Pao has been able to be a part of it and help us grow as a band and as individuals.
Thanks for taking the time to answer the questions. Do you have anything else that you would like to add?
Of course thank you for having me!!! Follow us on instagram and twitter - @regrownnj !!! Stream "Cuffed" and Pre-order
Closed Casket Material
when it comes out on June 18th!!!
Follow Regrown:
Follow Sound In The Signals: