The Carousel Predicament - Sound In The Signals Interview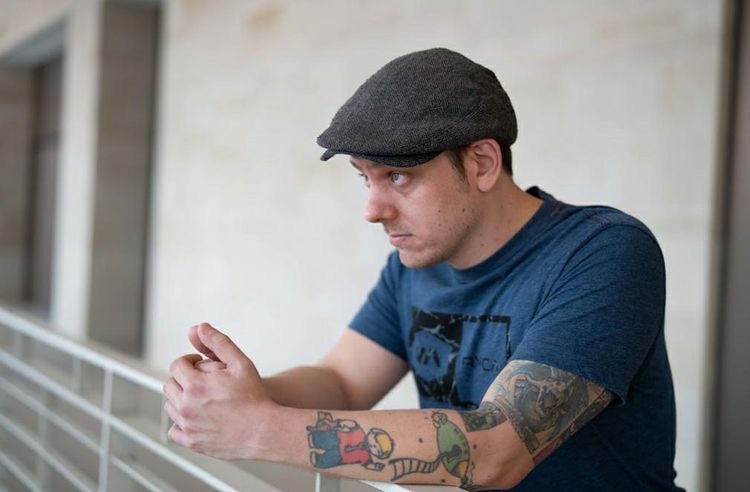 I recently had the opportunity to interview Cory Withrow of The Carousel Predicament. We discussed his first concert ever, his early interest in music, his new song, "Fate is a Con Artist", his upcoming EP including the songs he's most excited for listeners to hear, and more. Check it out below.
Can you tell me how you started the project for those who may be unfamiliar? How did you initially become interested in music?
Definitely- It was mid 2020 and Covid 19 was stealing everyone's entertainment with lockdowns. Thankfully, I had a handful of songs and was fortunate enough to have money to spend. So I decided I would either upgrade my car or invest in some professional recordings. I ultimately decided the recordings were a smarter decision.
I became interested in music at a pretty early age, as my Dad is a drummer. Started on Cello in middle school, eventually moved to bass for a few years and then landed on guitar at age 12. I saw the band Bush in concert (my first ever concert) and quickly knew that playing music was what I wanted to do with my life. I've been playing and writing ever since.
You just released your new song "Fate Is A Con Artist". What can you tell me about the writing and recording process for the song?
Fate is a Con Artist was a song I finished writing right before I went into the studio. It's about feeling like you've wasted your life chasing your dreams and the overwhelming sense of regret that starts to stall you out. Nevertheless, you can't give up because it drives you. And It's just not in me to discard my purpose.
The recording process was amazing! Working with Geoff Rockwell was both nerve-wracking and fun. I played all the guitar parts, as well as all the vocal and harmony tracks. Geoff helped fill the songs out with bass, drums and synth parts.
Why did you choose that song as the debut single for the project?
Both Geoff and myself were the most excited about Fate is a Con Artist. It's a very chaotic song, in comparison to the other 4 tracks, and has the most energy. It felt like the right way to kick things off.
I saw that you finished recording your debut EP near the end of last year. What can you tell us about the EP?
It's a 5 song EP titled "Life and Lessons". It's easily the most proud I am of any EP I've done previously. The subject matters range from struggling with doubt to overcoming depression. But, don't fret, there's some light hearted stuff in there as well- namely, my undying ability to stumble over words when it comes to a girl I like.
You worked with Geoff Rockwell on the EP. Why did you choose him to produce the EP? What was the experience like?
Geoff Rockwell was my first and only decision honestly lol. I had worked with him way back in the day, on a very tight budget, and wasn't able to really get the full "Rockwell Expierence" if you will. But I knew he was capable of getting me the sound I was going for.
He was the first person I contacted and, after meeting up, I felt that we were immediately on the same page, as far as my vision for this project. The recording process was a grueling 6 days but it was super fun. Watching Geoff do his thing was awesome. I was pretty nervous though- it had been a while since I had been in a real studio and I wanted to make a good impression. But he was super chill and easy going. I can't wait to work with him again honestly. I felt like a better musician and singer afterwards.
Do you have a song in particular that you're excited for people to hear? Can you tell us a bit about it?
There's two actually. One is called "Mr. Grey Eyes" and the other is called "Metaphorically Speaking". Mr Grey Eyes is actually the next single and I'm shooting a music video for it here in a few weeks. It'll be my first ever music video shoot so I'm excited about that. But the song's message is really therapeutic for me. It's about overcoming depression and rediscovering life outside of the hole you've been stuck in. Mr Grey Eyes is a metaphor for depression in the song.
"Metaphorically Speaking" is easily the most pop sounding song on the EP but I absolutely love it! It's probably my favorite song on the EP. I think people will probably like this song the most but, then again, what do I know? Lol. It's about getting romantically lost inside someone else's company.
I really liked your Room Sound Live Session. What was the recording experience like?
Thanks! Cory Snelson runs Room Sound Live. I know Cory from back in the day- we used to play shows together in our old bands. Room Sound Live is an awesome set up- super professional. Also, he's real laid back and supportive. He and I actually have some more plans in the future that I'm pumped about. I highly recommend him to any local or signed DFW artists who want professional live recordings and podcasts.
Thanks for taking the time to answer the questions. Do you have anything else that you would like to add?
Thanks for having me! Just want to say please check out The Carousel Predicament on Spotify, Facebook and Instagram! I've got a lot more songs, music videos and content coming up soon.
Follow The Carousel Predicament:
Follow Sound In The Signals: