RIVALS - Sound In The Signals Interview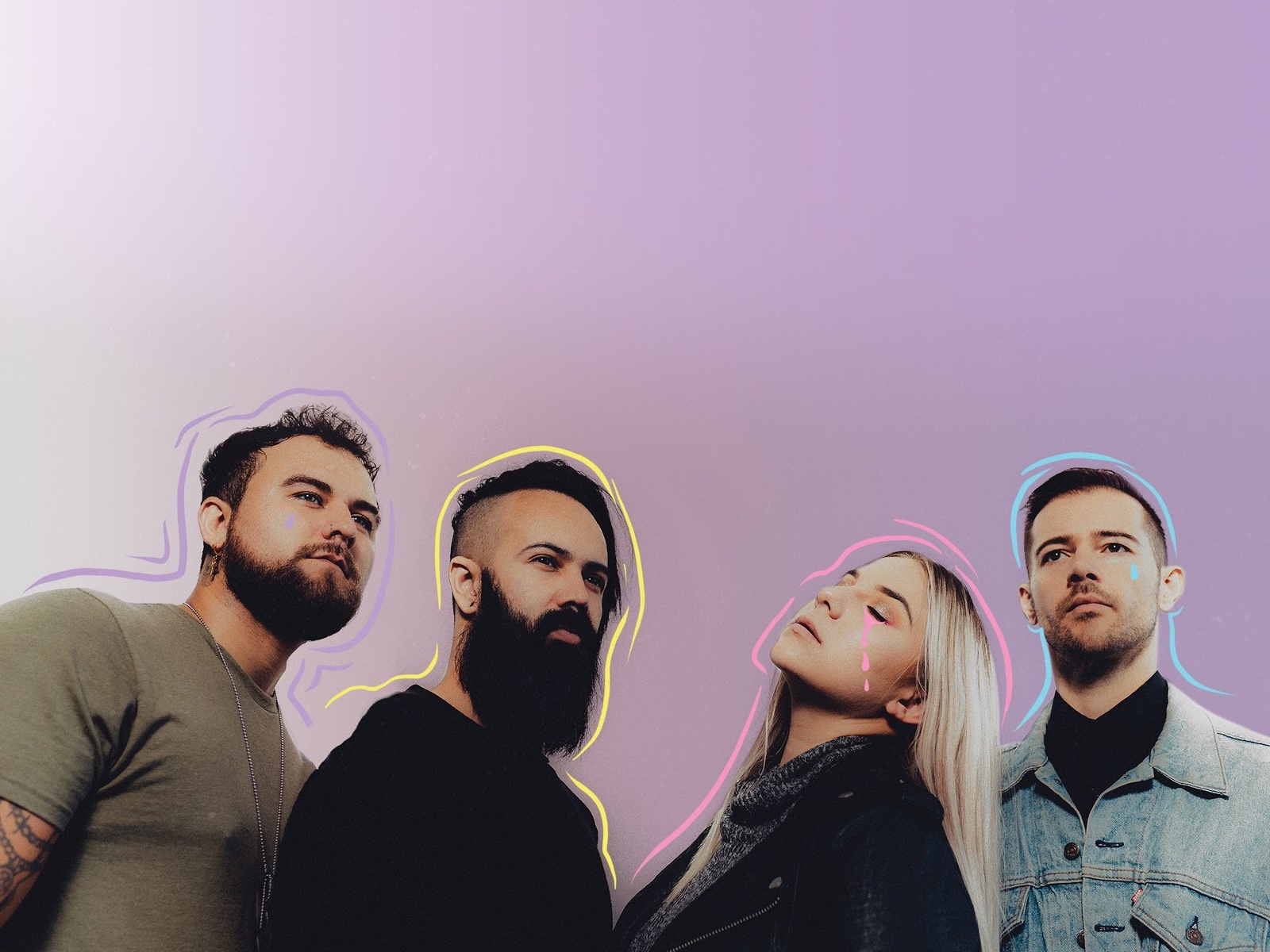 I recently had the opportunity to interview RIVALS. We discussed writing and recording their upcoming
album
,
Sad Looks Pretty On Me
, why it was the right time for them to release new music, filming music videos during the pandemic, and more. Check it out below.
First, thanks for the interview.
Thank you for having us!!! We're excited to be doing this.
You recently released new song, "Lavenders". Can you tell us a bit about writing and recording this song?
Kalie: We wrote this song with Kevin Trasher of Escape The Fate, it was the second song we had written with him, the first being thunderstorm. At the time we had just started the idea of LP2, this being the like 4th song we had written so far and mind you we wrote about 50 songs. I remember sitting in the studio with Kevin and he had been strumming his acoustic and was messing around with a chorus idea. I just immediately thought of "and all I smell are lavenders" and it just started flooding out. I had all these ideas of how the ignorance of the world is hidden by the smell of flowers. Even about how my ignorance is sometimes hidden under the smell of flowers. We recorded the vocals the day we wrote it, and never revised anything, the day we wrote it is as it is on the record and that's beautiful to me.
You also released a video for the song. What can you tell us about filming this video? Was there anything different about filming during the pandemic?
Micket: Shooting this video was a lot of fun, a few of these videos for this album are linked together within the plot line and it was a lot of fun to shoot back to back videos. The set for SLPOM was in two different locations in downtown LA and everything had to be color coordinated so that it could really help play into the story line and the concept of the lyrics. Wearing all white was complicated cuz we all had to be careful as to not get our outfits dirty during filming, haha.
But beyond that we always have fun shooting videos and hanging out together. It's such a feel good song that it was interesting trying to keep straight faces during filming haha as for shooting during all this we usually keep our crew to the bare essentials and had actors and crew members alike take precautions when necessary. It was a joy to have my mom play one of the main antagonists in this video along with a few other friends that we knew but Beyond making it a fun video to shoot our other main priority was safety. So we did everything in our power to make sure that we got the shots needed while making sure that the few ppl that we had on set were safe and cautious.
Josh: We knew we wanted the theme of Lavenders to emphasize the feeling of not being able to escape and almost turning a blind eye to that feeling of limbo. But we also wanted to showcase that the stories of today that we as a society turn a blind eye to are the themes mentioned through out our video Lavenders. The Daily Increase In Missing Children. The Water Crises In Flint, MI. The Tragic Explosion In Beirut, Lebanon and more. All real issues that we as a society need to address.
Luckily for us we took this time during the pandemic to safely get together with our creative team, CodyBlue Films, Mark Liscio & Matt Bender to conceptualize our story lines and narratives. Plus we filmed on the backlot set of True Lies so the Schwarzenegger vibes were all over the place!
It had been a while since you released new music. You've said it was finally time to show fans what you had been working on for the last three years. What happened during that time and how did you know you were ready to release new music now?
Sebastian: Honestly. We really wanted this album to be impactful. To mean something more than damned soul did. We wanted the listener to feel enticed with every song and every emotion that comes along with it. Each of us are very picky when it comes to certain things. So you can only imagine how it was having four insanely picky people coming together haha. But to answer the question we wanted to give our fans and listeners an album to remember. From the first second it's played to the end. We want you glued to your seat enjoying every moment. Not just by yourself. But with us.
Kalie: This album, was a constant uphill battle for us, not only emotionally but in ever way possible. Everything was against us, even ourselves. We got so caught up in writing what we thought everyone else wanted we almost forgot what we wanted. Once we finally relaxed, after months of writing things we just weren't 100% on, we finally started writing things that we loved, thus born was Fake Rich, Strawberries, On The Loose and so many others that pushed our limits as a band. Honestly even my own personal mental battles, there were many times I just felt like everything we were doing wasn't good enough, that I myself wasn't good enough or that I didn't even deserve anything. We hoped to have this album out sooner but things never go as we plan.
You also recently released a new shirt design. Who came up with the art and design? How do you usually come up with merch ideas?
Kalie: That would be me haha, I actually do a large majority of our merch aside from a few that either Micket or Josh help me with! Honestly I just always goes with what feels awesome at the time. Josh and I did the dope comic book shirt! It came out so dope.
The new merch for the album was done by me! I don't know how I do it but I just make what's dope in my mind at that moment!
You just released new song, "Sad Looks Pretty On Me", which is the title track off your upcoming album. Tell us about what fans can expect with the upcoming album and more about this single.
Micket: That's a great question, we're really excited about releasing this new song and even more excited for the whole album. The song is honestly built like the name, it's a very feel good kind of song that you can easily bob your head to but with lyrics that are contrasting to that idea. Together they really help the listener submerge themself in the idea of sad looks pretty on me.
As for the album, this is the most eclectic album we've done so far. We really tried to push the limits of what we can do musically and tried to incorporate things that weren't just expected of us normally. From Latin beats and indie vibes to full on breakdowns and heart felt ballads we really wanted this CD to be something you listened to all the way through without even noticing that you did.
The pandemic has impacted the music community in many ways. How has it impacted your life and band? What are you looking forward to once it's over?
Sebastian: I'd say it impacted my mental health greatly. Being on the road, playing music for hundred kids a night. Relating to them on all different levels. Getting to see new places and faces every night is the only thing that really makes me feel alive and I'm sure I can speak for the rest of the band about this. But the thought of playing that first note the second we step on stage is what is really pushing me through this.
Thanks for taking the time to answer the questions. Do you have anything else that you would like to add?
Be sure to check out our new album "Sad Looks Pretty On Me" out 3/19!
Follow RIVALS:
Follow Sound In The Signals: