KIN - Sound In The Signals Interview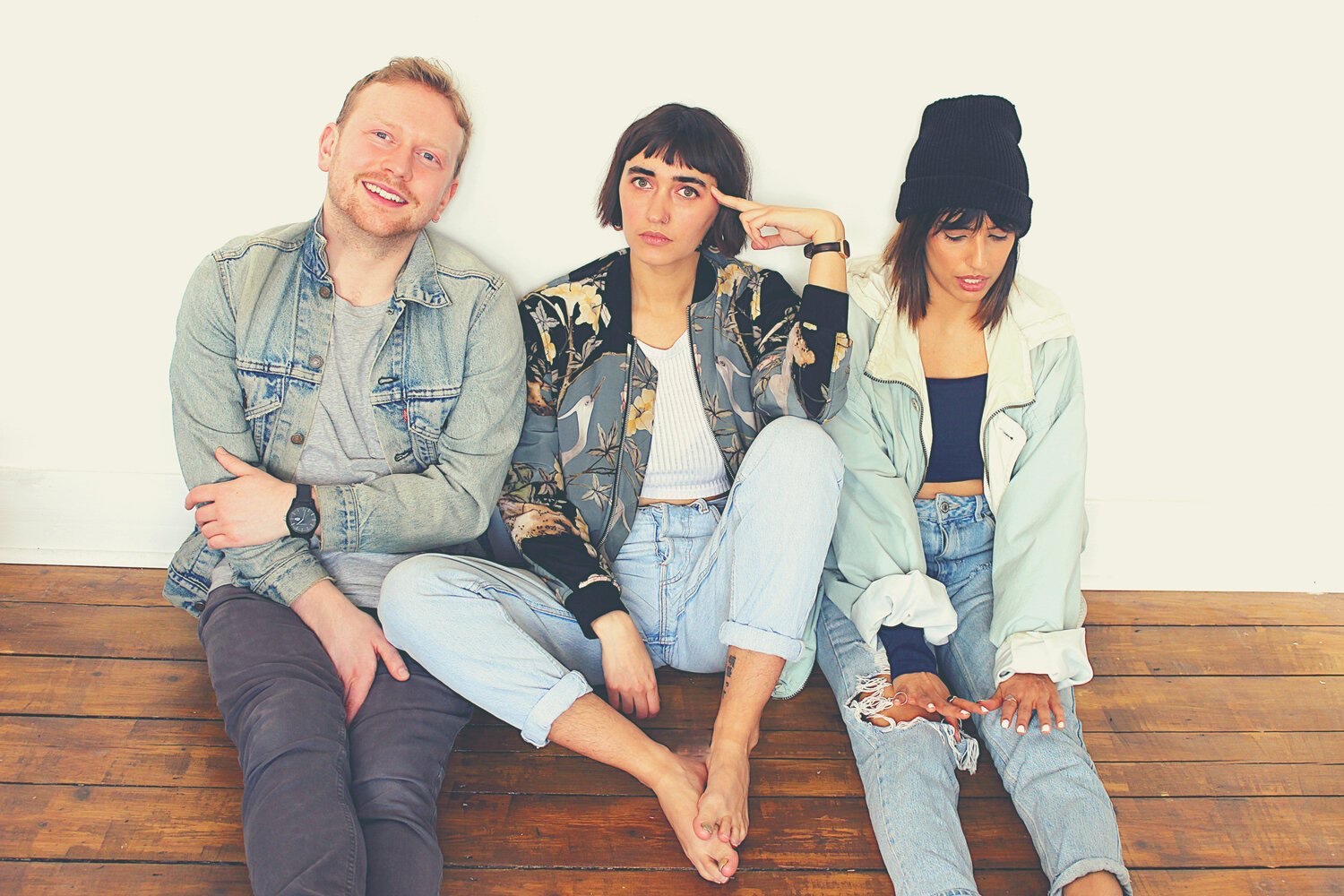 I recently had the opportunity to interview ambient indie pop band, KIN. We discussed the band's origins, how their work in acting and other creative outlets inspires and relates to their music, how music is an important aspect of storytelling, their new song "Wander & Lost", what's next for the band, and more. Check it out below.
First, thanks for the interview.
Adam here! Thank you for having me!
For those not familiar, your band features Ritu (Netflix's 'The Umbrella Academy'), Adam (The National Theatre) and Grace (co-founder of Klein Blue Theatre Collective). What inspired you to pursue music? How did you form the band?
Music has been a huge part of all of our lives. Grace has always sung; including in a choir with the producer of our debut singles (Nicholas Alexander), and Ritu was basically born with drumsticks in her hands. I began playing guitar when I was quite young and I first played in a band as a teenager, we did jazz covers in restaurants and got "paid" in food and compliments.
KIN formed in 2018. Grace and I first met at a play that Grace was in, and we went for a drink to discuss making music together shortly afterwards. We spent a few months writing and began the search for a drummer. Grace put out an ad and when we saw Ritu drumming we knew she was the perfect person to complete the trio. KIN is the first music project that personally feels creatively fulfilling.
How does your acting and other creative outlets inspire or relate to your musical endeavors with KIN?
​
I think it's given us realistic expectations; being in the arts is incredibly hard and the music industry is really tough. We know how much work you have to put in to make it viable. There is of course an element of serendipity that comes with success too.
We've found that as artists it's important to create your own work, and that's what we've done with KIN, we've created something on our own terms and that we're really proud of. We've poured a lot of ourselves into it. We began the band wanting to make music that we'd find rewarding to play live and that we'd love to listen to ourselves. As with acting, our music is very personal.
I think it's also helped us create interesting visuals to go alongside our music. That's something we're keen to keep exploring.
When thinking of the two fields, 'The Umbrella Academy' features many who are involved in both creative worlds. It was created by Gerard Way (My Chemical Romance), other actors from the series also pursue music, and the soundtracks for the show are phenomenal. Can you tell us about this experience and how you feel music can guide or add to storytelling?
I think music is such an important aspect of storytelling. If you think about the use of Where is my Mind? at the end of Fight Club or the scene on the tour bus in Almost Famous when they sing along to Tiny Dancer; they're iconic moments and have become such a part of the identity of those films. Music is so visceral and immediate, so it's the perfect partner to any form of storytelling.
The Umbrella Academy does indeed have a brilliant soundtrack. And as you say, given the team behind the show, it's not surprising. I know that Ritu has really enjoyed being a part of the UA world. It's a cool place to be and we're all big fans of the show. Bring on season three!
You recently released new song, "Wander & Lost". It was inspired by Andre Aciman's novel, "Call Me By Your Name". What's it about the novel that inspired you?
Grace and I both love the book and the film. I think one of the biggest inspirations for the song is the final shot of Elio by the fire; you can feel the loss and longing he has for his first love. It's heart-breaking and it's such a bold shot to end a film on. One long take. Timothée Chalamet is superb in that role. I think most people that have lost a loved one, or separated from a partner that they still care for, can relate to that feeling. Love is a beautiful thing, but it can be painful too.
It's been described as a "narrative of the isolation, loneliness, euphoria and grief that comes with all-encompassing love". How do you hope listeners are inspired by the song? What do you hope they take away from it?
As with all the songs we write, we hope people relate to it and feel a connection. With Wander & Lost I hope listeners take comfort from the lyrics and find the song somewhat cathartic, plus it's a good track for loud and emotional singalongs in your bedroom. Then you can stick on L.O.V.E and remember that everything is going to be alright!
You recently released a self-directed music video, as well. Can you tell us about the process of creating the idea for the video and then filming it?
We love creating the videos. The original video concept came from Grace, she's superb at coming up with the visuals for our tracks. And due to Covid-19 we've had to be especially creative with the concepts this year as we've not always been in the same location.
I filmed my scenes on London's Southbank with my partner, it was a fairly busy Saturday night and during filming I had multiple people come up to me asking if they could have the balloons. I did oblige eventually, but only after we'd finished.
We had a fairly specific narrative going into filming, but we want to leave it open to individual interpretation. The response to the video has been overwhelming and I love how much people have connected to it, and in so many different ways. That's so special to us. I feel like once you release a song and/or a video it ceases to belong to you; it has its own life outside of your control, and each person that interacts with it will have their own unique and personal experience.
The band performed all across London and elsewhere in 2019 and you've also released "Sharing Light" and "L.O.V.E." earlier this year. The pandemic has impacted the music and entertainment community in many ways. How has it impacted you personally and the band? What are you doing to deal with the unexpected changes that have happened?
It's been tough not being able to gig this year. We love playing live and since the singles have been released we haven't had a chance to do it. All the gigs we had planned for this year were cancelled or postponed.
We're just looking forward to 2021, and we've got a sold out socially distanced gig in January, so fingers crossed that goes ahead! We're starting to tentatively book in other shows too and that's very exciting. You can also catch us at Camden Calling Festival next year. We can't wait and we've been working hard on making our live show as exciting as possible!
The band does have plans for recording sessions at Abbey Road Institute, as well as writing and releasing your debut EP in the future. What can you tell us about that?
We're actually going back into the studio this month (December 2020) to finish off two potential singles. The first sessions were at Abbey Road Institute with the wonderful Laura Iredale; we each had to go in separately due to social distancing and now we're moving over to Studio 13 in West London to do a session all together. We prefer our tracks to feel as live as possible so recording together as a band is incredibly important to us.
Then we're going to start working on our debut EP - we want to create a three or four song record that focuses on exploring specific themes. We'd love the songs to link together thematically. We're always writing, and we've got some exciting new tracks that we can't wait to share!
Thank you for taking the time to answer the questions. Is there anything else you would like to add?
Thank you for asking them! We'd like to say thank you to the online community that has supported us so much in 2020. We hope to bring a live show to a town near you in 2021 and beyond! Head over to @kinbandofficial on Instagram, Twitter, Facebook or YouTube and say hi!
Follow KIN:
Follow Sound In The Signals: