Chaney Elaine (Rainier, House Parties) - Sound In The Signals Interview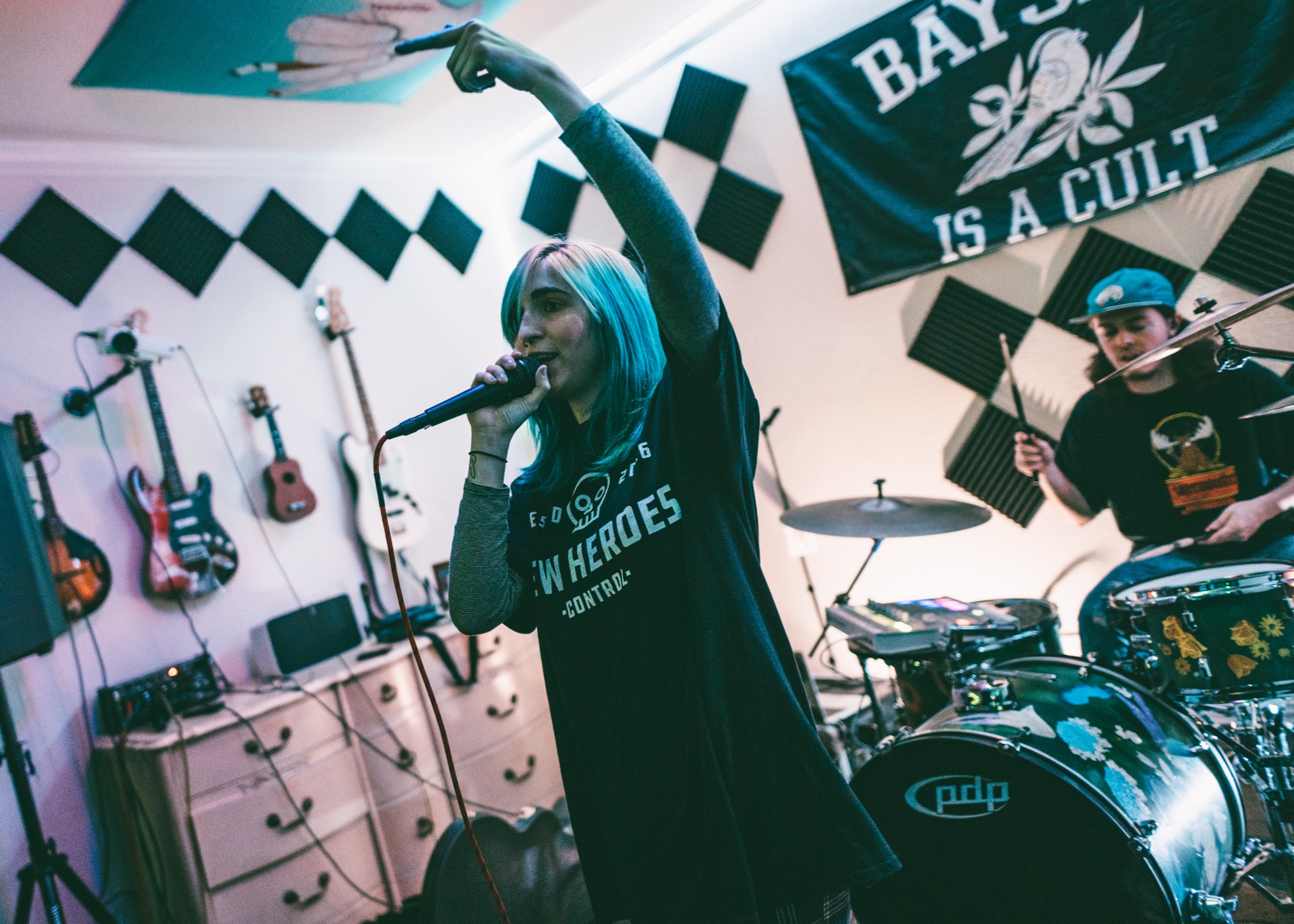 Photo By: Faith Alesia
I recently had the opportunity to interview Chaney Elaine of Rainier and House Parties. We discussed musical influences, recording cover songs, Rainier's EP 'Undertones', what's next for upcoming pop-punk band, House Parties, and more. Check it out below.
How did you initially become interested in singing and who were some of your biggest influences?
I've always had music involved and around me for as long as I can remember. In middle school, one of my friends showed my different kinds of music like My Chemical Romance, The Ready Set, We Are the In Crowd, and especially Paramore. The more I listened to them and that type of music, the more my passion grew for it. My biggest influences I would have to say is definitely Hayley Williams (for the most part), Vic Fuentes of Pierce the Veil, and Bonnie Fraser of Stand Atlantic.
You released your cover of "Decode" earlier this year. What was the recording process like for that song and why did you choose to cover it?
My buddy Jarrett of Palm Mute Records, wanted to put out a cover album of songs from different movies and I really wanted to do a cover on it. I decided on "Decode", one because I love Twilight, and second it was a song from my all time favorite band so it was a win win situation. The recording process for me particularly was fairly easy, all I had to do was record vocals. My great friend, Spencer Trinidad was the one was put the song together, mixed, mastered, and put his own little twist on the song. So for him, quite a bit more work was put in but the song came out fantastic.
What was it like being a part of the Palm Mute Records compilation? Do you have a favorite song from the comp. outside of yours?
Being a part of the Palm Mute compilation was fun! Pretty much all the bands on there did such great jobs with their covers and they're pretty solid bands. My favorite would have to be New Heroes cover of "Ultimate" from Freaky Friday, they did so much justice to it.
Your project Rainier released the EP 'Undertones' earlier this year. It's one of my favorite EPs of the year. Can you tell me about recording the EP? What were some of your lyrical inspirations?
We did release an EP this year, that seems so long ago. Recording the EP was kind of difficult but fun. Spencer really did all the work including singing on some songs. He wrote all the music we had for it and mixed and mastered the whole thing. For me, recording was a bit odd since I had to record in a closet of an apartment for majority of it so it was definitely a learning experience. On one of the songs, "For A Moment…", that was recorded a bit differently at least vocal wise. I basically sat in a chair in the middle of a living room with mics far in front of me and far behind me to get that sound we were going for. My lyrical inspirations really just come from listening to different artists and bands growing up. Majority of my lyric inspirations come from Vid Fuentes of Pierce the Veil. One of my favorite things he does is use a lot of metaphors in his lyrics and that's something that I love doing. But most of it just comes from me, I get very particular about how my lyrics are.
"Under The Weather" is one of my favorite songs from the EP. Can you tell me about writing that song specifically?
That's one of my favorite too actually. "Under the Weather" is a song about depression whether it be temporary or something people battle with on a daily basis, and sometimes how you can get a little too comfortable being in the sadness. For me, it's more temporary and when my temporary moments or phases of depression happen they tend to hit me pretty hard. I wanted the lyrics to sound like what the album art looks like in a way.
The artwork for 'Undertones' is really neat. Who came up with the concept for it and designed it? Why did you feel like it fit the EP?
The artwork for "Undertones" was actually a photo I took of a memorial to a gravestone in a cemetery in Oklahoma a while back. I had re-stumbled upon it and thought that it just fit the vibe for the music and the name of the EP.
You've been releasing cover videos on Instagram that show off your versatility as a vocalist. Your Stand Atlantic and The Story So Far covers are really good. How do you pick the songs you cover and can we expect to hear more of those anytime soon?
I love doing covers I just really need the time and motivation to do it. I pick songs that I'm 100% comfortable singing as in I know I don't struggle on any parts and just feeling the them mostly. I'll get a random song stuck in my head or one pops on in the car or while I'm at work and it just clicks with my brain to go do that song. I also really want to show off that I don't just sing soft or have one specific way that I sing. I've practiced to be a very versatile singer and the part that I love to do is go harder and raspy and show off my range. You don't get to hear that with Rainier. unless you've been to show!
You are currently working on a new pop/punk band House Parties. Can you tell me anything about that project?
House Parties is pop-punk band with a tiny influence of easy-core kind of like Belmont, Stand Atlantic and The Story So Far. It's a style where I want to show everyone my harder side of singing and what I honestly love to do, it's where my passion lies. I can't say much about it until music gets released but I will say again Spencer pretty much put in the most work and worked extremely hard on it too. If anyone needs music written, produced, mixed or even mastering please go to him.
Thanks for taking the time to answer the questions. Do you have anything else that you would like to add?
I would like to add to make sure you check out local bands, local producers, local artists, and just local everything and be supportive especially in these times. And for the love of God, please wear a mask so concerts can come back :)
Follow Chaney Elaine:
Follow Sound In The Signals: