Hometruths - Sound In The Signals Interview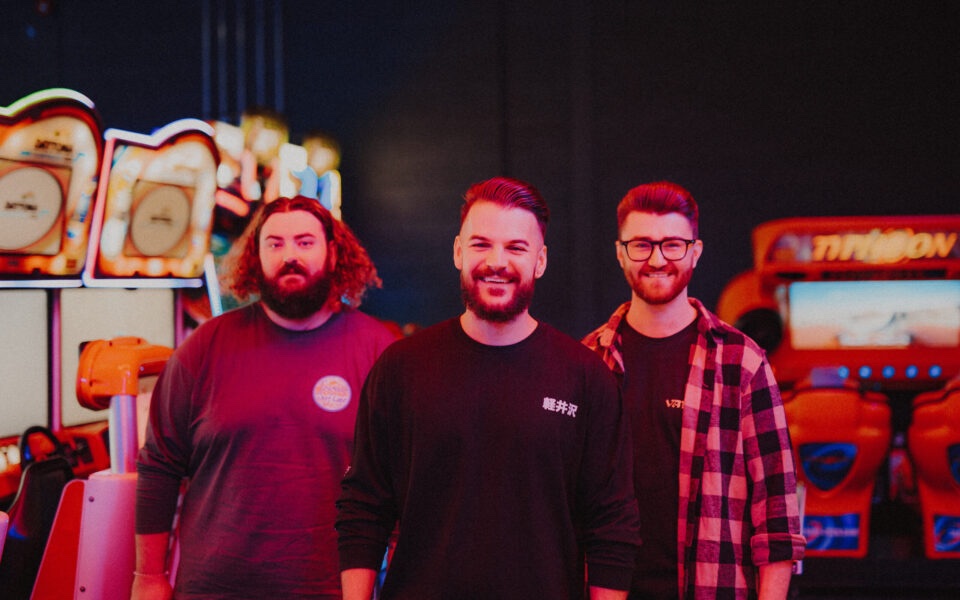 I recently had the opportunity to interview Hometruths. We discussed the band's new
single
, signing to Lost Music Collective, what's next for the band, and more. Check it out below.
First, thanks for the interview.
Thanks so much dude, pleasure to sit down with you! We have so many exciting things going on it's great to talk about it all!
You released your new single "Shimmers" recently. Can you tell me about the writing and recording process for the song?
We've been writing none stop for over 2 years and have about 40 songs! With Daydream and Soundtrack, we were writing to release a single which is new for us. I started Hometruths as a side project, something fun aside from my metal band with Al (lead guitar/backing vocals). With Shimmers, I decided to bring in some of that metal influence, and the song was hugely inspired by the new Four Year Strong record, which is absolutely killer!
Shimmers came to be when I was on nightshift at my job, I had this ear worm riff which is the chorus now. I spent a while putting the chorus melody together and trill song different lines - honestly from there it was constant inspiration.
I knew taking it to the studio with the single master George Collings (In Heart Studios owner/producer), that he would be worried about the amount of sections. We agreed it's a progressive pop punk song and went with it. George added that sick little outro, and I ad libbed the vocals during the studio sessions.
The vocals are super high, so the vocal sessions were pretty much full of me having tantrums but as ever, George got the best out of us all as musicians and did a hell of a job mixing it! Special mention to Michael Bivona (Gold Bloom) who depped on drums for Shimmers!
I think the lyrics of the song are pretty interesting. Can you tell me about the inspiration behind them?
The inspiration behind the lyrics was about social media, and mainly dating apps. I'm a mental health nurse and I've worked with children a lot in my career. Seeing people portray their perfect lives on social media is crazy to me, the bar is set so high for people to aspire to be like and it's often unattainable. The effect that has on mental health is astounding! "Staying in alone but it's alright" is an ode to the kids with low self-esteem and crippling social anxiety, massively due to these pressures and ideals that exist through social media. People portray themselves as something they aren't - "all that shimmers isn't gold".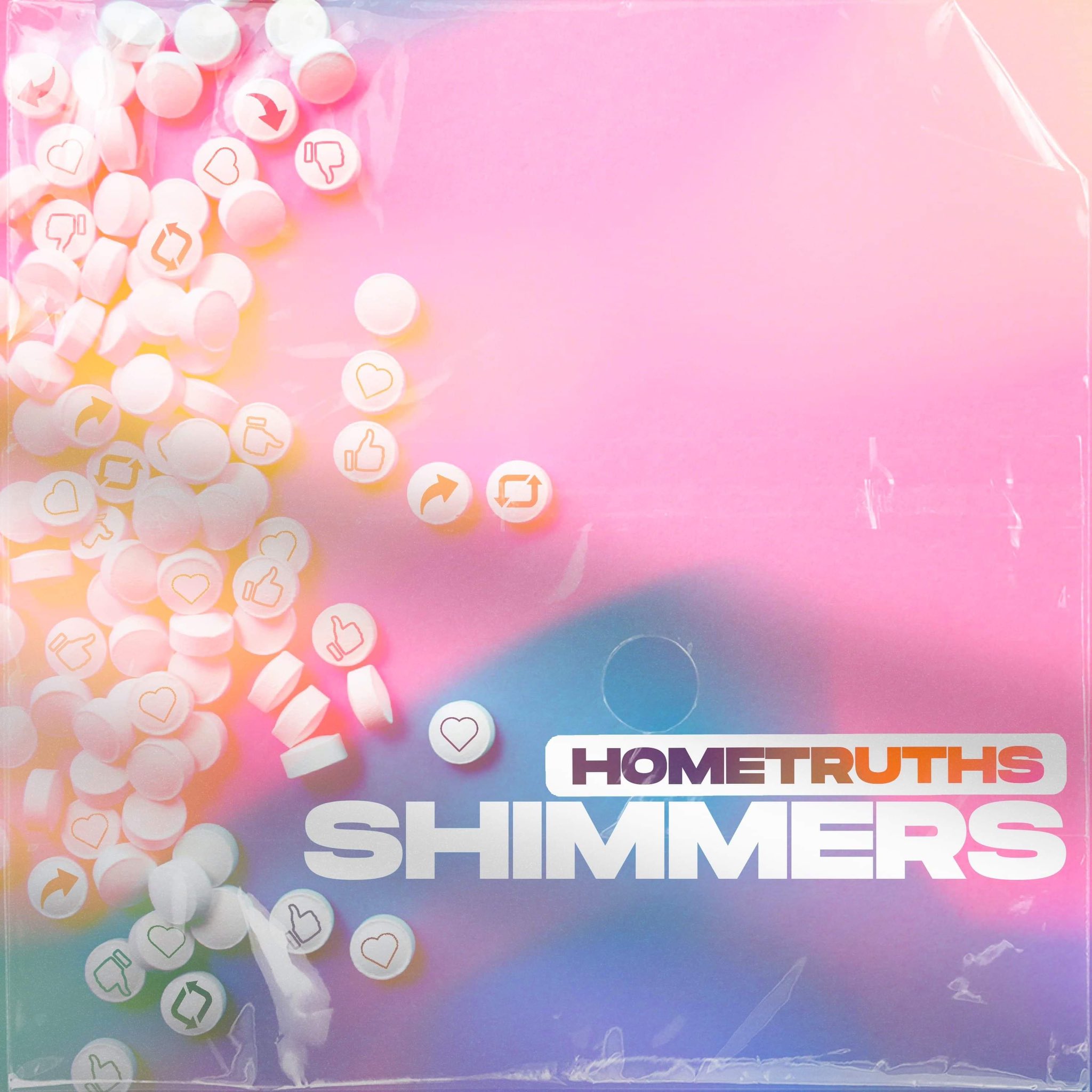 The artwork for the single is great. I really like the colors and the images. Who came up with the concept for it and designed it? What's the meaning behind it?
Mattie Turner (Guitar / Groundculture) did the design and he also did Soundtrack too. I think the main line that sticks in Shimmers is "These white pills won't take, they won't take the pain away". We ran with this as a theme and let Mattie flex his creative guns. We made no revisions - the first draft he sent is the artwork we used. It's super striking so big shout to Mattie for that. He also designed our Shimmers tees - hit him up for all your design needs!
You also released a video for "Shimmers". It had a cool concept. What was the video shoot like and do you have any interesting stories from filming?
So the video was shot at Tyne Bank Brewery in Newcastle, our hometown. Our bassist Gilly (Ross), his brother Cole is the manager and let us have the venue for the night. Lewis Dodds (DoddsFilm) produced the video. The idea was simple - mid corona Boris pandemic, let's play to an empty venue and inspire people to wash their damn hands! It was super fun and we had a real laugh doing it. It was super special to all feel connected again during such an isolated time in the world.
Little Easter eggs in the video is at the start, Ross running out of the girls toilet, Cole (Gillys brother) has a cameo in the middle and George (Producer) features at the end. We made the best of a bad situation and had a real laugh together! Shout to Cole for the free pints too, you're a gem. We were actually meant to play a socially distanced show there the month after which was cancelled!
You signed to Lost Music Collective recently. What made this a good fit for your band?
So we had linked up with Erick Droegmoeller (Manager) in the Summer and it just made sense, our releases had gone well and Lost approached us to sign a deal - we jumped at the chance.
My favourite band at the time was Rematch, and I had no idea Lost had signed them, it just made sense. Their roster is incredible - Rematch, Goalkeeper, Rival Town, When the Sun Sets, Yearbooks, Who Saves the Hero, Frnd Crcl etc.
Lost is a family - we have weekly zoom calls and just chat to each other and catch up. That's exactly what music is for us and that spoke to us. It's a community and music brings people together from all over the world.
Erick and Vinnie (Lost Owner) love the old school sound in our music and just put their faith in us from the outset. We wouldn't consider another label right now, we're exactly where we need to be.
Always, love to Zack from When the Sun Sets for finding our band and persistently bothering Erick to sign us!
You were on the 'Pop-Punk & Pizza Podcast', which has had some great guests. What was it like going on the podcast and do you enjoy listening to/being featured on podcasts?
The process was super cool man. Jacques is an easy going, cool and open dude. We had such a laugh with him he really made us feel at home. It's insane knowing people know our band out in the states! Jacques had had some amazing bands on his show, Reel Big Fish, Less than Jake, Stand Atlantic to name a few. We were really thankful to be on his show, it'a humbling doing podcasts - we're full of stories!
What's next for the band?
Our next single will be out early January. We've recorded it and it's nearly ready. We're just working on a super sick music video concept with Clearway (Matty Daley) who filmed our Daydream video. It's our best song yet and we're super excited for you all to hear it!
After that we're going to shovel away into the Summer and record our full length! We need to be hush hush about that for now - but trust there'll be crazy content coming once we get in the studio! There may be one or two special guest features too!
We'd love to say TOUR TOUR TOUR, but let's be honest - those days are over, for now. Our goal is to bring some lost bands over and dive into a UK club tour with them... maybe one day!
It would be awesome to see a 7" record of "Shimmers" at some point. Is there any chance that you have plans for any vinyl releases in the future?
We're definitely looking to do physicals through Lost at some point. Keep your eyes peeled for their anniversary sampler coming soon, we might feature on that!
Thanks for taking the time to answer the questions. Do you have anything else that you would like to add?
Thanks for having us, we appreciate it!
We just want to give everyone a shout out, everyone suffering from lockdown and being isolated and disconnected. We hope our music can bring some joy to their day and bring people together. Nothing can stop us right now!
All the love to everyone listening to our band, we appreciate it more than you know! Please check out all our label mates, we can guarantee your new favourite band is waiting to be discovered!
Follow Hometruths:
Follow Sound In The Signals: