Vincente DiSanti (Womp Stomp Films) - Sound In The Signals Interview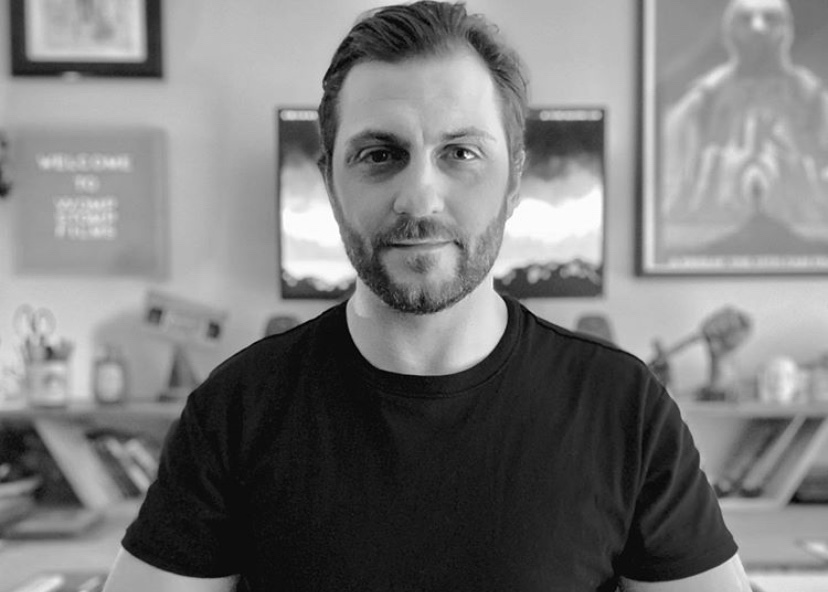 I recently had the opportunity to interview Vincente DiSanti of Womp Stomp Films. We discussed
Friday the 13th
, filming and releasing recent fan film,
Never Hike In The Snow
, what the
Never Hike
film series adds to the
Friday the 13th
legacy, upcoming projects, and more. Check it out below.
First, thanks for the interview.
You're welcome. Happy to do it!
Your new fan film 'Never Hike In The Snow' came out recently. What have you thought about the reaction so far?
I am very happy with the reaction and even expected some of the criticism. Mostly, I think fans are really starting to buy into what we are trying to accomplish with this web series and see Never Hike in the Snow's potential as a great indicator of what is to come. That said, we know some people are confused and even upset by the fact that Never Hike in the Snow acts more like a pilot episode than it does a full length feature film.
We've been very clear about this since we launched the idea for the web series but like with most things in this world, you can't control every aspect of how viewers are going to discover it. All we can do is our best to make sure viewers understand the context of what they are watching and that there is more on the way.
It's actually really encouraging that people just wanted to see more that badly. Even though they are angry now, it means that what they were watching had them gripped tight and they want the new episode right away. Unfortunately, we're not that large of an operation and each episode will take some time. However, we think they will loosen up once more episodes become available and the story can continue.
At the end of the day, fans really shouldn't be getting on us as much as they should be getting on studios. We do this in our free time, between other jobs, for no pay - yet we've still delivered more Friday the 13th content than the studios in the last 10 years with a small fraction of the resources. If anything, fans should start lobbying the studios to just hire us when the rights become available again. I don't think there is anyone else in Hollywood with as clear a vision or as much passion for this franchise as us and that is exactly what the fans need when it comes time for the 13th film or a streaming series.
What's one of your favorite moments from shooting the film?
Honestly it is as simple as getting to make films with my friends with no interference and now a proper budget. Making Never Hike projects can be very tough, but there is a different level of motivation when it's you and your friends with your hands on the wheel of a project. So often we are at the whims of the powers that be and have to remind ourselves it's just a job when we are on other people's sets. When it's our own set, everyone is striving to find their next gear so we can raise the quality of the project even further.
I think my favorite moment of the shoot was after 3 months of drought and no snow which caused lots of stress, the feeling that came over me when the weather started to dump snow on us on the first day of production. As many challenges as that would go on to make for us, it was a big moment of relief for me to know we could deliver on the promise we made of bringing Jason into the snow for the first time in such a big and brutal way.
'Never Hike In The Snow' is shorter than 'Never Hike Alone'. Why did you decide to shorten the length this time around?
The production value and cost per minute of Never Hike in the Snow's production was much, much higher than Never Hike Alone.
Never Hike Alone benefited from a single character that we could film for free with a crew of 5 people that worked for nothing. With that advantage, and an abandoned camp that we could film at any time we wanted, we were able to add about 25 minutes of footage with little or no cost to the production. Coincidentally, the other 25 minutes of Never Hike Alone filled with FX, Stunts, Night Scenes, and so forth also cost 50K in production and took about 8 days of production.
With Never Hike in the Snow, we had a cast of 8 and several locations that we could not shoot at for free. We were shooting outside, in inclement weather, and required more logistical support off set to manage the production. However, with the same overall budget as NHA, we were able to draw more value out of our finances and create something of much higher production value for the same cost as before.
Where fans mistakenly see this as us doing less, we've actually done far more this time around and in less time. Never Hike Alone took over 18 months to produce. Never Hike in the Snow took one year from the date of our crowdfunding campaign closing to debut and was shot in 6 days with 3 of those days requiring major fx builds. I'd say we not only matched previous expectations, but rather blew them out of the water.
My friend purchased the Crystal Lake sign from 'Never Hike In The Snow'. Can you tell me a little about who designed and created it?
The Camp Crystal Lake sign that we are using in Never Hike in the Snow is a custom design I came up with for the camp that was used on promotional shirts in the first campaign along with the second Never Hike Alone trailer. It is derivative of a pin / patch that came with the Friday the 13th steel case box set, but instead of just trees, ours includes outlines of the cabins we found in the abandoned camp we shot in and its reflection in the water.
Prior to production, our new production designer, Laura Hines, revamped the design and hand painted the logo onto a wood table top that we hung above the administration building of the camp. Like our Ghost Hock, it is familiar in purpose, but its unique design sets it apart and helps us create our own world of Friday the 13th.
Have you been surprised at the outpouring of support and fan funding for your projects? What does it mean to you?
It means the world to me and the crew that the fans are excited about these projects and all the hard work that we put into them. It was not something I expected at all as Fan Films have been looked down upon very harshly for so long. To see fans rally around the Never Hike Series is something I never expected but something I am truly grateful for.
Most of all, I am just glad Friday fans have something to celebrate again instead of another year passing without any new news or content for them to enjoy. It is a real shame that the studios couldn't get their act together for another film after 2009 and that the lawsuit has put a stop to any hope of a theatrical release happening any time soon, not to mention putting a halt to new features in the fan funded Friday the 13th The Game that Illfonic and Gun Studios put so much work into.
That said, maybe it's a good thing in the long run as fans have become much more vocal about what they want and don't want out of a Friday in the last few years. Hopefully Never Hike Alone serves as something the studios can study to better understand the fans they are trying to make movies for.
Your fan films are held in really high regard for 'Friday The 13th' fans. I've seen a lot of people say these are better than the franchise movies. Why do you think your vision has been so well received by fans?
I think more than anything, fans are picking up on three things: We actually care about the franchise, we are well versed on Friday history and lore, and we have a lot of the same gripes as other fans who feel the series has veered way off course of what made us love the films in the first place.
We also understand that the "formula" for all intents and purposes is dead in the modern horror world. Although we're all fans of the original films, many fans are starting to ask a little more from the filmmakers than just a group of airheaded teens who get slaughtered for partying too hard.
Since we put such an intense focus on character, emotion, suspense, and tension, our films still have the same backdrop as other Fridays, but bring more care and attention to the material. I think it goes without saying that we take these films more seriously than the studios ever did and that's what fans truly appreciate about us.
What is it about 'Friday The 13th' that inspired you and made you choose to create the fan films?
I have always wanted to work on a Friday the 13th production. Just to see how the sausage is made so to speak. How were these films being made one after another while almost completely ignoring the previous films in several areas? For the longest time I've just wanted to be someone on a Friday the 13th set who could raise my hand and call bullshit when someone who didn't know or care about the franchise was about to completely bone us and the Friday legacy with some bad idea we never wanted in the first place.
After years of no luck trying to get on a Friday production, I decided I would make a short film of my own that would at least give me a chance to say "This is the Friday the 13th film and Jason I actually WANT to see." Other than David Bruckner and Nick Antosca's Friday the 13th 3D script, there hasn't been a Friday film or concept that has even come close to delivering for the fans since the 1980s.
You recently appeared in another fan film, 'Happy Halloween'. What made you want to be in that film and what was your favorite moment shooting it?
The film's director, Courtlan Gordon, who also plays Mark Hill, brought it up while we were recording ADR for Never Hike in the Snow. It was a very last minute production and they were scrambling for resources and so I casually asked him if they had cast a Myers yet. When he said no, I asked if they wanted me to step in since I had experience with the character from "The Spirit of Haddonfield" and "The Face of Michael Myers" which were two other fan films done by good friends of mine.
Courtlan and Producer / Co-Director Jimmy Champane were both very excited to bring me on and I ended up getting under the hood of the project for them a little bit to figure a few technical camera executions and even spent a day working on the Myers costume to age it up and make it feel worn in. The thing I was most excited about was the pure brutality in the film. Courtlan and his Oddest of the Odd cohort Ryan Becker are real geniuses when it comes to inexpensive, but high grade looking kill FX and I was very happy to learn I would be leaving a trail of bodies in my wake. They did an amazing job with all of it, I was just happy to have the opportunity to swing the knife around.
Every night on set was actually pretty tough for me. I think the average age of the crew was 26 and I'm 37 coming off of a year long production that has sucked every ounce of energy from me. So when we were out there at 3-4 am, I would be lying if I said I wasn't snatching as many mini-naps under the mask as possible so I could be aware and focused while in the scenes.
That said, as tired as we were, we all had a great time laughing our asses off between takes. Doing anything to cheer each other up and battle through each night with whatever got thrown in our way. At one point I developed an alternate ego "Raymond Scholtski" who was sort of my auto pilot voice between takes. The kids got a kick out of it and we all still talk like Raymond when we call each other on the phone. For anyone wondering, Raymond sounds like the oldest man you've ever met.
On the Womp Stomp site you have your next 'Friday The 13th' fan films lined out, as well as some originals. Do you have any plans for a full length original film at some point?
I am currently attached to direct a feature length film called "The Kindness of Strangers" for Schemers Entertainment. It's a horror comedy about two serial killers that discover each other on the open road and battle it out until only one is left standing. The script was written by Ian Busch and we've been revising it over the last year or so. Covid has slowed down our chance to jump right into production, but our producer Gavin Dorman is working on getting us up and running for 2021.
I also had a hand in the production of "13 Fanboy" by Deb Voorhees which releases next year and have my hands in several other projects that I am trying to pitch into production including "Jason Rising" and "Dylan's New Nightmare." One original project I am really excited about in an animated short film called "Ghost Chicken" which has done very well on the indie script circuit over the last year. The film is about a vegan restaurant that is haunted by the ghost of a chicken and we are hoping to crowdfund for that project before the end of the year.
What can you tell us about what's next for you?
I think like most people I am taking the current situation in the world day by day. I have several stories I want to get off the ground, but I can only take them one day and project at a time. Right now, our company's focus is getting the Never Hike Alone crowdfunding fulfillments completed over the next few months so we can start preparing for Never Hike Again which will enter crowdfunding in Spring 2021 and hopefully go into production a few months later.
In the meantime, I will be continuing to work on sets and get better as a filmmaker so I am prepared for when my number is called for the next production that will have me.
You have some videos of you playing guitar on Instagram. How did you get into playing the guitar and what are some of your favorite bands?
I have a really good friend from high school, Jake Gonsalves, who is a complete shredder on guitar and made me want to play the moment I saw him pick up his snakeskin'd BC Rich and play "Crazy Train" like it was no big deal. He taught me a few songs and we would jam out every now and then after school. While I played sports, he was in a few metal and hardcore bands that did very well on our local scene. In college, we ended up forming a band "End It All" which had a nice little local run and even got a song "Echo of Cries" on Metal Blade Records "Metal Massacre XIII", which is pretty fitting when you look back on where my career took me.
Some of my favorite bands are In Flames, Soilwork, Dark Tranquility, At The Gates, The Hidden, Killswitch Engage, Shadows Fall, Unearth, Lamb of God, and mostly anything with a Scandinavian or New England Metalcore influence. I grew up in Massachusetts so we went to Metal Fest in Worcester every year in college. It was a big influence on me coming up in those years. A bucket list dream of mine is to go to a big music festival in Sweden one day.
One funny story is that Jake and I actually wrote "Run Like Hell" together for the Never Hike Alone soundtrack. It's the song that plays under Kyle running through the forest at the beginning of the movie and has now become the official theme song for Kyle's show "TrailJunkies." We created a fake band 'The Damn Enchiladas' for the fun of it, which also includes another friend of ours Lenny Machado who's former band "Run Like Hell" was the inspiration behind the song's name. Run Like Hell and End It All shared a practice space and played many shows together back in 2004-2007 before I moved to LA to pursue film. It certainly brings me back to a great time with great friends every time I hear that song.
Thanks for taking the time to answer the questions. Do you have anything else that you would like to add?
Thank you for the interview. It's always a pleasure to sit down and talk about these projects and we're excited to keep this adventure going. It's all because of the fan's support of what we do so we hope they know how much we really, truly appreciate them and look forward to keeping them happy as we continue this mission to create the best fan made Friday films they have ever seen.
We also want to remind fans that they can still order their first edition Never Hike in the Snow and Never Hike Alone blu rays at our Never Hike in the Snow: The Final Call Indiegogo Campaign that will be running through the month of November before we start shipping in December.
Link here: https://igg.me/at/nhsfinalcall/x/18000311#/
Also, please subscribe to us at the following social media outlets:
@wompstompfilms
If they would like to contact us with questions, they can do so at wompstompfilms@gmail.com
Follow Sound In The Signals: