Dear Youth - Sound In The Signals Interview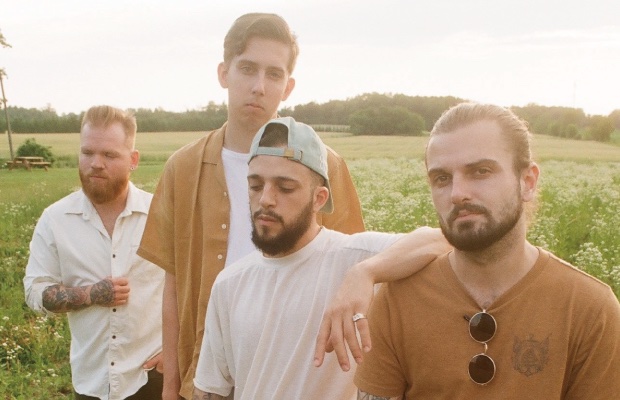 I recently had the opportunity to interview Dear Youth. We discussed the writing and recording process, the artwork, vinyl release, latest single "Who You Are" and more from the band's debut album,
Heirloom.
Check it out below.
First, thanks for the interview.
We really appreciate you guys taking the time in speaking with us about our debut album 'Heirloom'.
Your new album, 'Heirloom' is out October 23rd via Anchor Eighty Four Records. Can you tell me about the writing and recording process for the album? Who did you work with on this album?
We began writing the album at the end of 2018 around Christmas time. The writing process for Dear Youth has been the same since the very beginning. All the songs are written in the basement studio of our producer and close friend to the band Luc Sylvestre. Jacob and Brendan will usually work on riff ideas prior and go in to the studio to construct what will become a solid instrumental. I then go in and hammer down lyrics and melodies with Luc. After several hours of passing ideas back and forth and maybe a few days of sitting on ideas, we have a solid Dear Youth demo.
We knew we wanted build off our label debut EP '
You Could Wish Me The Best
' (released via Anchor Eighty Four Records in 2018) but we wanted to be a lot more prepared this time. We set a goal of writing a minimum of 30 song ideas, that of which we'd refine down to 20 demos, later being polished down to the 10 strongest songs Anchor requested for the album.
We had a healthy amount of time to write the record being that we were scheduled to go out to Toronto, Ontario to record with Sam Guaiana (Silverstein, Like Pacific, Young Culture) in May of 2019.
Throughout the early months of 2019, we hit the pavement running! The first 10 demos seemed to write themselves practically as we'd been previously working on material. One of these songs was the first single we released from the album called "
Dandelions
". A songwriter can always appreciate when a song can just "write itself". Weird to say right? I wish I knew how to articulate it. The best way I can describe it is like myself and Luc riding tandem down the steepest most fun waterslide ever! The ideas seem to flow through the ups and downs as fast as possible and once we hit the bottom, we have a song. These songs are the most fun to write and from that point we knew it was going to be a single! No doubt about it!
Moving forward, the last 10 demos were the opposite. It felt like getting off the waterslide and seeing a line of 100 kids waiting to get back on the ride! A very daunting feeling!
We've never written a full length album before…What did we get ourselves in to?
And the clock started to tick. We had about eight weeks to finish the last 10 demos. As I'm writing this, I can't remember how we finished those. It all seems like a blur.
Funny enough, the last 2 singles we released were written during this period so we definitely found our stride!
I'm very proud of my boys because we showed up in Toronto prepared! After speaking with Sam and our label, the 10 songs were chosen and then put through Sam's pressure cooker.
There you have it. 'Heriloom' was born.
(We would of loved to have the album out sooner but during these uncertain times we felt this fall would be the best time to release the full album!)
Your new single "Who You Are" just came out. Can you tell me about writing that song specifically and why you chose it as a single?
'Who You Are is track 1 of 'Heirloom'. The idea behind choosing this song as a singe was simple. It has ENERGY!
Who You Are is a song that depicts two people who share a similar mental illness trying to find themselves through the ups, downs and parallels they share on the path to recovery.
We often make compromises with how we present ourselves to others, especially if we feel there is something "wrong" with us.
On the flip side, people have this tendency of creating this lens of how they perceive those with mental illness.
So at what point do the two overlap and create this twisted sense of reality for all involved?
This song is about the struggle of uncovering who they are under the vale of judgement from others and how it has lead to them feeling invisible and hopeless.
The album is getting released on vinyl. How important was it for you to have this album pressed on vinyl?
Releasing vinyl has always been on our bucket-list and we are so proud to be able to have achieve this goal! I recently heard that vinyl outsold CDs this year! I think that's super rad! I'm such a sucker for vinyl and collecting it. It's THE merch I tend to buy when I go to shows. I love reading the credits and lyrics and whatever other goodies bands want to share with their fans. There's something really special about holding something you've created in your hands but also be able to have fans experience a tangible piece of art vs. streaming the album on their phones.
How closely did you work with the label on the vinyl release? Did you have a lot of input on packaging and the vinyl variants?
We work with Anchor on all our merch very closely. We all go back and forth and try and come up with something we all dig and hope fans will as well. The first variant we did for this album is this sweet orange splatter. We're only doing a run of 250 units so get it while it's hot 🔥🔥
The artwork for the album is really interesting. I really like the imagery and overall look of it. Who came up with the concept for it and who designed it?
The album artwork was a whole other experience that took several months and tries before we found an artist we were feeling! All our creative direction is done alongside our creative director Maxime Desrochers who helps us visually conceptualize all our music. He had the idea of working with a lot of 'ephemera', which means "things that exist or are used or enjoyed for only a short time." This fit alongside the meaning of our album perfectly as it deals with the questioning the "passing of time" and how to do with it. The very talented
@trashriot
designed the cover for us.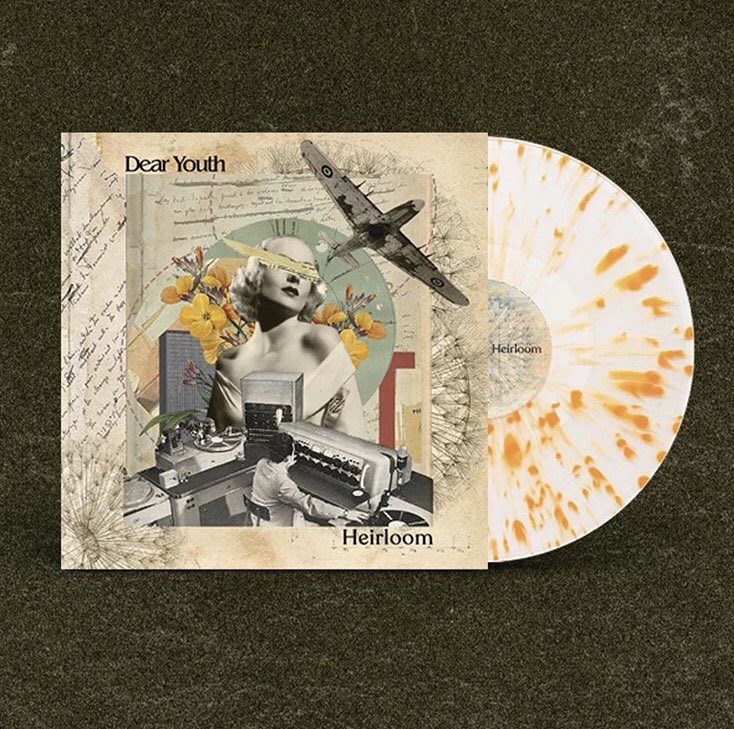 What can fans expect leading up to the album release? Other singles, videos, live streams, etc.?
We have a couple more singles coming out within the next month. We are also working on doing a full album livestream most likely around the release date!
Thanks for taking the time to answer the questions. Do you have anything else that you would like to add?
'Heirloom the debut album by Dear Youth will be out October 23rd, 2020 on Anchor Eighty Four Records. Thank you to all our fans and everyone who's been apart of this record. It literally means the absolute world!
You can pre-oder the album at
heirloom.dearyouth.com
Peace and love! Stay safe during these crazy times.
Follow Dear Youth:
Instagram
Twitter
Facebook
Follow Sound In The Signals:
Instagram
Twitter