Tsunami Bomb - Sound In The Signals Interview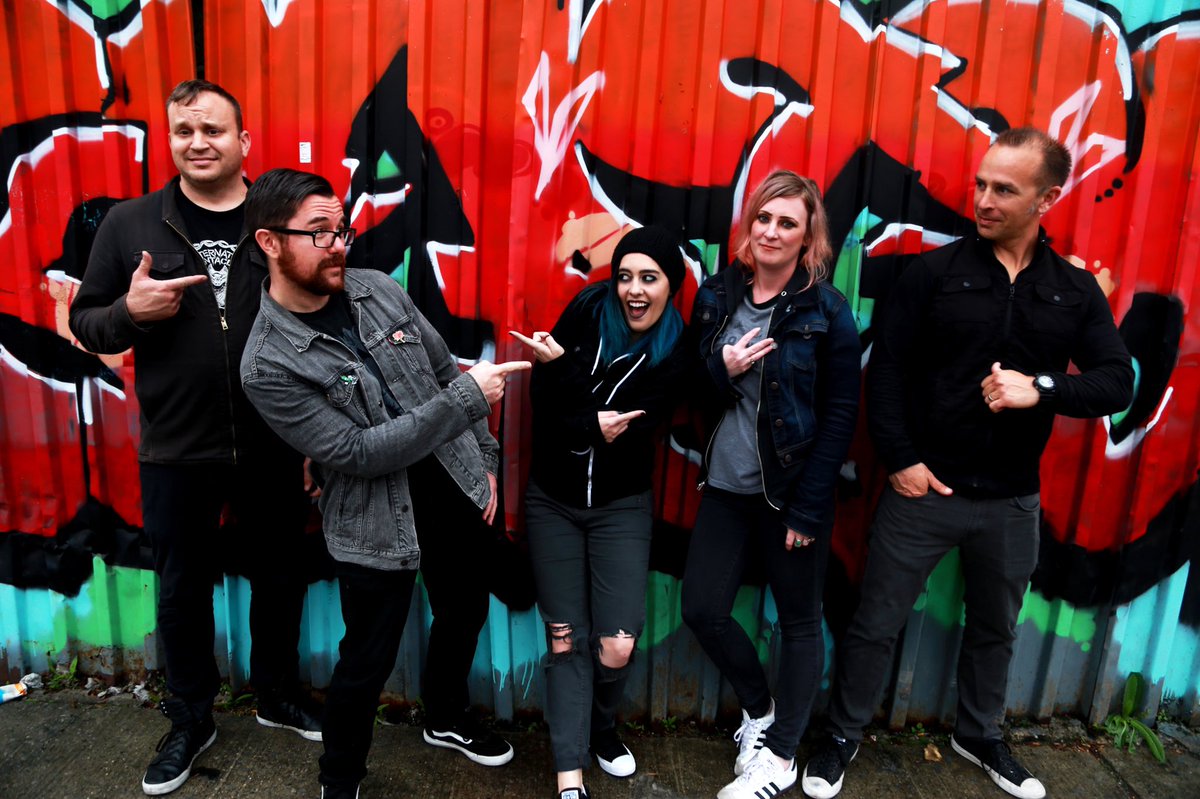 Tsunami Bomb
, formed in 1998 by bassist Dominic Davi and keyboard/vocalist Oobliette Sparks, has long maintained a loyal fan base. After disbanding the classic lineup is back with new vocalist, Kate Jacobi. Dominic Davi discussed the band's reunion, writing and recording the new album, the 17th anniversary of
The Ultimate Escape
, and more.
First, thanks for the interview.
Dominic:
Thank you for wanting to talk to us.
You just put your new album 'The Spine That Binds' up for pre-order. It's your first album in 15 years. What was it like coming back to the band?
Dominic:
Surreal. Very surreal. I had accepted that Tsunami Bomb was a chapter that I was not going to return to. To be honest I mourned that. It might seem silly to some, but Tsunami Bomb has always been important to me. I had started it and it was my baby, for lack of a better term. It was very difficult for me when it came to an end, but I had accepted that part of my life was over.
Originally, this was meant to just help people know that we had released a collection of our early songs. I had a lot of hesitations in proceeding with Tsunami Bomb beyond that, but once we accepted that we were going to do this, it has felt... just so right. It felt like being reunited with a part of myself that I had given up on. I know that sounds dramatic, but it's true. It also helps that this chapter of Tsunami Bomb has been so much more fun, and so much joyful then it was given a chance to be last time. On top of all that, to actually have a new album coming out after all this time? It's kind of unbelievable.
What was the writing and recording process like for the album?
Dominic:
Well, as far as writing goes, it's pretty much the same as it's always been. The initial idea for a song will usually come from me, but can also come from Oobliette, or Andy. After working out an initial rough arrangement, we will send these ideas to each other to see if the others are into it. At this point, either Oobliette or Andy will generally work out their parts for the song, and that song usually will show us if it's going to be more keyboard driven or more guitar driven. Oobliette and Kate will work on the vocals at that same time, with us making some arrangement adjustments along the way. After we have the vocals generally mapped, Gabe will write his drums around what the vocals are doing and some further arrangement may happen. At this point we put some extra touches to the song to give it more character and hopefully we have song ready to go. No matter who comes up with the initial idea, we all have our hands on it by the end, but Oobliette and I try to guide the songs to where they need to go through out the whole process. Though even we are sometimes surprised with what they become by the end.
The actual recording of this album was really pretty challenging. Every album has it's particular obstacles, and this one was everyone's schedules. Trying to get us all in the studio led us to record at a number of different studios on both coasts, and stretched the recording time over the course of a year. Most of it was recorded at White Whale Studios in Santa Rosa, CA, and returning to Sonoma County where the band started felt really appropriate, but by the end we had recorded also at Pop Smear Studios in San Rafael, CA, at District Recordings in San Jose, CA, and at Applehead Recordings in Woodstock, NY. By the end I felt like I dumped a huge pile of files on Jack Shirley at Atomic Studios in Oakland, CA and was all, "Help me make sense of all this!" Thankfully he did, and between his mixing and Steve Orlando's mastering the album really came together.
We are super proud of this album, and we learned a lot about each other doing this, but one thing we've all agreed on is that next time we are all going to record it at the same time, in the same place.
This is your first album without Agent M and the first with Kate Jacobi. It seems like Kate has really found her place and fits in really well with the band. Was there ever any hesitation about replacing the vocalist? How did the band approach finding a new singer and how did you know it was a good fit?
Dominic:
Of course there was hesitation! I had a lot of anxiety about it! At one point I freaked out and tried to convince the others that we should do something like "Flag" and just perform our old songs under a new name. I was convinced that more then anyone else, people would blame me if they didn't like it. The truth was, as we working on it more and more, it just sounded like Tsunami Bomb, and it felt silly to try and be anything else. Emily didn't want to come back to it, and we had to respect that. We knew we were asking a lot of people, but we were doing our band and playing our songs, even if people didn't realize that. So we just had to find the right person to do it with us.
So when we started reaching out to people, our then guitarist Brian Plink kept suggesting we check out his co-worker Kate. They made some demos and it was true, she had a great voice. She managed to sing the songs in her own style and not sound anything like Emily, but at the same time the way she sang the songs still sounded like us. The hitch was she had never been in a band before. EVER. So initially we weren't interested. In order for this to work, it was going to require someone who could go out to a crowd that didn't want to see THEM, and literally win the crowd over and get them to singalong with you. That's a lot to ask ANYONE, much less someone who doesn't even know how to be in a band. So we resisted meeting her, and kept reaching out to other possibilities. The problem was that everyone was either hesitant (which was understandable) or they just weren't right (they sounded great but it was just too different). So finally we broke down and I went to meet with Kate. I had met her at a concert before that, and I knew she was super nice, but I was worried that Brian really didn't give her the lowdown. Now she describes that meeting as me being terrifying and super intimidating, I feel bad about that but I was really worried she didn't know what she was getting into. People were going to be weird about a new member.
Turns out though, I shouldn't of worried so much. Kate is literally the bravest person I've ever met. She met the challenge and she's raised the bar every time. She goes out there and wins people over every time we perform. She's awe inspiring and she just keeps getting better! On top of that she's the kindest, most genuine person you'll ever meet. We all just love her so much, she became family right away (and we are not easy to win over like that). You're right, she just fits. The first time she played with us at a practice we knew she was the one.
It's hard for us all not to feel somewhat protective of her, I mean we have been lucky and people have been really supportive, but there are those who sometimes post pretty mean things online, and she reads them. I hate the thought of that, but she really doesn't need protecting. She's really strong and she's very pragmatic, very sincere. You like her or you don't. She's here because she loves this band and she's made it her own. I think people haven't really appreciated how strong of a vocalist she actually is, but they are starting to figure it out and it's exciting to watch.
If you are reading this and you're hesitant, we get it... but honestly give her and us a chance. She's really amazing and we were really lucky to find her. If she wasn't the right person, we wouldn't be doing it.
I really like the new single "The Hathors". What was the writing process like for this song specifically and why did you feel like it was a good song to premiere with the pre-order announcement?
Dominic:
Thank you so much, I'm so glad you like it. We picked "The Hathors" because we felt that it was very much a classic Tsunami Bomb song. It's defiant, but a bit sad. We felt like with the songs we had previously released, it was a good transition into this album. Having a solid foot in the past, and another solid foot in now. A good workhorse of a song if you know what I mean.
With "The Hathors", I initially came up with the song and it's arrangement. I sent it to everyone else and they all responded to it too. Though once Andy laid down his guitars, the song really started to pop and I knew we had something awesome here. I just loved his part. Oobliette initially came up with the rough melody and the chorus, but she wrote it as a bit of a love song. Kate wasn't really feeling that, but she really loved these elements that Oobliette had in the chorus about trying to live up to the expectations put on you and not letting someone down. She focused on that message and filled in the verses and adjusted the choruses so it was more about turning down the voices in your head that say, "you can't" and silencing the doubt and the pressure of expectations, even while you know it will never fully go away. After that Oobliette wrote her keyboard part and Gabe added his drums and the song was set.
Oobliette was the one who came up with the name, "The Hathors" being an Egyptian reference the seven minor goddesses that are a form of the Mother Goddess herself, Hathor. The seven would stand over a baby at it's birth and lay out it's destiny. The expectations for what it would accomplish. You were then supposed to live up to that. It's a bit of an obscure reference, but it makes sense if you know it.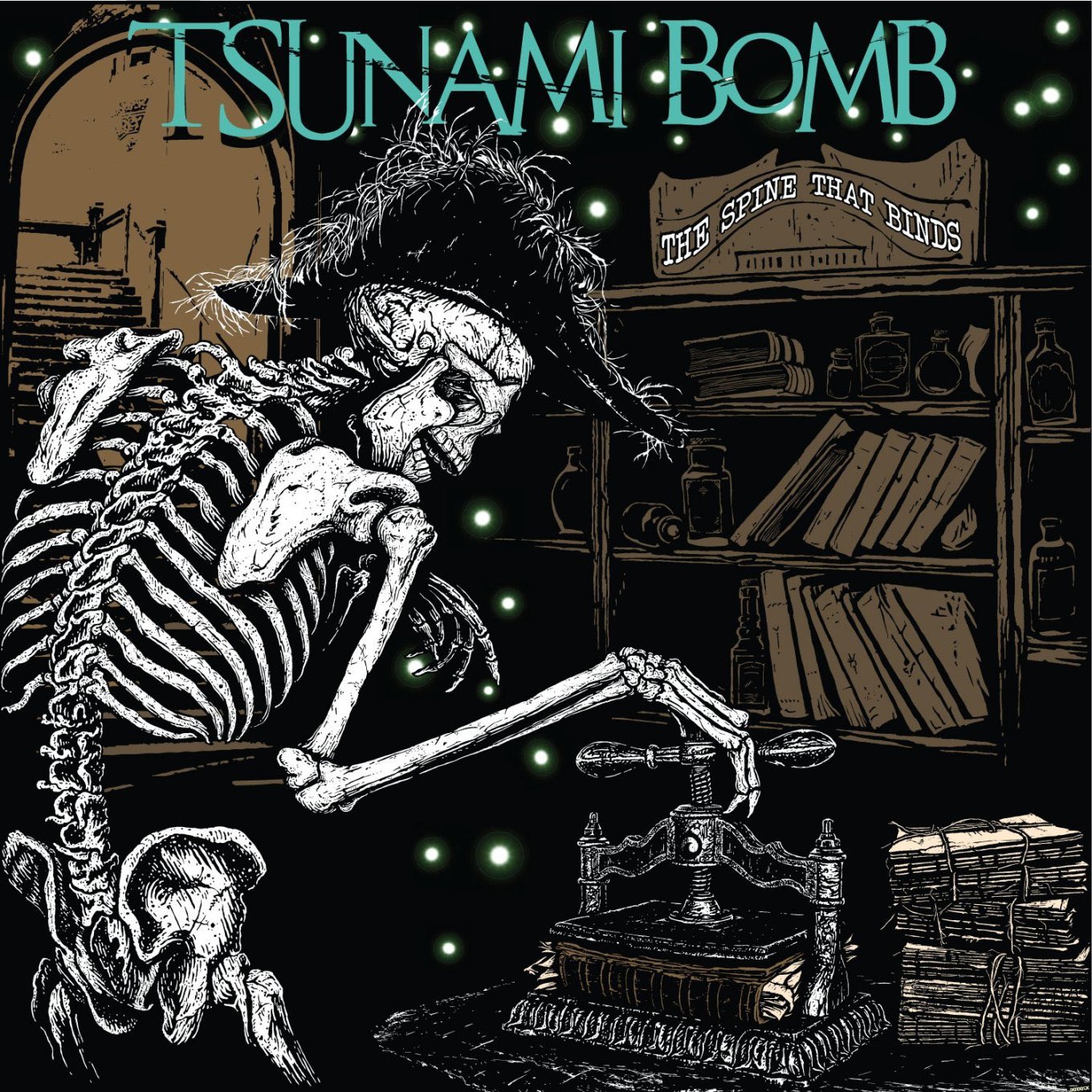 I really like the artwork for the new album. Who came up with the concept for it and how does it fit the album?
Dominic:
Thank you! The original expectation was that I would do the art, but after writing, editing, and shepherding the entire recording of this album, I just felt tapped out creatively. I felt like all my ideas were too literal and I was just too close to the album. So we wanted to find someone that could really bring something interesting to the table.
One day Kate was visiting the Alternative Tentacles Records office, and she pointed out how much she loved the cover for Mischief Brew's album, "This Is Not For Children", and that was great because that's one of my favorite album covers at AT. She suggested we reach out to the artist and so I contacted JXRXKX (jxrxkx.bigcartel.com)! Thankfully he was interested! We talked to him about the themes in the album, being a personal journey through hardship and loss, to find your strength and sense of self from those experiences. About the chapters of our lives, and that which binds us all together like a great book. So he presented an initial idea, which was great and we were all were able to shape it into the skeleton which is an aspect of fate, binding the pages of a life together into a book. For us, this band is that book. 'The Spine That Binds' us, through all the changes and hardships. The good and the bad. The greater story of it all. We are really happy with the art, he did an amazing job.
This year is the 17 year anniversary of 'The Ultimate Escape'. That album has become a fan favorite amongst punk fans. When you recorded it did you think it would have the longevity it has had? Do you have a good story about the recording process that's never been told before?
Dominic:
I did not! You always try to do the best album you can, that's always the goal. It doesn't always work out though. I honestly felt that the album was a little uneven, like the strong songs are really strong, but the weaker songs are really weak. I'm glad most people do NOT agree with me.
It's tough though, for me that album is very bittersweet. I'm proud of it, and I love many of the songs on it, but it was miserable to record. We had a very difficult relationship with the producer on that album. It felt like he wanted to make this album his, and we were really just in the way. We had to fight for that albums soul every step of the process. It was a very stressful time. I really resent the experience and we felt very misled.
On top of that, we were recording for the first time without Oobliette, and she had helped write so many of the best songs on that album. We were really unsure of ourselves, and worried about doing an album without her. She's like a little sister to me, she's who I started the band with, and we weren't even speaking at that time. She should have been there. So already everything was feeling really off, and then we have the producer just trying to bully us the whole time. Not a lot of happy memories from that session for any of us. There are a number of songs on 'The Definitive Act' that refer to this time period.
In the end, I am proud of the album. It makes me happy so many people love it. I think despite the difficulty, and not because of it, we were able to get a great record. It was just such a fight to make that album happen. I've never had a recording experience like that, so to have it held in such high regard helps make it worth it. I just never would have thought that would happen!
I really liked your cover of "Dead Man's Party". What made you pick that song to cover and were you pleased with the reaction it got from fans?
Dominic:
Thank you! I'm so happy with how it came out! Kate and Andy especially shine on that song!
Oobliette and I are HUGE fans of Oingo Boingo, and they were a big influence on Tsunami Bomb since day one. So when Cleopatra Records asked us to be on the comp and sent a list of "Halloween-style" songs we could cover, we saw that "Dead Mans' Party" was on there and freaked out. We begged the others to let us do it, and thankfully they indulged us!
However then you are left with a challenge of how to cover one of the most known songs from a legendarily distinctive band like Oingo Boingo! So our goal was to make it as much like a Tsunami Bomb song as we could. I feel like we were successful! The response has been insane. People are so into it, and that means the world to us. We just wanted to make sure to got it right. We've had a lot of requests to add it to our set and that's not out of the question!
I guess that wraps it up. Thanks for taking the time to answer the questions. Do you have anything else that you would like to add?
Dominic:
Just that we appreciate everyone who has been supporting us and encouraging us. It was everyone who loves this band that convinced us to bring it back and to keep going. We thank you all so much. For everyone else we hope you'll give us a chance. Please check out our new album, 'The Spine That Binds' due out 11/8/19 on Alternative Tentacles Records. Thank you again!
Follow Tsunami Bomb:
Twitter
Facebook
Instagram
Website