What Goes Up - Sound In The Signals Interview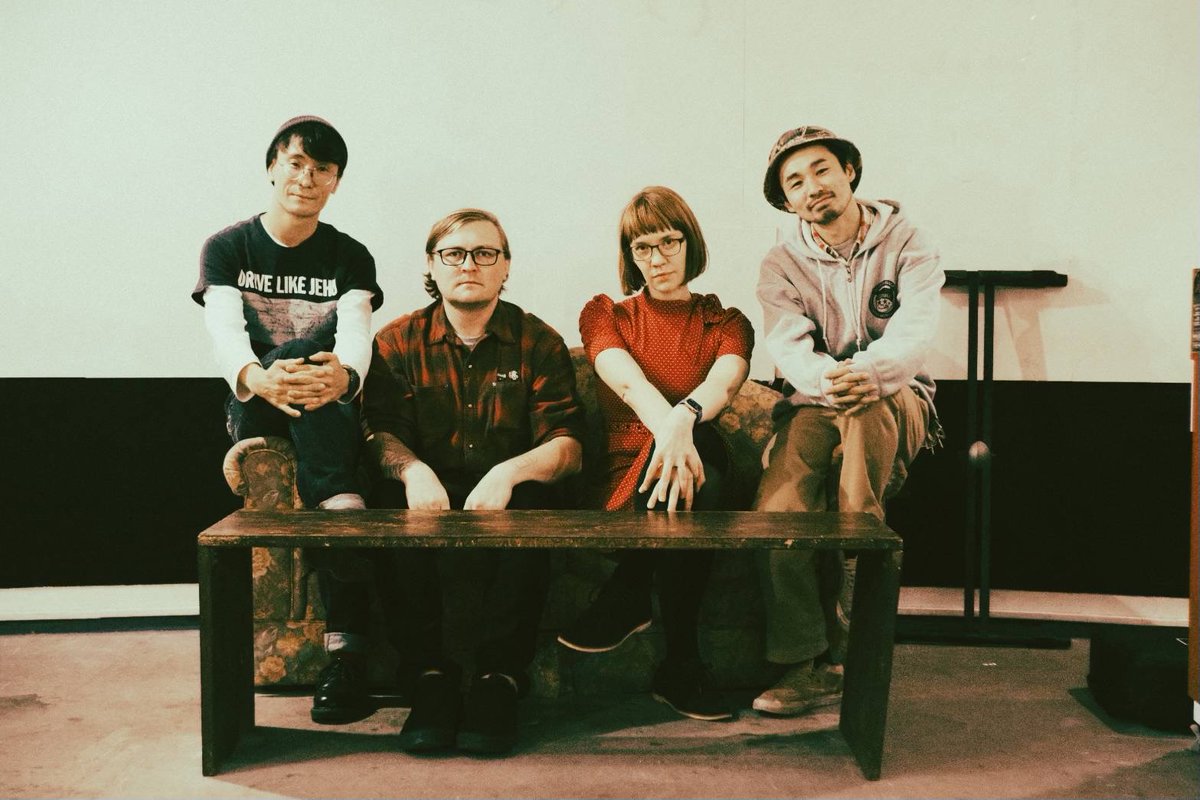 I recently had the opportunity to interview
What Goes Up
. We discussed how they formed the band, musical influences, writing and recording new album 'Laws of Gravity', designing the artwork, the importance of having physical releases, and more. Check it out below.
Can you tell me how you started the band for those who may be unfamiliar with it? How did you initially become interested in music?
MATTY: After moving back to Japan, I lived in Okayama for three years before finally getting a job up in Tokyo. Ingrid and I had played in a band years ago when we both lived down in Shikoku, and I knew she was in the Tokyo area as well. I wanted to try a band with layered clean and dirty vocals so I reached out to her, my buddy Neko, and Shota from the band Shipyards to form the initial line up. Things unfortunately didn't work out with Shota due to family circumstances, which is when Neko brought Yasu into the fold. Honestly, this is probably one of the most fun groups of people I've ever had the privilege of playing music with. As for getting into music, I grew up going to DIY shows in Chicago and the surrounding suburbs, and after blasting through a bunch of genres, from ebullition-style emo to grindcore, I found that pop punk/melodic punk was really what stuck with me. Particularly the dirtier-sounding kind, like the Broadways, Canadian Rifle, This is my Fist, and Unfun.
NEKO: When Matty and Ingrid started working in Japan, I was asked to play in WGU with them and our former guitarist Shota (from Shipyards). Since I already knew both of them, I just simply enjoyed getting into the practice studio with them. I think of the present as just an extension of that time. As for getting into music, I think I was like 10, but I think what left the biggest impression on me was probably when my dad was playing a mix tape with Born to Be Wild on it on the car stereo. I don't remember what song, but I took that tape from the car and listened to it on the tape deck in my room.
YASU: I've known our drummer Neko for a long time, and he invited me to join WGU. I became interested in music when I was 15 when my friends played Hi-Standard's "Growing Up", and for a while I grew up listening to a lot of melodic hardcore, punk, and emo. However, by the time I started my own band at the age of 21, my taste in music had completely changed and I was only into alternative and post-hardcore bands. Playing in WGU now is very fresh and fun.
INGRID: As Matty said, he and I were in a band together years ago. It was super short lived (9 months) and I'd always wanted to dive back in. I'm really glad the timing worked out for WGU - I love this group's dynamic and energy. We really like to bring the party, haha. As for my musical interests, I've been playing and performing my whole life (childhood piano recitals and the like). Music has always been a huge part of my life and I've loved everything from pop to punk. My current favorite artists lie in this muddled pile of garage/diy/grunge/pop-punk and indie rock musicians.
Your album 'Laws Of Gravity' came out recently. Have you been pleased with the response so far?
YASU: I'm very happy that so many people listened to it. But I also want more people to listen to it because it's a very good album.
NEKO: In addition to the people we have met at shows and friends from home, I think we have gotten a warm response from people on social media, too. I'm super happy that people enjoy the music that we find so fun to play.
MATTY: I'm super happy with the response so far. I actually didn't think that it would garner so much attention. But since officially releasing it we have been getting non-stop invites to play shows all over the country. Since we write our lyrics in English, we included a Japanese translation in the lyrics sheet, and I'm always happy to hear when someone connects with a song for more than just the way it sounds.
INGRID: I'm always so humbled when anyone tells us they've been listening to it and can point out a specific song they like. We put a lot of heart and emotion into our music, but at the end of the day, playing in a band is our side gig after full-time jobs and families. The fact that anyone is listening to our music and reacting to it makes me happy. 🙂
What was the recording process like for the album?
MATTY: I knew that I wanted to record WGU's first album with my buddy Moriwaki of Studio Torigoro down in Tokushima because he had done at least one of both of my previous bands' records, and the experience has always been quick and smooth. Plus we get the bonus of having a lot of old friends in the area stop by the studio to visit (which you can see in the video for Unfit lol.) The studio also lets you use this cabin with an outdoor bath for free if you're from outside the prefecture, so it provided a summer camp-like environment for us all to chill and bond, which was super dope.
NEKO: It was my first time going to Tokushima, but just as Matty said, it was a super great environment to record in and it was fun staying in the cabin. It was tough recording drums, but everyone gave me the OK without being too critical. Thanks to that, I had a great time getting drunk before my bandmates as I listened to the process of putting the different layers of the album together. I want to go to Tokushima again.
YASU: It was hard because we recorded all 11 songs in just 3 days. However, being able to focus only on the record for those three days, as opposed to recording in spaced-out sessions over time, was a lot of fun. It's hard to get everyone's schedules aligned, but if possible, I'd like to record that way again.
INGRID: Tokushima wasn't the most convenient choice, with all of us living in Tokyo, but when we turned it into a three-day band getaway/intensive recording session, it was a blast. We did 8-10 hour days. It was exhausting, but it felt like a really great bonding moment for us.
I really like the song "Whimper". Can you tell me more about writing that song?
MATTY: The title and opening line of the song are a nod to T.S. Elliot's The Hollow Men, which is a poem that an old friend of mine sends me whenever either of us is having some sort of existential crisis. I guess the song is about the fear of life not having anything exciting left in store for us as we get older and the avenues to potential, more-exciting futures seem to get closed off, and wanting to have just one more night where you feel safe with old friends and are energized by the excitement of what might come next. This was the first WGU song I wrote on guitar, so I made Yasu use some of the guitar riffs I had made, which I'm sure he wasn't too happy about. haha.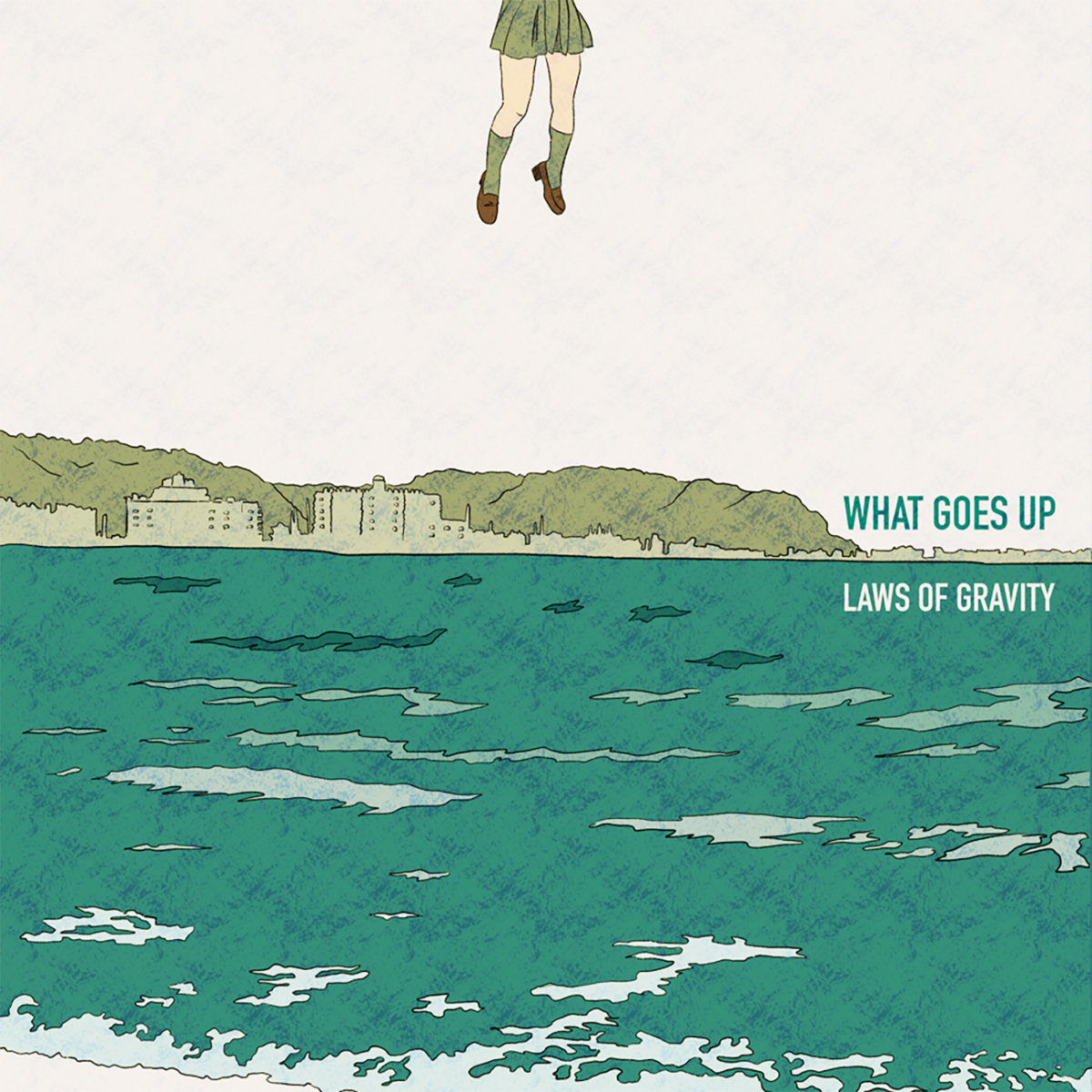 I really like the album artwork. Who came up with the concept for it and who designed it?
INGRID: I'm a web designer and love drawing - I design and make all of our merch too. Originally, we had wanted to go with photography for our jacket cover, but we couldn't come to a consensus on an image that felt "right" and also "us" enough - not to mention we were stumped as to what to call the album. The back and forth had gotten me a little frustrated, so I went on a walk to clear my head and it all just suddenly fell into place. I decided at that moment that we had to call the album "Laws of Gravity" and I wanted to draw something that riffed on one of the photographs we had been considering. Our guitarist is a really great photographer and had taken these gorgeous 35mm shots of the ocean and people walking along the water. There was one in particular of this high school girl in a uniform, kicking at the surf with her friends. The pose he had captured looked like she was about to lift off into the sky and it really stuck with me.
What's the meaning behind it?
INGRID: The name "Laws of Gravity" was my way of connecting our first album back to the original phrase our band name came from. "What goes up, must come down." A lot of our songs are about feeling untethered and out of control in different ways. What is gravity when you feel like you can't get a solid hold on things going on around you? The original photograph, of the girl kicking in the water, I just thought "what if she did take off into the sky?".
MATTY: 100% what Ingrid said. When she suggested "Laws of Gravity" I loved the way it tied into the band name, and the sense of dread it brings about. Like, it's a fucking law–you can try as hard as you can to ascend, but at some point, gravity is inevitably going to pull you right back down.
Slow Down Records recently released the album on cassette. How did it work out for you to work with them on the release?
INGRID: Slow Down reached out to me on Twitter. I was pretty shocked, honestly - we are a tiny band from Tokyo, and we only had some crappy demos out on Bandcamp and Spotify at that point - the album was gearing up to drop digitally. I recognized the label because in the last year or so they'd been putting out tapes of great fellow Tokyo bands so we felt comfortable working with them despite never meeting in person.
MATTY: I, being skeptical of most people, was also rather surprised when Marius offered to do the tapes for us. I knew that some other bands from Tokyo had their tapes put out through Slow Down, so I actually reached out to Anorak! to make sure everything was legit before we responded. haha. As it turned out, Slow Down was super nice, and everything worked out great! We are super appreciative!
How important is having physical media like cassettes and vinyl to the band?
YASU: I think it's very important to have an album in a physical format. Especially records. They're big. They're cool. I really like the excitement of picking up a record and putting it on the turntable and wondering what kind of sound it will make. So I want to have our albums in a physical format as much as possible.
NEKO: For me, I think of an album as a piece of work that includes the artwork and the lyrics sheet. This is the way I feel, but I think when people pick up an album, they discover something new and develop a feeling of attachment to it. I'm not good at drawing, but Ingrid drew a great piece of cover art for Laws of Gravity and I hope everyone thoroughly enjoys it.
MATTY: Super important. In fact, we wanted to release Laws of Gravity on vinyl first before anything else, but the plant has been super backed up, and we are still waiting. (Should have the records soon though. *wink) I listen to digital media when I'm commuting or wandering around the city, but I love sitting down on the couch and slapping a record on the turntable and reading the lyric sheet along with each song. It makes listening to music a far more active experience.
INGRID: As a music lover, I love supporting bands I adore by buying their merch and physical music. There's just something so satisfying about putting on a record when at home. Digital is great on-the-go… but vinyl in particular has something special about it, and cassettes give this awesome gritty lo-fi vibe to DIY bands like ours that I love.
Do you have anything else that you would like to add?
YASU: I want everyone to listen to our record. Imagining our record spinning in a stranger's room just makes me so happy. It would be a great joy if our songs reverberating in that room gradually become a part of their life and help give them a little strength as they walk with heavy footsteps on their way to work or school on a gloomy morning. Of course, I would be even happier if you could come to our shows.
NEKO: If you've read through this interview this far, I want you to listen to our album! And when we meet, I hope you say that you love WGU (even if it's a lie. lol) because I'll buy you a beer! But don't be mad if it's just one round!
INGRID: We've been making new songs and can't wait to get back into the studio!
MATTY: First, thanks for the interview! And I would like to give a big shout out to Moriwaki and Bando at Studio Torigoro, Kazu from Waterslide Records (even if he slaps me a little too much when he's drunk), Josh from Rad Girlfriend Records, Scott from Brassneck Records, and Marius from Slow Down Records for helping us to make Laws of Gravity happen, and of course to all of the bands, friends and family, and fans that have asked us to play and come to hang out at our shows!
Follow What Goes Up: