Sad Snack - Sound In The Signals Interview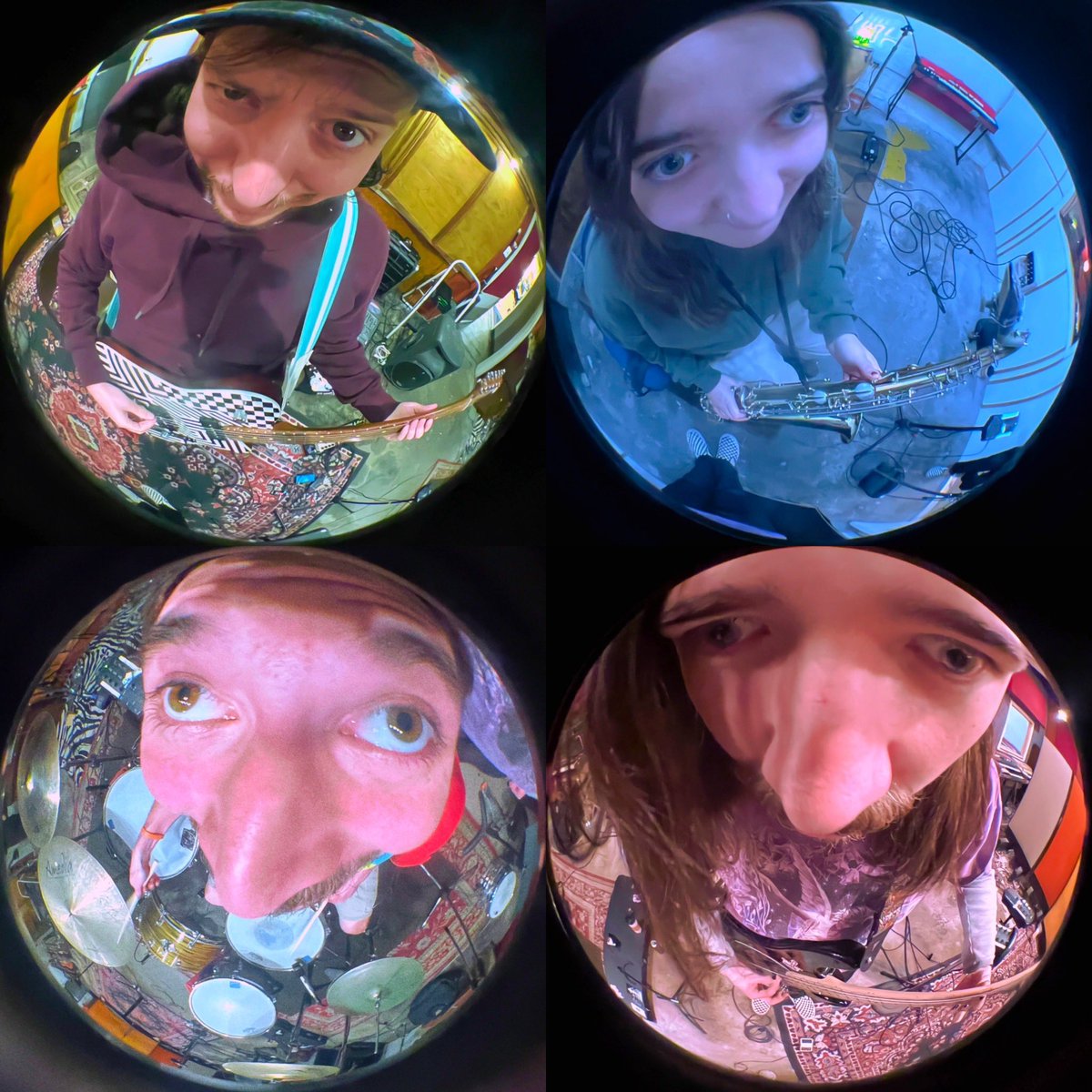 I recently had the opportunity to interview
Sad Snack
. We discussed how they formed the band, writing and recording new song "Kenny G Hotline", a favorite musical moment from the song, filming the music video, releasing cassettes via Lavasocks and Ska Punk International, plans for 2023, and more. Check it out below.
First, thanks for the interview.
Snack yeah! Our pleasure.
Can you tell me how you formed the band for those who may be unfamiliar with it? How did you initially become interested in music?
Ilan: Sad Snack emerged from a few different directions. Josh and I were former bandmates in fun, but quick to dissolve ska punk startups a decade ago. Flash forward to 2021, with Josh in the early phases of putting together a pandemic ska project in SF with a whole cast of awesome people that are out there making great art somewhere. That's when I, unaware of any of this and having moved away years ago, coincidentally called Josh from up in Portland about relocating to SF and starting a new ska project. Josh and I both have other non-ska bands, but as anyone in a ska band will tell you, being in a really good ska band is a lifelong dream.
Josh has always believed in ska despite some of its low points as a genre, plus they play sax and guitar. We were a decade older now and could actually make the kind of music we weren't able to before.
A handful of songs immediately got written, but at the core of the band's identity was the unquestionable goal to cover "No Children" by our heroes, the Mountain Goats. It's not just that ska covers are a part of the genre's identity, but that Sad Snack was a safe space for us to get emotionally deeper into our songwriting than a lot of our previous attempts at the genre. Josh really stepped up their game in consistently writing banger tracks about queer identity, overcoming denial, and the ideals of community. So singing something like No Children waved that "get deeper with the lyrics" concept like a flag for us.
Inspired by the New Tone movement and the emergence of incredible new ska bands, Josh and I tried to bring our genuine feelings of dread, identity confusion, and other big existential headaches to our music instead of just being cute.
Josh: Ilan's songwriting has always impressed me and they're a beast on drums. They're always finding fascinating ways to bring classic punk/indie rock/ska beats to songs while mixing in intricate fills, influences from everything from jazz to metal, and their intensity is unmatched. Getting their creative vision in the mix was a vital part of bringing the band together!
We recruited another friend, Noelle, as our saxophonist. Noelle and I got to know each other by playing DND together, mostly murdering bandits with magic and forcing their adventuring party into throuples counseling. She had no background in ska but when she opened up and started writing horn arrangements for the songs we brought to her, we were blown away! At one practice she sat down at a piano in our space and started singing along to something she was playing on and Josh insisted, "sorry, you're also going to sing in the band now".
Lastly, our friend Sean, who is a multi-instrumentalist and well-beloved local musician in about 4 or 5 local bands, offered to help us flesh out our songs and record the tunes to get the ball rolling. That was a year ago. Now he is involved more and more in each song's development. Sean draws influences from all over the musical spectrum and synthesizes them in a way that feels entirely natural in each song. His ability to sit in the mix during a chorus, then effortlessly break into a wild chromatic run brings a lot to our songs.
We all got into music in our own ways, but it's definitely become an integral part of our creative expression.
You recently released your new song "Kenny G Hotline". Can you tell me about writing and recording the song?
Ilan wrote the barest of bones to the song (verse/chorus/bridge chords and lyrics) one morning while stoned and thinking of the hundreds of hours spent on unemployment hold lines during the pandemic. It takes a level of cognizant dissonance to listen to the same 30-second sample of a Kenny G song on repeat for five hours a day without losing your mind. Then they made a quick phone recording, sent it to the group chat, and it's been growing as a piece ever since. There have been many jam sessions where our various saxophone playing buddies at our rehearsal studio have come in and traded solos over the vamp, all of which inspired the song as it is today.
When we went to record "Kenny G Hotline" (and the companion single, "Sunshine and Lollipops 2020") we were originally planning to get a "live" recording and then clean it up and overdub parts, then pass it along to a friend for mixing and mastering. We were writing and cleaning up parts and then trying to finish the arrangements over the phone while some of us were on vacation, it felt very rushed! That plan fell through due to the engineers at the studio we planned to use all getting exposed to covid. With a little more time on our side, and our friends at Ska Punk International and Lavasocks Records both interested in releasing songs with us, we pivoted to recording at District, a studio in San Jose where we recorded our cover of The Mountain Goats' "No Children" alongside two other unreleased songs. We ended up rearranging both songs, adding a fun bridge to "Kenny G Hotline" that really added a fun ska break and we laid down the tracks over two days at District, with Ryan Perras recording, mixing and mastering the songs.
Do you have a favorite lyrical or musical moment from the song? Why?
There is a moment at the end where everyone hits this high note on the phrase "your relief." It's like a competition to see who can make the most shrill howl that's still in key, and it makes Noelle laugh every single time. She's laughing in the recording about it too.
The video for the song is awesome. Who came up with the concept for it? What was the filming process like for it?
It started because Josh was very inspired by the "Where Did You Go" Mighty Mighty Bosstones video and the claustrophobic apartment aspect of it. Tapping into a pandemic's worth of cabin fever and economic anxiety lead us to take Josh (as the main character) out of the apartment and on a city-wide search for the unemployment office to confront an unconcerned phone operator played by Sean!
Ilan's group Fake Publishing Millionaires has been working out D.I.Y., prop gag based music videos since 2021, and Noelle and Ilan have teamed up before on the Indica in Decay videos (some of which feature Josh as a character named Ska Face).
The Kenny G video was an experiment in how high quality a video we could yield with as little tech, time, and budget as possible. We filmed everything on a single phone in a single day, with one more day's turnaround on editing. Our friends Ren and Mike, from the band Rude Machine, came out to help us, but otherwise the whole crew was the band.
We set meet up shoot times at each location, spent the day driving around to each shot, and filmed the scenes chronologically to keep the feeling of time in the video consistent.
You're releasing some cassettes with Lavasocks and Ska Punk International. How important are physical products to your band?
As a band of four artists, we have a lot of fun conceptualizing and producing stuff beyond the music to share with people who are excited about what we're doing! All four of us love drawing, and we all love how band merch can create an aesthetic around what you're making beyond just the sound. We look at the prints, tapes, stickers and shirts as a way to share more of Sad Snack with our friends and fans rather than simply "products" but making some extra cash off of our merchandise goes a long way to sustaining our ability to keep paying for our practice space, studio time, instruments, and gas to get to and from shows!
In terms of physical releases for our music, it creates a lasting legacy for the songs themselves! If the internet disappeared tomorrow, if you own a tape, a record, a cd of your favorite band, you'd still be able to listen to it and share it. Lavasocks and SPI made it immediately viable to press tapes and pay one of our friends, Raul Higuera (@raulfigtree on instagram), to create original art for the release. The community around the band and the labels is super supportive too, so in addition to the monetary advantages, it's satisfying to be in a position to create connections and grow with people who genuinely believe in what we're putting forth.
What are your plans for the remainder of 2022 and in 2023? Can we expect more new music anytime soon?
As we head towards the end of the year, we're planning a lot for the future. We have a tape release party just about ready to announce for January 2023 with some of our favorite local friends. We're also back in the studio at District recording more songs for an as-yet-unnamed full length! We're VERY excited about the direction of the writing and arrangements as we continue to push ourselves as songwriters and bandmates.
Thanks for taking the time to answer the questions. Do you have anything else that you would like to add?
New Tone!!!! Uhhh, check out our friends in Eichlers, Omnigone, Treasvre, Umb, Jer, Bad Operation, Startle, Hans Gruber and the Die Hards, Catbite, Kill Lincoln and We Are The Union!
Ilan's one-person synth schlock-opera is called Indica in Decay, and they're currently also releasing singles on Ska Punk International!
Josh's indie/punk band is called Schlub and is making new music in 2023!
Sean plays in too many bands but be sure to listen to Umb, Grooblen, and Jack Lillian!
Follow Sad Snack:
Follow Sound In The Signals: