Straight Jacket Feeling - Sound In The Signals Interview
I recently had the opportunity to interview
Straight Jacket Feeling.
We discussed writing and recording their new EP 'Be All End All', their musical inspirations, the EP's artwork, filming a video for "Heaven's Gate", how Drive-Thru Records has influenced the band, the potential for a physical release, and more. Check it out below.
First, thanks for the interview.
No problem thanks for having us!
Can you tell me how you formed the band for those who may be unfamiliar? How did you initially become interested in music?
The three of us met while we were in high school through mutual friends in our music scene here in New Jersey and we played together in a band called Batten Down The Hatches. We played together for several years, touring throughout most of our late teens/early twenties before calling it quits to focus on various life responsibilities. In the Summer of 2021 we began casually writing together again and became really excited about what was coming out so we decided to make it official by forming this new band.
We all grew up listening to a lot of different genres but early 2000's Pop-Punk, Emo, and Post-Hardcore have always been at the forefront of our influence.
You recently released your new EP 'Be All End All'. How long did you work on the EP and where did you record it at?
We began writing "Be All End All" in the Summer of 2021. We wrote around 10 songs and narrowed it down to the 3 you hear on the record. We recorded it October 2021 at Flying Carpet Studio on Long Island, NY. It was produced by our longtime friend Matt Lagattuta who produced an EP we did as Batten Down The Hatches back in 2012. We've always looked at him as a mentor and we knew he would understand the sound we were going for and he nailed it.
What were some of your musical inspirations and influences for the EP?
We drew a lot of inspiration for the EP, mostly from early to mid-2000s Emo/Post-Hardcore. The biggest being Jimmy Eat World, Story of The Year, Finch, and Box Car Racer just to name a few.
I really like "Summer Feeling". It has some great early 2000s emo/punk vibes and it reminds me of something that could have been on a Box Car Racer album. Can you tell me about writing that song both lyrically and musically?
Summer Feeling is one of those songs that came together very quickly. Structurally the song is relatively simple so we made it a point to make each part slightly different by gradually adding various layers of vocals, tambourines etc to keep listeners excited and interested throughout the whole song.
Lyrically, I wrote the song about my relationship with my girlfriend (now fiancée) but I feel like anyone can take their own meaning from it. I think the idea of Summer is just super nostalgic and the song is really about being with someone who gives you the feeling that you're currently experiencing a time in your life that you'll look back on forever no matter what season it actually is.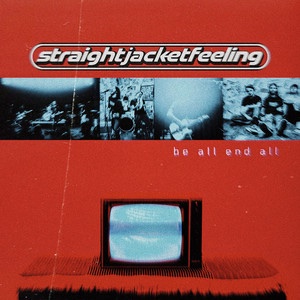 I really the artwork. It's interesting and definitely eye-catching. Who came up with the concept for it and designed it?
The artwork ultimately goes back to the theme of our music video for "Heaven's Gate" with the TV taking center stage but we knew we wanted something with a timeless vibe similar to the era that inspired the music on it, so we went with the red background and negative photostrip to give it that extra pop. It was designed by our good friend Matt Kalapuch who directed the video for "Heaven's Gate".
You released a video for "Heaven's Gate" a while ago. What was that video shoot like?
The shoot was very intense but an amazing experience. We shot the video over 3 days in Philly and Phoenixville, PA with our friend Matt Kalapuch and his production company SBCPhilly along with another video collective called MidVessel. The model was our friend Annelise who absolutely crushed it on set. The song has a very personal meaning behind it and we were lucky that everyone involved was fully invested in making our vision for it come to life.
I spotted the Drive-Thru Records shirt in the music video. How influential was the label and/or roster to your band? Do you have any favorite artists or albums from that label?
Drive Thru was super influential to us. "Say It Like You Mean It" by The Starting Line is very influential to us but obviously there were so many bands on that label that we love like Finch, Hidden In Plain View, and Midtown just to name a few.
Is there any chance that you'll release the EP on cassette or vinyl?
I can't say 100% for sure, but I would say there is a very high probability of a physical release!
Thanks for taking the time to answer the questions. Do you have anything else that you would like to add?
Thanks for having us and thanks to everyone who has checked out "Be All End All", seen us live or supported us in any way! We can't wait for you guys to see what's coming next!
Follow Straight Jacket Feeling:
Follow Sound In The Signals: