Glazed - Sound In The Signals Interview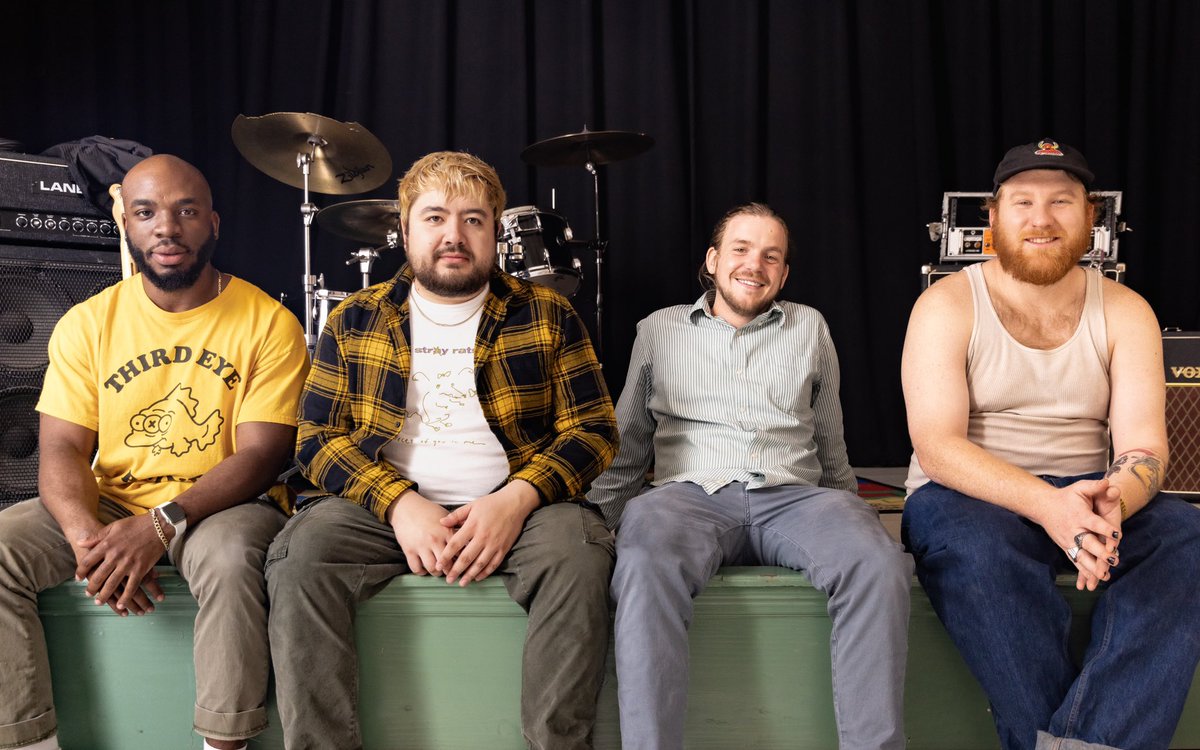 Michael Wilke
I recently had the opportunity to interview Justin Belichis of
Glazed
. We discussed the writing and recording process for new EP, 'Chillogy', favorite lyrical and musical moments, how the interlude songs provide the EP linear shape, signing with Acrobat Unstable, filming the video for "Cherry Ice", and more. Check it out below.
First, thanks for the interview.
Thank you for always showing us love 😎.
Your new EP 'Chillogy' came out May 13th. Can you tell me about the writing and recording process for the EP?
The writing process started before we released our 2020 EP '1999' and wrapped up soon after we released our 2021 singles. Fractions of the melodies lingered in my head, and I had no choice but to laser focus on writing music for something new since the pandemic shut down the possibility of touring. The intention with 'Chillogy' was to be a bit more experimental with our next thing. So, we agreed to organize it in a trilogy with somewhat of a linear timeline like we're going to put out the punk rock Lord of the Rings or something.
So we wrote three songs. At first, I wanted to release a three-song LP because I think we say everything we need to with them at this point. There's a beginning, middle and an end. But it just didn't feel right to call it our second LP, so I guess it's an EP. I feel those are just like legacy words used to describe groups of music that I feel weird about at the end of the day. Anyways, we wrote two interlude tracks to be the yellow brick roads between the three songs and got to collaborate with our old friend Skylor Leblanc. I think he's a musical genius and he wrote all the beeps and boops you hear on those.
We brought the songs to our friend Drew Portalatin who works out of Pine Studios in the Murray Hill neighborhood in our hometown Jacksonville. That's my neighborhood! Riding my bike to the studio to record vocals was my favorite part about recording. Drew is our good friend (who also plays in the sick band
Intervention
), so he gave us time to experiment with the songs in the studio. From micing up a tape player and running my guitar to sampling dozens of sounds we wanted to play with, he was patient with us for sure. So we took our time.
Something special about this release is that our song '
Holographic Trap Card
' features Anna Lester from the band
Bobby Kid
. That band rocks. I wrote her verse like a screenplay writer writes a part for a specific actor, so we're lucky she agreed to it.
We hired Jon Markson to master the record because he worked on that new Drug Church record and it fucking slaps.
Do you have a favorite lyrical or musical moment from the EP?
My favorite musical moment from the EP is the second verse of our song 'Holographic Trap Card,' which Anna sings on like I mentioned in the answer above. Musically, we created it to fit the vibe of a school dance or something. So there are elements of Cyndi Lauper's 'Time After Time' and Hellogoodbye's 'Here (In Your Arms)' we're inspired by, with a hint of Enrique Iglesias and 'Take This To Your Grave'-era Fall Out Boy. Idk, just listen to it, close your eyes and maybe you'll know what I'm talking about.
Lyrically, I like the line "If you didn't know, you better ask someone," in our song '
Still Glazed
'. Thought I wrote the lyric, our drummer Liam actually coined the phrase and has our entire friend group saying it when a conversation calls for it.
I really like the way the vocals turned out on the EP. The way you approached them along with the production and mixing sound great. How long did you spend on vocals?
I think we recorded the vocals in like five or six sessions. I'm often self conscious about hearing my recorded voice, but Drew has a way of working that studio magic, which coats my ego in a thick mithril armor only he can craft.
The flow and sequencing transitions for the EP are really well done as well. How important was the sequencing for this release?
The interlude tracks I think give the release its linear shape. Like I mentioned already, I think of them as the yellow brick roads that unite the trilogy of songs for the listener. They are important, too, because it gave us a chance to add electronic noise to our sound. Some of my favorite bands include Motion City Soundtrack and The Get Up Kids, so I've always wanted to have synth vibes on a Glazed song.
You signed with Acrobat Unstable for the release. What made you want to sign with them and what has the experience been like so far?
I'm a fan of the music Acrobat Unstable has released, and Marty who helps run it is an old friend through the DIY touring scene. I think they have a nice roster of artists and aren't in it to get rich or anything. They want to help artists grow because its run by artists, and they want to grow beside their artists, too.
You released a video for "Cherry Ice" which is great. Who came up with the concept for it and what was the video shoot like?
In some way, shape, or form, the movie 'School of Rock' influenced every member of our band to be a musician. So, we wanted to write something as a nod of appreciation to it. Glazed is extremely hands on in the creative concepts of our music videos, and the original idea was to have us be students who were robots that learned to become a principal's emo pop punk dream band. But we hired our friends Jaron Wallace and Nick Lorini to produce and direct the thing. After it went through their process, the roles switched. Nick and Jaron run a nice production, and I felt like rock star on set because all I did was snack at the crafts table while the crews labored to make the visuals look great.
It was cool having our family members star in the video, too. My parents were blown away seeing all the lighting and the crew. "How much did all this cost??" my mom kept asking haha.
The actor who played the principal Tom Siedle is the best part of the video in my opinion. It was like 8 a.m., we were all kind of cranky shooting the detention shot, and then he hit us with the beginning monologue perfectly. We had no idea he prepared that and it set the tone for the video.
What was your favorite scene to shoot?
Watching Liam splash Tom with water in the orange VW bus was so cool to watch. It was the last scene we shot after a 12-hour day, which meant everybody on set ended with a laugh.
Is there any chance that we'll see a vinyl pressing for the EP?
There are no plans at this point. Acrobat Unstable is putting out a couple exclusive merch items and tapes to start us out. But I bet if enough people who want it on wax tweet or DM them, they will. I'd love to put it out, and I think it would fit perfectly on a 7".
Thanks for taking the time to answer the questions. Do you have anything else that you would like to add?
Recognize your privilege, listen to others, change the world, listen to Chillogy.
Follow Glazed:
Follow Sound In The Signals: