A Will Away - Sound In The Signals Interview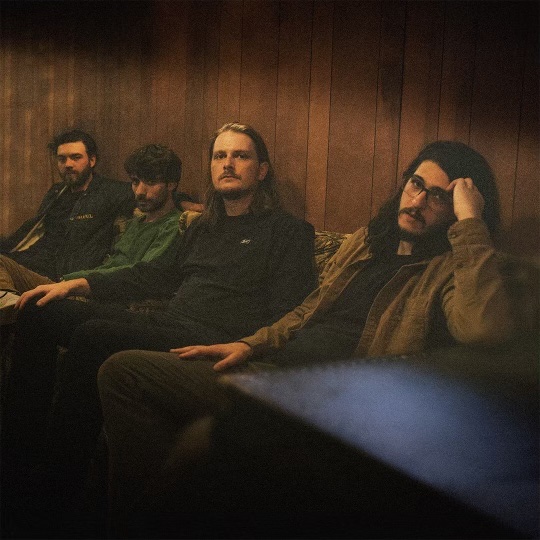 I recently had the opportunity to interview Matt of A Will Away. We discussed the writing and recording process for upcoming album, 'Stew', how the band members have changed as individuals and musicians since the release of their latest album, 'Here Again', working with RUDE records, how "Karma" is the song that allowed them "
to finally execute the type of uncompromising rock song"
that inspired him to write music as a kid, filming the video for new song, "I've Got A Five" and the context behind the song, creating the artwork for 'Stew', and more. Check it out below.
First, thanks for the interview.
Thank YOU for having me! It's always a treat to talk more extensively about our work.
Your new album 'Stew' comes out February 18th. Can you tell me about writing and recording the album?
For us, "Stew" has been a long time coming. Two or three of the songs that wound up making the cut for the record were songs that we'd had in the works for years, waiting for the correct moment to produce and release them. The remainder of them were written during the early months of the COVID pandemic.
The process was certainly fairly similar to the process of writing and producing our other more recent releases. I (Matt) typically spend time at the beginning of the writing process hashing out the skeletons of songs, which I then bring to the band, at which point we play the songs in the room together and decide fairly quickly whether or not we feel there's enough quality there to continue pursuing them as completed works.
Over time, each member dials in their individual parts. Once it "feels" satisfying to play the songs live together we typically move into a pre-production and production phase to get them together for a release.
We have the benefit of owning our own studio (where we produce the music), so we get to really take our time making sure we truly love the songs, without the pressure of wasting studio time or being on a tight deadline. It leads to a lot of positive experimentation, which we find extremely beneficial for the end products.
There's been a few years between the release of 'Here Again' and 'Stew'. What were you doing in between those albums and what types of things have changed and stayed the same within the band and with your writing style?
A tremendous amount has changed for us since the production of "Here Again". Primarily, I think that it's safe to say that we've changed in many ways as both individual human beings and as musicians.
"Here Again" very much marked the end of our adolescence, and in both positive and negative ways taught us a lot about who we aim to be and what we aim to represent as a band.
The long touring and release cycles for that LP truly changed us and challenged our notions of what it means to work professionally in the music industry.
As a band that's been active and touring for nearly 11 years now, we came up into an industry that was massively adjusting to societal changes, like the advent of social media as a marketing vessel, and the near-wholesale removal of rock music from radio. Despite the fact that we consider ourselves to be flexible and light on our feet; the ever-changing nature of needing to adjust how we balance our ambitions with the reality of what it means to be a band in modern times has always been difficult for us to navigate, and has really changed the way we see ourselves and where we fit in.
We spent the time in between "Here Again" and "Stew" responding to those changes in earnest. Focusing our time and energy on building a recording studio and arts facility, navigating the unique new challenges that came with that, and using our 2019 EP "Soup" to test the waters on what we feel is a far more authentic and sincere representation of what AWA is at its core than what we've ever been able to achieve in the past.
So in short, we created the resources that we would need to empower a more sincere creative endeavor and aligned ourselves with team members who understood what we wanted and could help us see it through.
For this new album you've also moved from Triple Crown to RUDE Records. What prompted the move and how has the experience on Rude Records been so far?
To put it simply -- our time with Triple Crown had naturally come to an end on very positive terms after many years of working together. Knowing that we were looking to make some internal changes to the way we operate, it was only natural to seek out the aid of different record labels in that process and RUDE crossed paths with us at an opportune moment.
After talking at length about our creative and career goals, and realizing over time that their goals were quite in line with our own -- we inked a deal, and have been full-steam with them ever since. Thus far, the experience has been similar to our dealings with other labels in many ways and different in others.
It's been apparent to us from the jump that the RUDE team cares very deeply about the people they work with. We find having that foundation to any working relationship is very important.
What's your favorite lyrical or musical moment from 'Stew'?
The answer to this question is pretty tough to pin down for me personally. There are lines and moments from just about every one of these songs that I'm extremely proud of and I know that the other guys in the band would say the same thing.
If I absolutely had to pick one -- I think that the song "Karma" as a whole is the musical moment on the record that resonates the most with me personally. From the lyrics, to the instrumentals, to the production -- that one really allowed us to finally execute the type of uncompromising rock song that inspired me to begin writing music as a little kid.
To me, "Rock and Roll" as a creative embodiment of the inherently flawed human spirit is closer to a religion than it is to a passion, and I think that "Karma" is the closest we've ever been to expressing that as effectively as I'd like.
You recently released your new video for "I've Got A Five". Can you tell me about the video shoot? Do you have a favorite moment from it?
The video for "IGA5" was NOT what we originally expected to be shooting, but we're extremely happy with the way it turned out. For this one we knew that we'd be getting to work with the incredible Brent Campanelli, Quinton Brogan and Pierce Pyrzenski once again for the production of the video and the original concept that they brought to the table for the song was very different from what we ended up shooting.
Unfortunately, COVID-19 had other plans for us this time around and we eventually landed on shooting a video that could be more safely produced than the original concept; which is the video everyone can see now.
It's impossible to express the degree to which we trust their creative visions as an extension of our music, and their execution and handling of such a simple yet elegant concept for "IGA5" is a testament all its own to why we feel so secure with the quality of their work.
Tell us more about writing that song specifically. Why did you decide to pick the song as a single?
"IGA5" was probably the song that I wrote the framework for first after arriving home from our last tour with Microwave, Bad Luck, and Weakened Friends -- which was unfortunately cut short because of the impending pandemic.
As individuals, the band and the members of our crew were dealing with a lot of what I can only describe as small and petty disagreements stemming from having dealt with the amount of stress, hard work, and disappointed feelings that come with acknowledging that you're waging an uphill battle together.
Under any normal circumstance, spending enough time around other personalities and giving enough of yourself over to other people can naturally create some degree of conflict. Eventually, any disagreement eventually has the potential to devolve into all parties attempting to "win" some unspoken wager rather than attempting to resolve the root of the conflict.
The song talks about those feelings in a candid way and tries to discuss how, regardless of what we're willing to say or present to others in those moments, there are a great number of other mixed emotions that come into play as well.
We chose the song as a single because it both stands very strongly on its own as a whole piece, and showcases a side of the band that we feel is very important to understanding the depth of our creative work. It's very catchy, technically more complex than most singles, and challenges the very idea of what a single can or should be. We feel that the overwhelmingly positive response the song is garnering is evidence that choosing it was the right decision.
I really like the artwork for 'Stew'. It incorporates some elements from 'Here Again'. Who came up with the concept and designed the artwork? What's some of the meaning behind it?
The artwork for "Stew" is a collaborative effort between myself and the extremely talented illustrator Allie Daigle (who also happens to be my wonderfully loving and supportive partner). We both work professionally as graphic artists and often get the opportunity to work together on collaborative pieces -- but the artwork for this LP certainly stands out as one of our favorites.
It incorporates concepts and design elements from every one of our releases since our 2015 EP "Bliss" and strives to encapsulate the narrative throughline that exists across the entirety of those releases. In that sense it's also meant to illustrate the primary message of "Stew":
"...that the sum of all human interactions and experiences, no matter how trivial, often prove pivotal and interwoven once given enough time to marinate together."
The piece is a multimedia collage which riffs off of classic Norman Rockwell paintings and incorporates hand-illustration, digital painting, vector processing, photo manipulation, and a multitude of other physical and digital design techniques which come together to create what we believe is a deep and satisfying work all its own.
Thanks for taking the time to answer the questions. Do you have anything else that you would like to add?
Thanks so much for asking them!
I suppose the only other thing to add is that we're extremely excited for everyone to hear "Stew" in its entirety (We're SO excited for everyone to hear it on vinyl especially -- so go snag one before it's gone), and we're incredibly grateful to everyone on our team who has helped make this release a reality.
Throughout the most challenging time that we've ever faced, as both musicians and people, we've been consistently surrounded by passionate, loving, and talented individuals who have helped us to make something that we're very proud of. We just hope everyone else enjoys it as much as we do!
Follow A Will Away:
Follow Sound In The Signals: