Colt Sterk - Sound In The Signals Interview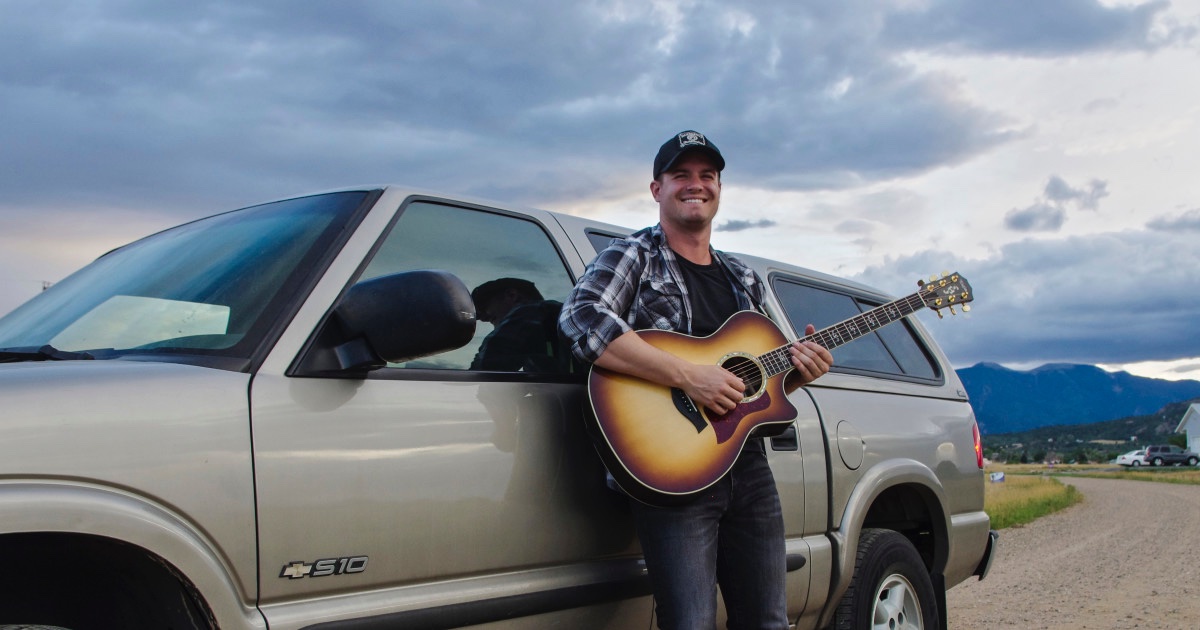 I recently had the opportunity to interview
Colt Sterk
. We discussed his inspiration for music and for service, his song "Grandpa's Truck", recording and producing his upcoming EP, and more. Check it out below.
First, thanks for the interview.
Of course! Thank you for taking the time!
Can you tell us a bit about how you initially became interested in listening to and pursuing music yourself and about some of your biggest influences?
I always liked music from a young age. I took piano lessons for 7 years as a child, but it was when my Grandpa Rick put my first guitar in my hand at the age of 13 that I fell head over heels for music. He taught me my first few chords and bought me my first guitar and since then I haven't been able to put it down. My mother is also a phenomenal singer and helped me hone my voice over the years. I'd say those two have been my biggest inspiration for playing and writing music.
You're a graduate from the US Military Academy at West Point and a US Army Blackhawk pilot. Your grandfathers have a military background and one was a folk singer/songwriter. Were you inspired to choose these paths by watching them?
My inspiration for service came from a deep appreciation of the sacrifices of those who have served before me, which includes but is absolutely not limited to both my Grandpas. I felt a personal obligation to volunteer to do the same because I love this country and am so blessed to call myself an American. Listening to Grandpa Rick play as a kid and the stories he would tell from his time playing near his duty stations absolutely fueled my desire to do the same.
You recently released your song "Grandpa's Truck", which was inspired by visiting your grandfather. Can you tell me a little about the writing and recording process for the song?
I wrote "Grandpa's Truck" in 2015 when I was a junior in college and on a semester exchange to the US Air Force Academy in Colorado Springs. My Grandpa Jim lived in Pueblo at the time and lent me his old tan Chevy S-10 for the semester so I could visit him and Grandma as much as possible. I wrote this song about the adventures I went on all over Colorado for the short time I had it. Grandpa Jim passed away last May, so it's made this song so much more meaningful to me, because even with his passing, I will always have this song to bring me back to some of my best memories. In terms of recording, my childhood best friend, Rocco Santucci, and his brothers recently became professional producers and started their own production company, Sant Invictus Records. In middle and high school, Rocco and I used to record music out of a tiny closet for fun. We wanted to revisit those amazing experiences, and we recorded this single together as well as the rest of the EP.
You are releasing an EP this year. What can you tell me about it and what can fans expect?
The EP is self-titled and will include five total tracks, including an extended version of "Grandpa's Truck". I wrote the extension after Grandpa Jim died, and it speaks on the preciousness of life and not taking the little things for granted. The rest of the EP digs into personal stories about finding and sometimes losing love. All of the songs have a country background, but I wanted to stray away from traditional pop country. The EP blends elements of country, folk, pop and rock into an alternative, unique sound that I'm continuing to develop. I didn't want to give listeners and fans "just another new country song". Instead I hope the EP is something that stands out from what they traditionally hear on the radio but still has roots in the music they love.
You produced and recorded your debut single and EP independent of a label. What was this experience like for you?
This process has been nothing short of incredible. Being able to work with my closest childhood friends on something we share a passion for is an amazing thing. The trust we have in each other has allowed us to fully invest in the entire process. They feel just as strongly about this EP as I do, and they have worked so hard to go above and beyond what I would have ever dreamed possible. They believe in me and without question have fully supported everything I was trying to convey with my music.
Do you have a particular song from the EP that you're excited for people to hear?
I am excited for people to hear them all, but if I had to pick one, I would say "In Your Eyes". It talks about meeting a girl, being stunned by her beauty and personality and seeing her on the arm of another man. But the look she gives you makes you wonder if she'd rather be on your arm instead. The song continues to talk about the very beginning of a new and exciting love interest and finding out she's not as spoken for as it seemed. It's such a fun, good mood song, and will make people want to dance and sing along.
Thanks for taking the time to answer the questions. Do you have anything else that you would like to add?
I'm so thankful for the interview and your time! I'm brand new to this and am so excited for the single and the upcoming EP, but even more excited to continue to make music and grow as an artist.
Follow Colt Sterk:
Follow Sound In The Signals: