Stolen Wheelchairs - Sound In The Signals Interview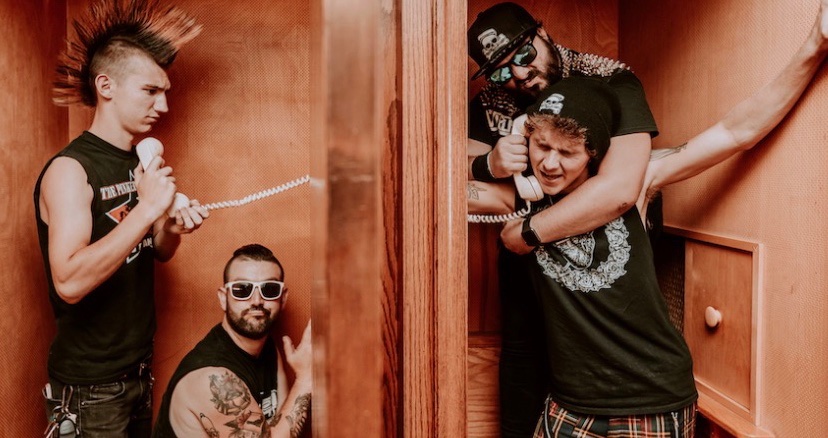 I recently had the opportunity to interview Stolen Wheelchairs. We discussed the band's origins, new album, 'The America', the importance of vinyl, their new music video and more. Check it out below.
First, thanks for the interview.
Hey! Thank you for having us.
Can you tell how you got together and formed the band for anyone who may be unfamiliar? How did you initially get interested in music?
Initially, this project started with a 7" called out of steps. I was 15 and having trouble finding bandmates so I ended up recording and playing everything on the record myself. Through that, I was able to find the right people and put together the little family of a lineup we have currently. I have been in love with music ever since I can remember. My parents have been playing everything from Nirvana to Sam Cooke since I was born. But the main catalyst that made me want to join a band and do my own thing was my dad (our guitarist). Through playing in bands like The Boils and Far From Finished, I was able to see him play live when I was really young and knew I wanted to do this for the rest of my life.
You just released your new album 'The America'. Can you tell me about writing and recording the album? How long did you work on it?
So initially it started as demos right around the time out of steps came out on vinyl. I typically record a full band demo myself, make it the best I can alone, then give it to the guys and let them Frankenstein it a bit. It creates a really coherent yet unique dynamic I think. I have been planning this record for about a year and a half since the first demo and we recorded in January. We recorded the whole thing DIY since our bass player Lou and I are both Audio Engineers by trade. Then sent the whole thing to get mixed by Benny Grotto at Mad Oak Studios. We had a small budget so I took some risks that ended up paying off. I think my favorite little fact from recording we haven't told anyone is that our drummer Milo recorded his tracks in 6 hours all full takes. Made my job recording a lot easier haha.
'The America' is an interesting title. Why did you choose it for the album title and what is the meaning behind it?
I initially got the idea from a Henry Rollins interview I saw a few years back. He's describing what his life may have been like if he wasn't constantly working, moving forward, or if he had not joined Black Flag. He says that he may have still been working fast food or would have gotten somebody pregnant, etc. "The America would have happened to me." He says. So I took it as a sort of survivalist view, that if you aren't super lucky, hard-working, and efficient, The America will happen to you. It's sort of an elusive state of being broken down by our society, especially our country. There's a line in the bridge of our third song "The America" that I think encapsulates this very well. "Don't look behind; it's trailing you with every step you take. It only takes one mistake."
You released a vinyl pressing for the new album. How important is it for your band to have your music available on vinyl? How involved are you in creating the design and details of the pressing?
Apart from the music, it is one of THE most important parts. Vinyl especially is such an imersive experience. You get to see the detail put into some of the best records or album covers. Think Green Day's Dookie or Schleprock's America's Dirty Little Secret. I wanted to create a sort of world between the songs and album art. It's why we used the same Artist (Blair Webb) to do the front and back covers to tie everything together. It took so many hours trying to get it just right. There were so many people that helped this thing come to life.
You shared a video for 'Already A Ghost'. Can you tell me about shooting the video? Who came up with the concept for it?
What's cool about this is we shot the video in an abandoned church that had a 2-day window where the basement was being demoed and the foundation was exposed. Our original videographer actually got sick the day before and Eduardo Ruiz came on board with a day's notice to shoot and edit. Eduardo and I sort of worked together on what we thought it should look like. We were originally going to shoot footage in the main section of the church but didn't think it would be coherent with the rest of the video or really fit the theme of the record.
Thanks for taking the time to answer the questions. Do you have anything else that you would like to add?
Thank you! The record is available on GetPunk.com on colored vinyl and CD and we're almost out of it so get it quick before someone tries to sell it to you for 40 euro. The Already A Ghost music video is up on the Hard Core World Wide (HCWW) YouTube page. Hope whoever made it this far enjoyed themselves. Cheers, and stay safe guys!
Follow Stolen Wheelchairs:
Follow Sound In The Signals: