Story Of The Year - Sound In The Signals Interview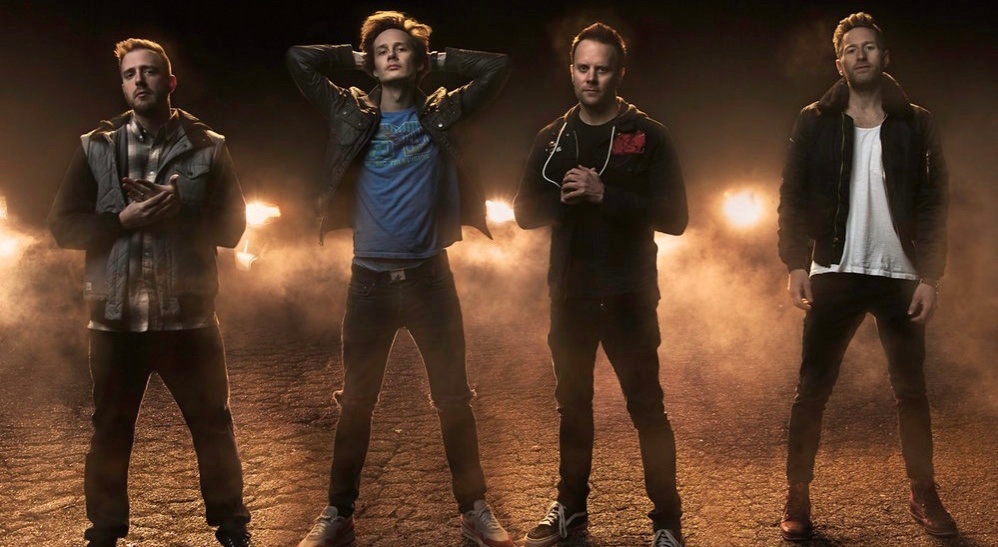 I recently had the opportunity to interview Ryan from
Story Of The Year
. We discussed the band's upcoming livestream concert series and limited merch bundles, discovering how to focus on the things that you can do during the pandemic, writing and recording their classic albums, what's next for the band, and more. Check it out below.
You recently announced your upcoming livestream concert series, Ghost Signal. You'll be performing one album in full each night – 'In the Wake of Determination' on October 16th, 'The Black Swan' on October 29th, and 'Page Avenue' on November 7th. Tell us a bit about why you decided to do this and what the process has been like getting ready for it.
As trite as it might sound, we are determined to find the silver lining in the shit show that is 2020. Right before Covid hit, we were poised to make 2020 our year: New album in the works, we just signed to an incredible new management team, we had some awesome shows booked and were for the first time in a long time discussing doing full tours…..and then BAM! Like so many people our world was turned upside down. Everything canceled. So, we decided that instead of letting it defeat us, we focused on the things we CAN do: we started a band podcast, a patreon, we're fully writing a new album, and finally, these series of livestreams. It's actually been super fun going back and re-visiting these albums. Other than recording them, we've never actually played half of these songs, and might not again, so Ghost Signal might be a once in a lifetime opportunity to hear these records played in their entirety.
You have exclusive merch bundles with commemorative and limited edition merch that is designed around each show. How involved was the band in choosing and designing the merch?
We've always been really self-sufficient. I typically do most of our design work, but with new management came a new merch situation, so this merch line was all done by a really cool, professional design team. They gave us a ton of different designs that aligned with the "Ghost Signal" branding and the band picked the ones that we liked. They crushed the designs- it's some of the best merch we've ever had.
When describing the event, you've said "we spared no expense in building an elaborate 'bunker' full of state of the art lights and production, including a 40-foot video wall. It's over the top awesome, and honestly cooler than anything we've done live!" That sounds really cool. Can you tell us a bit more about the setup and what fans can expect?
We figured that if we were going to do a live stream, we were going to make it special, even if it costs us a bunch of money. We weren't interested in pointing a couple of go pros at a sad empty stage and asking people to pay to essentially watch us have band practice. We wanted to build a really cool production out of it, give people something rad to watch. Give them a REAL show, where we rock out and actually talk to them between songs.
Our "bunker" is an awesome soundstage with literally hundreds of thousands of dollars of lighting / sound equipment, including a massive video wall behind us that will play these really over-the-top awesome videos specifically built and edited to our set lists. So yeah, there are a lot of people essentially trapped at home, they miss concerts as much as we do, so again, we figured if we were going to do this, we wanted to give people a really cool experience.
John Feldmann produced 'Page Avenue' and returned to working with the band for 'The Black Swan'. Can you tell us a bit about working with him, what you think he brings to the process, and/or any interesting or memorable stories from recording?
Working with Feldmann was one of the single most important & best decisions we've made in our nearly 2 decades of being a band. He just has this uncanny ability to identify the best aspects of your band and really hone in on that and sort discard the rest. I also think his super-power is his ability to turn a "so-so" song into something great and super listen-able- He'll rip a song apart and rebuild it in a way that makes it hugely appealing. Feldmann really taught me how to get over my ego and instead channel my guitar playing into what makes the song the best piece of art, as opposed to just trying to make the guitars flashy or whatever. It's all about serving the song, and you would be surprised by how much I didn't approach music that way until working with Feldmann. I would love to make this new album with him!
Can you tell us about any fun or memorable moments from writing or recording 'In the Wake of Determination'?
Writing "In the Wake" was very, very different from writing Page Avenue. As the old adage goes, you have your whole life to write your first album, and 2 months to write your second. That was our experience, for sure, but we had a vision for a heavier, more stripped down album, and we ran everything through that filter. It was fun. The thing I remember most was just being sooooo stoked to be writing a heavier record that I would stay up all night recording demos for the album, and the rest of the dudes would show up for band practice at my house literally 2 hours after I went to bed. It went like that for months: I would write riffs and songs until the sun came up, and then a couple of hours later we would be playing them at rehearsals. I probably knocked a couple of years off my life by not sleeping, but I was just so stoked.
The band has recently announced a Patreon and the new podcast, Page Avenue Crew. You share details about the upcoming livestream, stories from the road, and more. Why did you decide to create a podcast and what's it like recording them?
Again, it was about taking agency over what we had control over during a global shutdown. The podcast is something we could do while the world was on pause, so we took the bull by the horns and made it happen. It turned out to be one of the best things we've ever done. We instantly fell into a rhythm- our chemistry just works wonderful in that medium. And holy shit it's FUN.
What plans do you have for the remainder of the year? Has the band been planning or discussing any new music?
Get through these livestreams and all that entails, (tons of rehearsals, building production, etc), and then it's whatever writing we have left for the new album, and then recording it. In the meantime, we'll keep doing the podcast, growing the Patreon, and doing whatever we can to stay pro-active. This pandemic has really opened our eyes as to how much we actually do have control of, and to me, that's a super bright light in these often dark times we're all living in.
Thanks for taking the time to answer the questions. Is there anything else you would like to add?
You can follow me on Instagram, it's the social media I do! @IamRyanPhillips.
Follow Story Of The Year:
Follow Sound In The Signals: