Early Work - Sound In The Signals Interview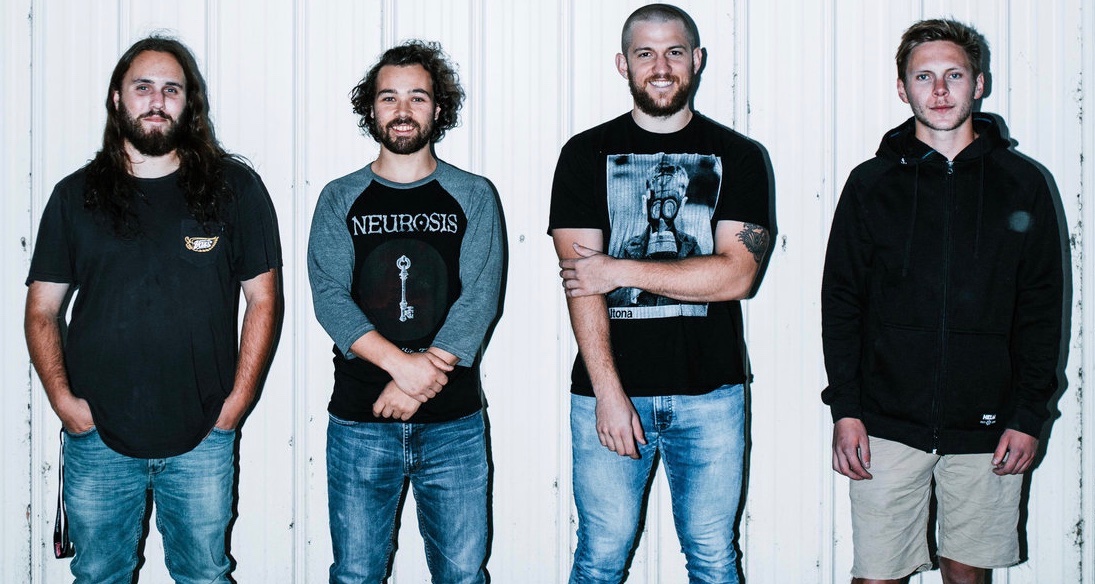 I recently had the opportunity to interview Easton of Early Work. We discussed the band's new EP, playlist placement, and more. Check it out below.
First, thanks for the interview.
Thanks for reaching out! You guys rock.
Your new EP 'Alpha' came out recently. Can you tell me about the writing and recording process for the EP? How long did you work on it?
That's all over the map - so "Drink" is already about 2½ years old since we first wrote it, "Alive Enough" and "Fat Boy" are well over a year old, whereas "Let You Down" is a bit younger, maybe pushing a year now. We started pre-production in February 2020, and started tracking in the studio in late March. About a week in, COVID concerns shut us down for a couple weeks, which was really disheartening. It also meant we practiced less often throughout recording when we did start back up, so everything was a bit more of a grind for us and especially for Jordan (producer), who was extremely patient with us. The tracking was done in May, mixes were in our inboxes in June, and we spent the Summer trying to pre-promote it to record labels and the like.
We didn't get a million-dollar record deal this time around (lol) but we could not really be any more pleased with the reception of the EP and the media coverage we're experiencing in Zines. The coolest part is just getting unsolicited messages, comments, and posts/shares from random people all over the world about the new songs, when it resonates with those individual pairs of ears. The entire process was a patient labour of love. It took us a lot longer than we expected but the experience was almost always enjoyable and taught us a gnarly amount about what goes into making a record sparkle.
Your song "Drink" has been getting a good buzz and has been featured in some prominent playlists. Can you tell me about writing that song specifically? Did you know you had something special when it was finished?
Honestly, "Drink" is probably our least favourite of the four songs. We put it out first because it naturally ended up being the most straight-forward, poppy song. I guess you could call it an "earworm". It has by far the most chorus reps, and is the most readily accessible to people who may not get into us when hearing some of the more technical songs. And don't get me wrong, we still absolutely love all four songs. It was hard to pick a single and we are still having a hard time picking our favourite. We settled on "Drink" because it's objectively the least complex and most easy-listening, but this doesn't mean we don't blast it in our own vehicles, Kanye-style.
What does being featured on notable playlists mean for your band?
So far, it has brought us a lot more plays - both directly (on the playlists), and peripherally (through people sharing the songs) - than we ever expected, especially for our first full-production release. It has been a huge bragging right, but we realize luck probably has something to do with us getting featured on Spotify's Editorials. For me (Easton), it has brought me more genuine joy/happiness than any other online venture. Given that we can't play full-volume shows for a while, it has been a major factor in sustaining our drive to keep grinding at our next batch of songs and hopefully continue the momentum.
What's your favorite song of the EP and why?
I think the collective favourite is "Alive Enough". It is the most emotive song, and the most progressive - that is, it's not just verse and chorus. Every line is a refresh, and it all builds up to the huge ending. The song ended up sounding way bigger (extra thicc) than we envisioned it, and it also has the most nuanced and complex parts. So it's basically a showcase of us nerding out musically. "Let You Down" has become our second favourite collectively. This track is the most emo/pop-punk of the four. It also has the smallest arrangement, so it contrasts "Alive Enough".
It was probably the least developed song going into the recording process, but the studio magic led to it becoming arguably the best mix of the four. It is also distinct for us in that most of the song has only one guitar part, and Easton goes frontman-mode on the mic when playing it live. Importantly, the mix hits super hard and is generally badass and energizing. These songs turned out perfect. "Fat Boy" also has some very hard-hitting parts, but these other two songs surprised us more throughout the process.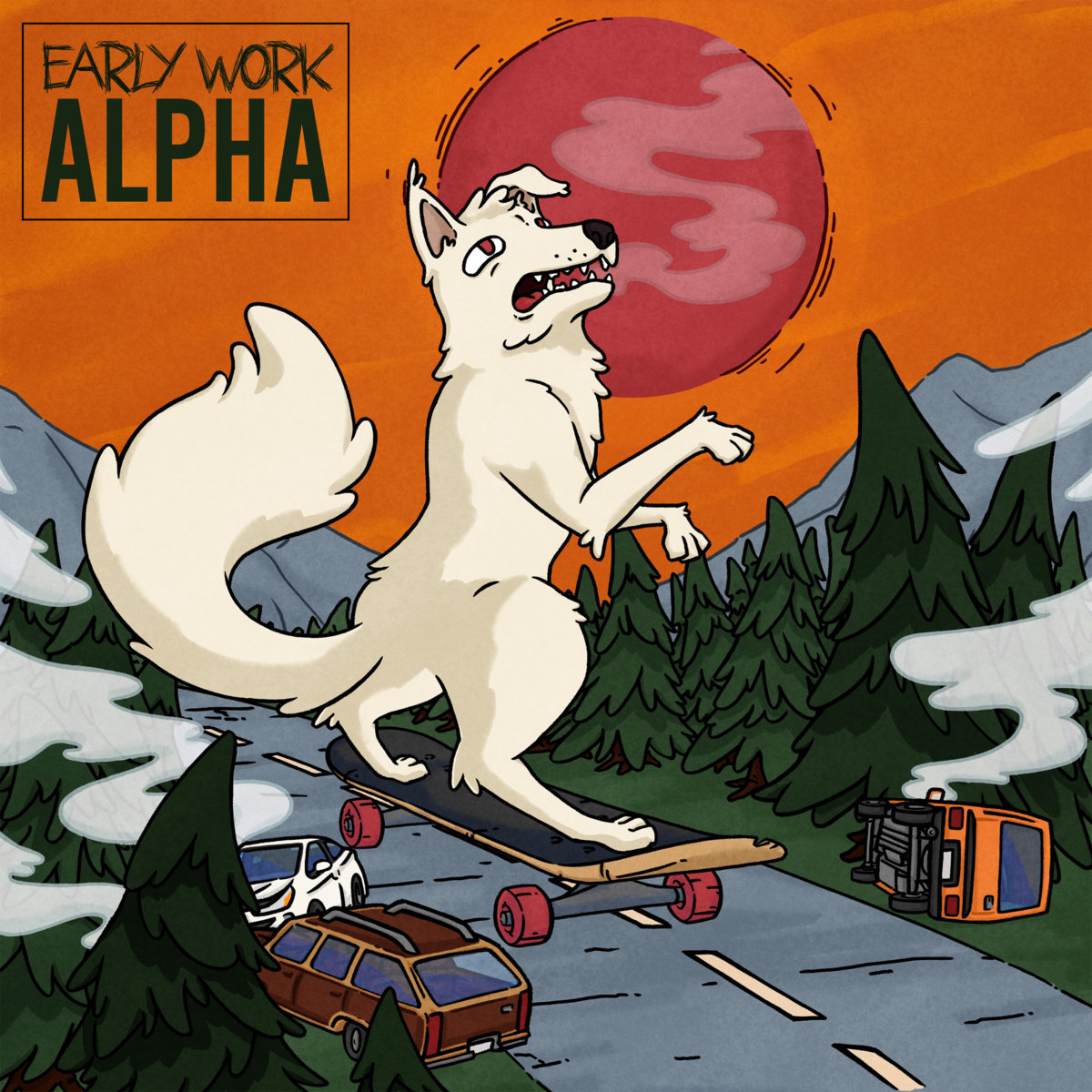 The artwork for 'Alpha' is interesting. What is the meaning behind it? Who designed it and came up with concept for it?
Initially, the idea itself came from when Easton was messing around on photoshop and put a silhouette of a puppy on a cartoon skateboard, years ago. From there, our friend and professional animator Quinn Bissett ran with the idea and absolutely killed it. The Godzilla-like destruction and setting of the artwork were all his idea. Quinn oozes natural artistry. There isn't too much meaning behind it. It harkens back to the original skateboard puppy design. Basically, we like dogs, skateboard culture, cars, trees, mountains, and sunsets - who doesn't? Speaking for myself at least (Easton), looking at the art just makes me feel good, and I hope other people experience this when listening and looking.
Thanks for taking the time to answer the questions. Do you have anything else that you would like to add?
Stay tuned for (acoustic and/or live-streamed) show announcements! DM us for t-shirts and stickers and follow us on Spotify/IG/FB/YT because you will not want to be sleepin' on our next release. Thanks for reading!
Follow Early Work:
Follow Sound In The Signals: