Octopus Montage - Sound In The Signals Interview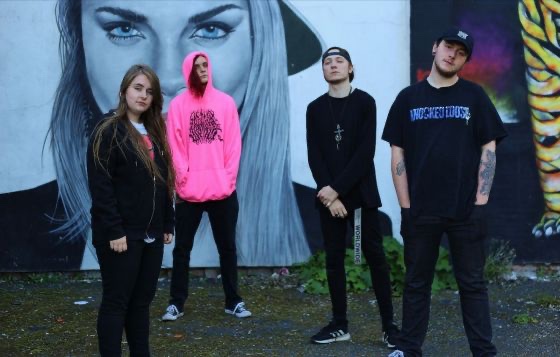 I recently had the opportunity to interview Alex of Octopus Montage. We discussed the band's origins and name, their new single "Grow Up", and more. Check it out below.
First, thanks for the interview.
We're delighted to hear what you've got for us!
Can you tell us how the band got together for those who may be unfamiliar? What initially got you interested in music?
The band started about 4/5 years ago with Dec and Davina being the only two remaining founding members. It was a typical sort of college thing as far as I can gather, i.e. a bunch of mates just playing covers in a garage before eventually playing a few gigs around the local area. I joined about 18 months ago after the recording for the debut Ep '
Reborn (Again...)
had been finished. This was the third time that record had been re-recorded and released because the band thought that the quality of each release really wasn't up to scratch (and let me tell you after hearing the previous versions, they were right!) A few months after I joined there was another lineup change as we departed with our old drummer and welcomed Cain to the OM family and that's when we really started cementing our sound into what you hear now and delving deeper in the heavier side being super heavy and the softer side being super soft.
Your band name is really interesting. How did you come up with Octopus Montage?
Honestly, there's no interesting story behind as much as I wish there was! Dec simply wrote a bunch of random words down on an old notepad and, for some reason, Octopus Montage stuck.
Your new single "Grow Up" just came out. Can you tell me about the writing and recording process for the song?
It was a long process dude! I'm not fully sure how much I can say but we didn't just record 'Grow Up' if you catch my drift and we kept discovering new ways to improve the final recording which meant we would record, re-record and re-record every single layer. For some reason I thought it would be a great idea to buy a brand new mic as soon as I'd finished all my vocal parts, which meant in the end I ended up recording about 6 versions of all my parts. It was super tiring but I think it was worth it!
It has been getting featured on a lot of Spotify playlists. How important are placements like those for your band?
I'm still shook by the response on
Spotify
. It's my role within the band to sort out a majority of the Spotify stuff which means that over the course of the past year I've done a whole lotta research (probably more revision than I did for my exams a few years ago!) It's all about learning the algorithm with the two key areas being to really push pre-saves and to submit to editorial/big playlists. Without the playlist features that we have had, the single would have been nowhere near as much of a success as has been and we're so grateful.
It looks like you had a lot of fun making the music video for "Grow Up". What was that experience like?
It was a weird one! We originally all filmed with a green screen in seperate locations due to the Coronavirus but it really wasn't working in the edit so, once everything had somewhat calmed down, we re-did the shoot in the same room. It was a strange experience, especially having barely had any social interaction for about 6 months, but I think it worked really well and it was nice to see us all together and having a good time.
Thanks for taking the time to answer the questions. Do you have anything else that you would like to add?
Thanks for having us on! If anyone wants to check us out, all our useful links are below and would love it if you could add our new single 'Grow Up' to your playlist!
Follow Octopus Montage:
Instagram
Facebook
Follow Sound In The Signals:
Instagram
Twitter