Few Left Standing - Sound In The Signals Interview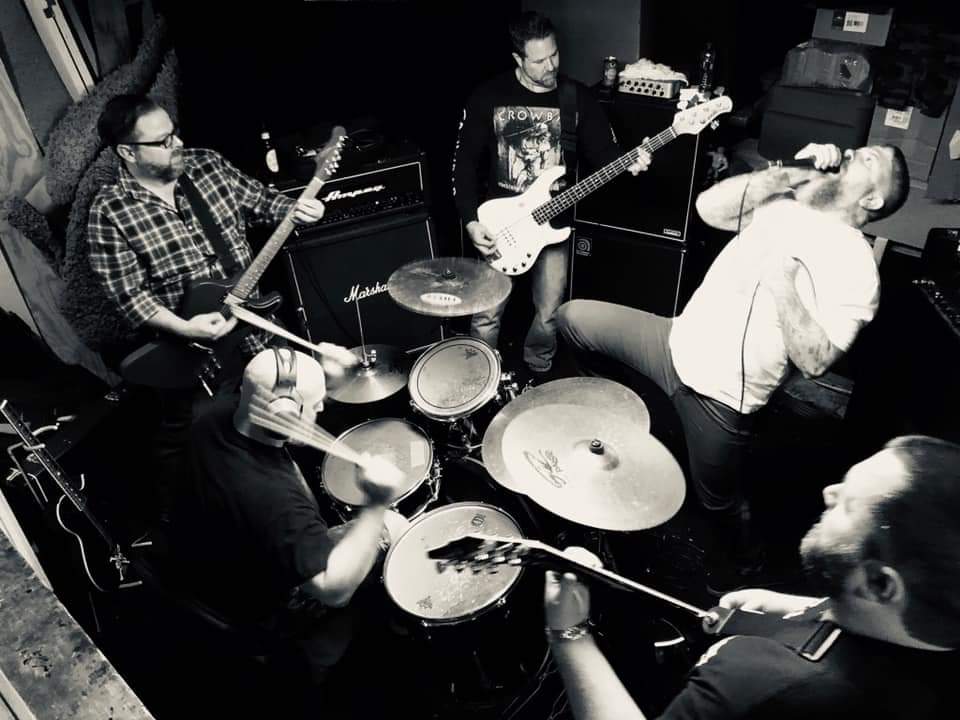 We recently had the opportunity to interview Few Left Standing's guitarist, Jason Lancaster. We discussed the band's upcoming reunion at Furnace Fest, their classic album,
Regeneration of Self
, the possibility of new music, and more. Check it out below.
First, thanks for the interview.
Thanks for interviewing us!
The band was supposed to perform for the Furnace Fest anniversary. Since it had to be moved to next year are you guys practicing more or working out the details/plans for the performance?
Obviously we had been working things out and knocking the rust off right up until everything shut down due to Covid. The plus side of that is knowing it didn't take us very long to get it all back, so we should be good to go. We are about to get back in the room again and start hashing things out. We are adding Paul Doherty [Reserving Dirtnaps, Clenched Fist] on second guitar to bring justice to the Regeneration of Self material but also add more dimension to the Wormwood material. By Wormwood, it was just myself writing guitar parts so there was more space left in. The prospect of writing an additional guitar part for that material has really kept it fresh and fun. I think folks will be stoked for what we're cooking up!
How has it been coming back to the band after all these years?
There had been attempts in the past to get it back together in some form, but for various reasons it was always difficult or just didn't work. We've all stayed really close throughout the years though, so I guess it would have happened eventually. Imagine if Jackass were a band. We always have the best time when we get together in one place. Doing this for Chad Johnson and Furnacefest after all these years just makes it that much more special.
Your album 'Regeneration Of Self' is, in my opinion and in that of many others, a classic hardcore/metal album. Can you tell me one story from the recording process of that album that you've never told anyone and/or something that still sticks out to you now?
The Bruce story is obviously the standout, however, I remember being really moved by watching Chris lay down his vocals for Solomon, a song about the birth of his son. It was one of the last songs we wrote for the album and we were writing the music at the same time Chris was out of pocket due to his son's birth. He really wanted to be in the moment with those lyrics and write them at that time. When I watched him from the console while he sang those words out in the room, I got very emotional. All these years later, when I really sit and listen to that song, I get emotional.
I also hold the artwork for that album in pretty high regard. Who created the artwork and what was the meaning behind it?
Limbert Fabian is the artist. If I remember correctly, Limbert was on board for the artwork from the start. I think that call was more from Chad. It definitely worked out since we were fans of his previous work with Snapcase and Hot Water Music. That imagery was perfect for us because of it's seemingly contemplative, spiritual figure it portrayed.
I've listened to some podcasts you've guested on recently and you talked about Bruce Fitzhugh not really wanting you to put the movie clips on the album. I think you made the right call by including them. Did you ever talk to him later about it and did he ever change his mind?
The last contact we had with Bruce was during a Living Sacrifice show in Memphis probably 10 years ago. We hung out and joked with the fellas before the set and Bruce tried getting us up to do a FLS song during the set but there wasn't a chance in hell...lol. Chris did end up doing part of Reborn Empowered. I would imagine, at this point, Bruce realizes what a high-point it was for us and has a laugh about it.
One thing I like about your discography is that both albums are bold, lyrically and musically. You took chances and more often than not it really worked. Is that something you were thinking about when writing and recording?
On the lyrical side, Chris has always been very bold. That's not to say that he is pig-headed or unyielding. However he may have came across on stage, I can assure you he is fun-loving and quick to joke. I know the average coresman or metalsmith hate it when a band chooses to make their message about their religious beliefs, but you can be obnoxious with ANY set of beliefs. I enjoy alot of music that I don't lyrically agree with. In those cases I take whats useful to my life and leave the rest with whomever it resonates with.
Musically? It goes without saying that we were brought together by our love of heavy, aggressive music, but whether you hear any of it or not, 60's and 70's soul and blues is where we all intersect. Give us some old Stax, Motown or Muscle Sholes records around a beer fridge and a smoker and we are gonna party.
Ive always felt that Regeneration was a great product of it's time. We we're really excited by what the 90's spirit-filled hardcore scene was doing. Living Sacrifice and Zao we're hugely influential to us, but by the time Wormwood began to percolate, we we're looking for more of what made US different. Whether it always worked, that may explain some of the boldness musically.
Did you think your albums would be seen as classics for the genre when you ended the band?
Hard no. I think it's debatable to call them classics honestly. Where Blood and Fire Bring Rest and Reborn are classics to me and we come nowhere close to those...lol
I think when bands reunite one question everyone has is will this reunion lead to new music. Since Furnace Fest was delayed, is there any chance you're finding extra time to write anything new or do you think there's a possibility?
I've always written music and we are all still tight-knit. I'm obviously curious as to how anything new would be perceived today but the cold hard truth Is that there is always a "what if" with bands of our limited output and more often than not the expectations are far greater than the outcome. All of that is to say....we'll see.
The fans of the Christian hardcore/metal scene bands of the late 90s-mid 2000s that revolved around Tooth And Nail/Solid State/Takehold seem to be as enthusiastic as ever for the music and bands. What do you think made that scene so special?
I think it's the same with any scene: core beliefs and shared values. If you didn't get excited by D.C. Talk or Carman and we're an edgier kid, you wound up with all the other misfits who were church kids but didn't want some bland knock-off Christian version of the stuff you weren't allowed to listen to. It just morphed into it's own thing over time.
Thanks for taking the time to answer the questions. Do you have anything else that you would like to add?
Aaron and Paul are in
Reserving Dirtnaps
together and just released their Another Disaster EP thru War Records. In the words of Paul, this is "Gorilla-Stomp" hardcore. Very different from Few Left Standing and in the vain of groups like Marauder and Queensway. It's streaming on Spotify currently and can also be bought thru Bandcamp. They have some amazing multi-colored vinyl as well as merch.
I've been working on an ep for release hopefully by years end. It's thrasher than FLS. Not to say it's better, just that it will be different influences, so keep an eye out.
Thanks for having me!
Follow Few Left Standing
:
Twitter
Facebook
Instagram
Follow Sound In The Signals
:
Instagram
Twitter